PMI appeals for inclusive public engagement to address the greatest problems facing our society
14 Sep 2021
·
5 min read
New research reinforces the need for science to drive out misinformation and inform transparent fact-based policymaking that benefits society.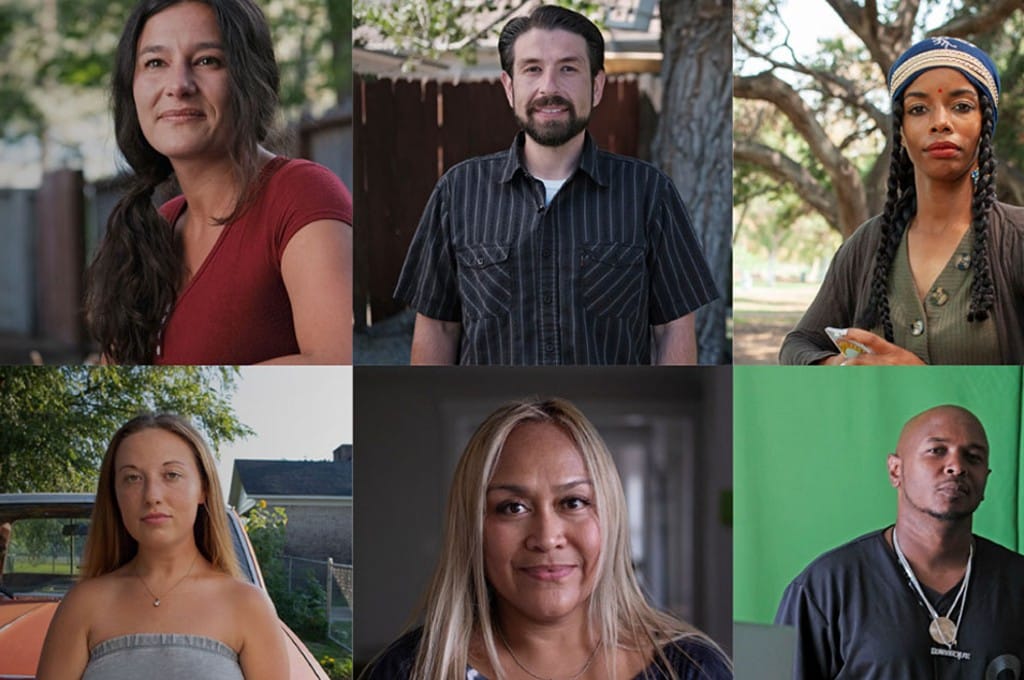 As world leaders convene for the 76th United Nations General Assembly, Philip Morris International (PMI) has warned that conventionalism and technocracy could hamper efforts to address today's most urgent problems.
Faced with the powerful headwinds of misinformation, ideology, and convenience, the UN must demonstrate clear action and public engagement at this critical turning point in policymaking.
Society deserves clarity on the facts surrounding major issues that are often complex and contentious, as amplified by the COVID-19 pandemic.
Involving all
Driving progress should no longer be the responsibility of the few—everyone has a role in building a better future.
"Big global challenges have rightly become a matter of public debate and scrutiny," said Gregoire Verdeaux, Senior Vice President of External Affairs at PMI.
"There has not been a single climate change summit in the past 20 years that has not been subject to growing intense public scrutiny.
"The same is true with the pandemic. And, for smoke-free alternatives. Experts can no longer say, 'This is too complicated for you to understand.' People want to know the facts, and they want to get involved."
Separating facts from fiction in the age of the individual
Technological growth and the expansion of social media has enabled everyone to become their own news organization. The challenge lies in individuals being able to identify what are facts, claims, interpretations, opinions, and misinformation.
A new report by international consulting firm CollaborateUp, sponsored by PMI, provides a clear view of how today's rapidly evolving technologies have driven the growth of misinformation and disinformation. This, in turn, has led to a declining trust in experts and institutions.
The report states that "greater transparency into previously closed processes like science and policymaking require users to also distinguish between 'hard facts' that do not change and evolving information where our understanding or interpretation of the facts may change with new evidence.
"As more people see how issues they previously thought fixed (such as public policy and science) can evolve, their confidence is shaken, and this will only grow as increasingly sophisticated manipulation techniques are deployed on a wider basis."
Precisely the same challenge now faces the tobacco industry. An ongoing comprehensive and collective review of facts and science is critical in transforming the industry for the benefit of public health.
Adults worldwide are calling for greater action in this area, as demonstrated by an international survey conducted by independent research firm Povaddo for PMI.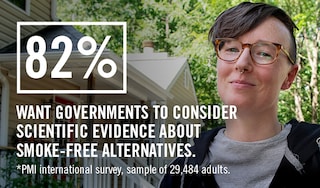 Public wants science to lead smoke-free conversations
Most adult respondents (82 percent) believe their national government has a responsibility to objectively review and consider scientific evidence about smoke-free alternative products developed by manufacturers such as PMI.
And nearly three-quarters (72 percent) support tobacco companies working with governments, regulators, and public health experts to ensure smokers have access to smoke-free alternatives and accurate information about them.
"Without robust processes in place to ensure that the facts are understood," Verdeaux added, "and that the necessary policy changes are objectively debated, we risk that some people will just want to hit 'pause.'
"There needs to be new ways—quicker ways—to have the right level of technical and scientific consensus around innovation and original ways of thinking, particularly as the world progresses rapidly, thanks to the intensity and scope of scientific progress and technological innovation."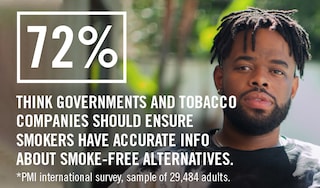 Delivering a smoke-free future
At PMI, we are committed to transparently sharing the science on our smoke-free products so that everyone can be involved in the discussion.
With proven facts at the center of public debate, and unsubstantiated misinformation called out for what it is, our society can reach informed decisions more quickly.
This approach can surely bring the public health milestone of a smoke-free future to fruition.