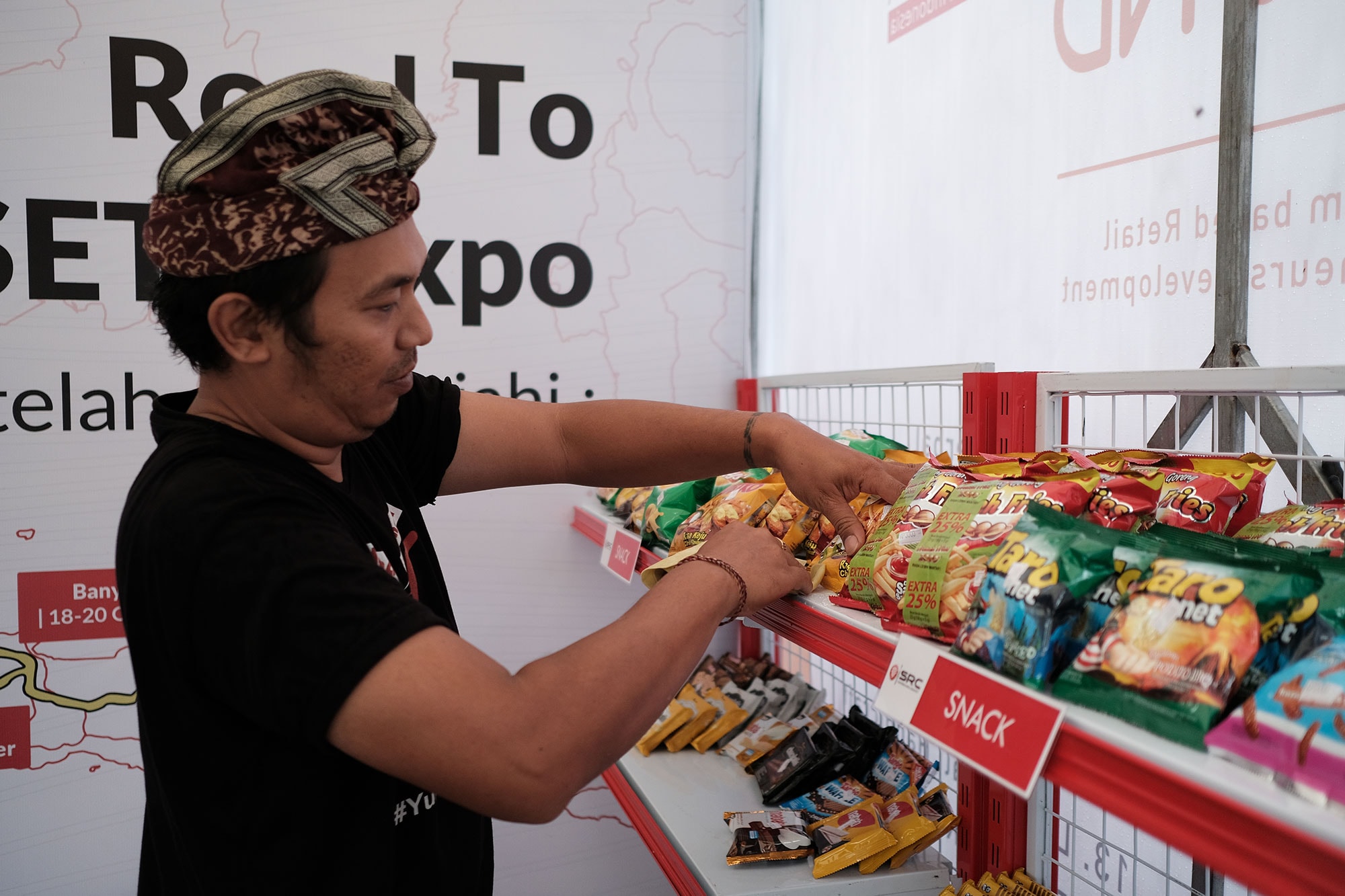 A series of empowerment activities encouraging entrepreneurship to welcome the 2018 SETC (Sampoerna Entrepreneurship Training Center) Expo
Tabanan, 29 November, 2018 – To maximize the potential of the Small and Medium-sized Enterprise (SME) sector in tourism areas, especially in Tabanan, PT Sampoerna Tbk. (Sampoerna) empowers SMEs through various SME mentoring and guidance activities. One way this committment is realized is through the TREND (Tourism based Retail Entrepreneurs Development) program conducted in collaboration with BEDO (Business & Export Development Organization) Foundation since October 2018.
Sampoerna Manager of CSR and Stakeholder Relations Indra Refipal explained," The TREND program was implemented by integrating 30 SME entrepreneurs from the Sampoerna Entrepreneurship Training Center (SETC) and 30 traditional retailer partners of the Sampoerna Retail Community (SRC) to achieve a positive impact by lifting the local economy, improving the quality of products or services and strengthening the market network."
Indra mentioned another way to realize this committment to SME empowerment is by encouraging assisted SMEs to participate exhibitions, such as that held by the Tabanan Regency government to celebrate the 525th Anniversary of Tabanan Regency, so that SMEs may introduce their flagship products and gain an understanding of market demand.
This exhibition, open since Monday, involves over 50 businessmen, including 15 Sampoerna-assisted SMEs from Tabanan, is one of a series of activities leading up to the annual SETC Expo taking the theme "New Era Entrepreneurship" to be held on 15-16 December, 2018, in Denpasar. Each year SETC invites hundreds of SMEs from all over Indonesia to participate and showcase their products, expand their networks and gain useful training.
The local government has provided support for this program from Sampoerna. Deputy Regent of Tabanan Regency, Komang Sanjaya, stated they are fully committed to encouraging the SME sector to become a superior and empowered sector able to compete in today's modern market. Komang argues that if SME develop this will lead to progress in the regional economy and increased regional revenue, while unemployment will decrease.
The successful development of Tabanan Regency not only depends on the government's hard work, but also on synergies with various parties, including companies such as Sampoerna who conduct ongoing development and training programs. Komang said they greatly appreciate Sampoerna's efforts in embracing Tabanan Regency SMEs through the TREND program. "The program has successfully combined two sectors that play important roles in developing this district, namely the SME and tourism sectors," he said.
Komang also explained that the SME sector in Tabanan Regency still has tremendous development potential. Today, the regency is home to 39,000 SMEs engaged in businesses providing services, food and beverage products, clothing and crafts and these SMEs contributed 5.38% of the Gross Domestic Product in 2017. In the retail sector in particular, there are about 1,500 traditional retailers with stalls and shops who also play important roles in driving the economy of Tabanan Regency.
BEDO Program Manager Jeff Kristianto Iskandarsjah explained TREND program training includes retail store management, training of trainers and digital marketing training, as well as assistance in local product development and technological development support.
"After the training, typical local products from Sampoerna's SETC members are marketed in the 'Teras Oleh-Oleh' area of the revitalised traditional retail shops of SRC members. We want this collaboration between SMEs to further encourage the entrepreneurial spirit and optimize their potential, as well as the sales of typical Tabanan Regency products to help stores sell more diverse products, appear more attractive to consumers and tourists, and be able to compete better with modern retailers," Jeff said.
SME entrepreneur Ida Gde Saputrawijaya Agra, owner of the Manik Galih/Beras KLC business from the Penebel area of Tabanan, admitted the increasing demands and challenges he faced led him to join the TREND program. He recounted,"I realized my efforts could be more successful, If I wanted to grow and develop, by attending coaching through the TREND program from Sampoerna. While still learning, I understood that the first steps of improving the management of work areas, stock control and packaging, which I had previously not considered, were actually very important."
The entire sustainable SME empowerment program is conducted under the umbrella 'Sampoerna for Indonesia" program. The SETC has now reached over 40,000 agribusiness entrepreneurs in the fields of agrobusiness and applied vocational technologies in 79 cities and districts of Indonesia, and reached over 60,000 traditional retail partners in 34 provinces.

***