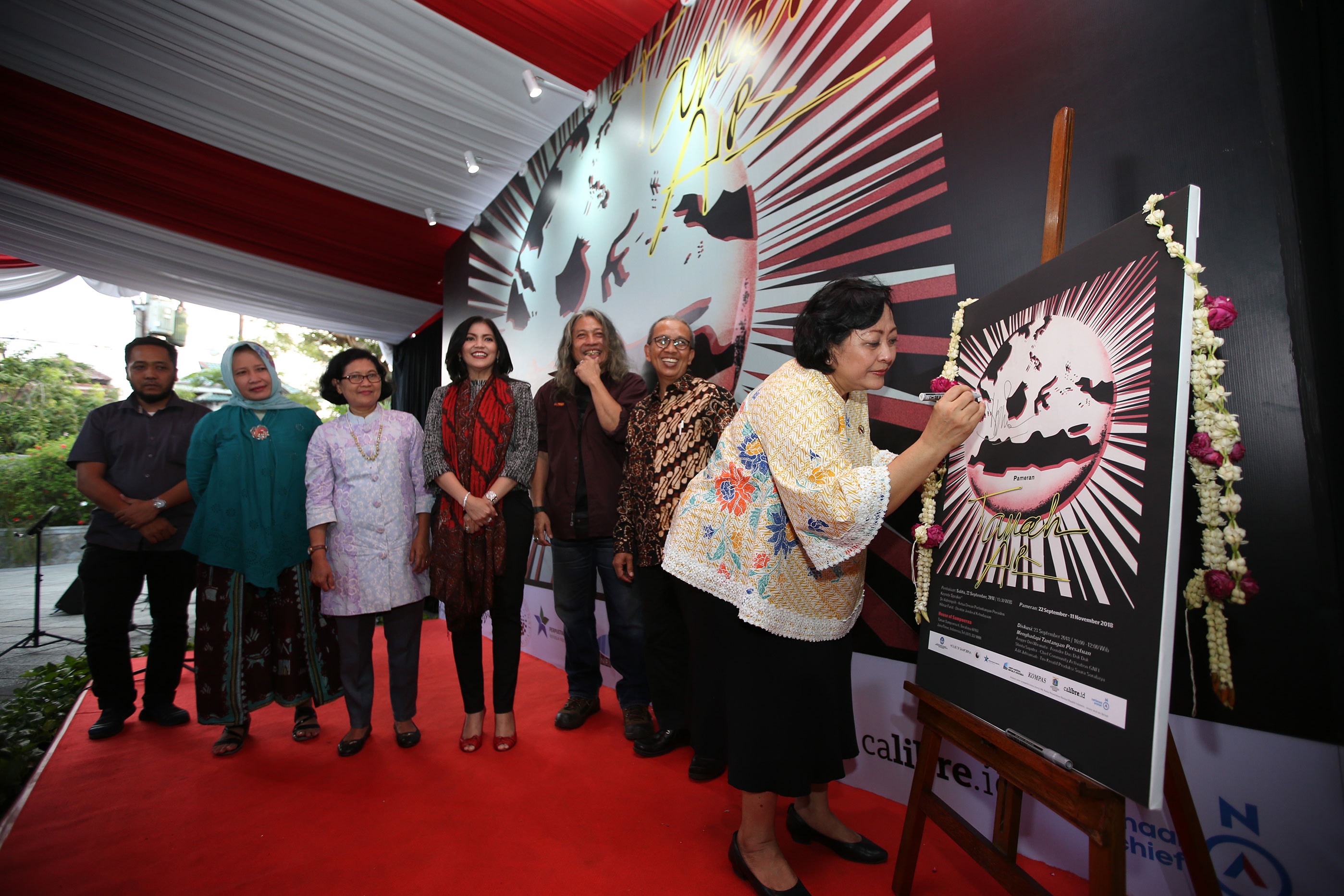 About nine decades ago, Indonesian youth made a pledge that brought them together in unity: one motherland, one nation, and respect the language of unity: Indonesian language – three terms of a nation's existence. The Youth Pledge made by, among others, Jong Java, Jong Soematranen Bond, Jong Celebes, Jong Ambon, Sekar Roekoen (Sundanese youth), and Pemoeda Kaoem Betawi marked the revival of Indonesian youth in building the Motherland.

The pledge that united many ethno-nationalisms into one nation is the world's first. The late Umar Khayam, a humanist from Universitas Gadjah Mada, said that no other countries ever made this pledge. Until today, the Youth Pledge made at the Second Youth Congress on 27-28 October 1928 at Indonesische Clubhuis (now Gedung Sumpah Pemuda) continues to be celebrated to reinforce the meaning of Indonesia's unity as a nation and country.

Commemorating the 2018 Youth Pledge, House of Sampoerna and several museum institutions, the Government and private collectors have come together to arrange an exhibition of cultural heritage and youth-themed "Tanah Air" (Motherland) photos through a series of events in the theme of "Bhinneka Satu" that has been running since 2017. Bhinneka Satu is an annual event that brings up the history of Indonesia's diversity and unity that we need to preserve.

The event starts with a nationalistic presentation on youth and unity on 22 September 2018 and an interactive discussion hosted by Suara Surabaya Media with the theme of "Dealing with the Challenges of Unity" on 23 September 2018. House of Sampoerna presents several national figures, such as Prof Dr Sri Adiningsih M.Sc., Chairman of the Presidential Advisory Council and two young entrepreneurs from Surabaya: Angger Diri Wiranata, Founder of Dus Duk Duk, and Shinta Saputra, Chief Community Activation of Good News from Indonesia.

The Director for Fiscal and External Affairs of Sampoerna, Elvira Lianita, said that Youth Peldge can be a momentum for all national components to reinforce unity amidst diversity for the advancement of Indonesia.

Aside from that, every citizen, especially the youth, can also use this unity momentum to continue their works in the mental revolution movement initiated by the Founder of the Nation, Soekarno, to face the nation's challenges, including in economy. Indonesia, as the fourth most populus country in the world, has abundant potentials to develop.
"Youth as the agents of change need to improve their competence to be able to build a better Indonesia. This can be a good social capital to build the nation," Elvira said.
The exhibition held on 22 September – 11 November 2018 at The Residence, House of Sampoerna is a collaboration among House of Sampoerna, Directorate of History – Ministry of Education and Culture, National Museum of Indonesia, National Library of the Republic of Indonesia, National Archive of the Republic of Indonesia, Kompas Newspaper, Textile Museum of DKI Jakarta, Nationaal Archief Netherlands, Museum of Panji Tumpang, Malang, Museum of Wayang Potehi Gudo in Jombang, and private collector Ebby Dwijaya. The Directorate General of Culture for Ministry of Education and Culture of the Republic of Indonesia serves as the advisor, while the curators are Oscar Motuloh and Gunawan Widjaja from Calibre.id, as well as Ina Silas from House of Sampoerna.


***


About House of Sampoerna
Since its establishment in 2003, House of Sampoerna (HoS) – a contribution of PT HM Sampoerna Tbk. established in 1913 – continues its commitment in supporting the development and preservation of arts, culture, history, and tourism through various event agendas that put forward education and social values. In collaboration with more than 300 Micro, Small and Medium Enterprises, communities, institutions and community organizations, as well as having been visited by tourists from 160 countries, HoS has been a museum tourism destination in Indonesia with 17,000 visits per month in average. A number of awards have been earned, with one of them being 'Top 10 Museum di Indonesia' from TripAdvisor for 2013 – 2017 period.

About PT HM Sampoerna Tbk. (Sampoerna)
Established in 1913, Sampoerna – an affiliation of PT Philip Morris Indonesia and part of Philip Morris International Inc. – is one of the leading tobacco companies in Indonesia, which focuses on production and sales of kretek cigarette. The Company produces several well-known kretek cigarettes such as Sampoerna A, legendary King of Kretek Dji Sam Soe, Sampoerna U, and Sampoerna Kretek. The Company also distributes Marlboro cigarette across Indonesia through a long-term distribution agreement with PT Philip Morris Indonesia. Sampoerna is operating seven factories in Java island and cooperating with 38 Cigarette Production Partners, with a total manpower of 67,400 employees, both direct and indirect, most of which work in Hand-Rolled Cigarette production line. Sampoerna distributes its products through 106 regional sales and distribution offices across Indonesia.

Sampoerna is the issuer with the largest market capitalization in Indonesia Stock Exchange. Sampoerna's shares are traded under the "HMSP" stock code.

For more information, kindly visit: www.sampoerna.com