Welcome to Philip Morris Trading (Thailand) Co. Ltd. We commenced the import and sale of Philip Morris International brands through the Thailand branch in 1991, and are now a leader in the international cigarette import business in Thailand. We are proud of the strong partnerships we have built with our employees, business partners, general trade retailers, and local communities across Thailand.
Learn more about us on www.philipmorristhailand.com.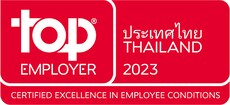 ~300
Employees
We currently employ approximately 300 talented Thai employees, to whom we attribute our corporate culture and business results. At PMTT, we strongly focus on inclusive leadership, entrepreneurship, learning, and offering the best talent management process through people-development and global opportunities. We boast of a culture offering a flexible working environment, with flex hours and flexible benefits catering to the diverse needs of employees. We have been recognized by global institutes as excellent in employee environment and engagement.