Stock, dividends and bonds
Find information on our share price, dividend schedule and history, and owning PMI stock, as well as information on the company's outstanding bonds.

Interactive share price graph
Annual dividend
PMI has increased its annual dividend every year since becoming a public company in 2008, representing a total increase of 182.6%, compound annual growth rate of 7.2%.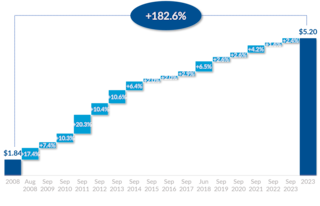 Dividend schedule
Dividends are declared and approved at the discretion of the Board of Directors. The anticipated dividend dates have been adjusted to fit the calendar of Board meetings. Dates chosen for Board meetings take into account a variety of factors, including other items on the corporate calendar and the schedules of Directors.
DECLARATION DATE
RECORD DATE
PAYMENT DATE
EX-DIVIDEND DATE
†Dividend statement will be accompanied by Tax Form 1099.
Owning PMI stock

If you hold your shares with a financial institution, such as a bank or broker, and want information about your account, please contact your financial institution directly. If you hold stock certificates or you hold stock in our dividend-reinvestment plan, you can manage your account through services offered via the Investor Center of our transfer agent, Computershare.

Access computershare

Contact details
Computershare Trust Company, N.A.
Address
P.O. Box 43078
Providence, RI 02940-3078
U.S.A.
Phone
+1 877 745 9350
Call toll-free within the U.S. and Canada
+1 781 575 4310
Direct dial from outside the U.S. and Canada
*Bond information
*Bond information
ISIN Number
Currency
Nominal Amount
Coupon
Issue Date
Maturity Date
Offering Format
* The list does not include notes issued by Swedish Match AB