How PMI's Agricultural Labor Practices program is helping to improve labor practices and eliminate child labor on farms in its tobacco supply chain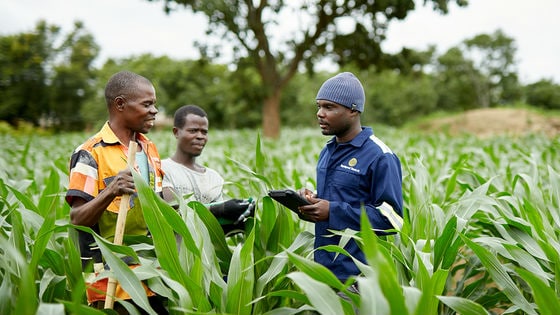 In some countries, especially in rural communities, child labor is a cultural norm. And for some families, it is an economic necessity. But children should not be working. They should not be prioritizing work over attending school, or dropping out of school early to help provide additional income for their families. They should not be expected to divide their days between long working hours and school work. This negatively impacts their development and future opportunities. And for companies who source materials from farms in these communities, this is a problem.

It is exactly this issue, along with payments below minimum wage to farm workers and other poor labor practices that Philip Morris International's (PMI) Agricultural Labor Practices (ALP) program is addressing. The company's Head of Social Sustainability & Human Rights, Anna Kletsidou, speaks to us about this global program and discusses the impact it is having on addressing issues in the company's supply chain. And the efforts of field technicians, working farm to farm, implementing targeted initiatives to act upon the root causes of child labor and other labor abuses.

Could you explain what PMI's ALP program is?

Our ALP Program is a comprehensive, due diligence system, that has been in place since 2011. It ensures that workers and farmers in all countries where we source tobacco have access to fair and safe working and living conditions. It is based on our ALP Code, which sets out PMI's clear requirements, to be followed by the 350,000 farmers from whom we source tobacco. It is based on International Labor Organization (ILO) Conventions and is aligned with the United Nations Guiding Principles on Business and Human Rights. It contains seven principles and 33 measurable standards. Eliminating child labor is a key component of the program.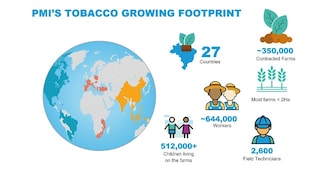 How has this been implemented?

Through the hard work and dedication of 2,600 field technicians who are at the center of the ALP program. They collaborate with the farmers, building trust and relationships, in order to achieve sustainable improvements in the long-term.

One of their roles is to train the farmers and workers on our ALP Code, raising awareness about both their rights and their responsibilities. In addition to the training, the field technicians are the eyes on the ground, regularly visiting the farms throughout the tobacco-growing season.

I have visited farms in several countries and witnessed field technicians monitoring the working and living conditions of the farmers and workers in order to ensure that they meet the ALP standards. In 2018, we, together with our Suppliers, monitored 88 percent of our farmer base (up from 77 percent the previous year) and we are increasing the geographic coverage year-on-year.

This regular farm-by-farm monitoring model provides us and our suppliers with a greater visibility of the demographics of each farm (i.e. size and nature of the farm, number and age of people present, categories of workers, housing arrangements, and even school attendance). Most importantly, it also provides the visibility on the issues that we are facing. This is a significant undertaking and major strength of the ALP program.
Are there corrective actions for non-compliance?

In all cases where the field technicians observe critical situations, meaning situations where somebody on the farm may face a risk or a danger and immediate action is required, they raise what we call a prompt action. If, for example, the field technicians witness child labor incidences, they are obliged to stop it, report it as a prompt action, and agree on an immediate action with the farmer to address this situation. They will then follow-up within 6 weeks to check that the action is being taken and the child is no longer working.

Our goal is to work with farmers to ensure sustainable improvements and ultimately full compliance with our standards. However, in those cases where a farmer resists making the required changes, or the issue persists, the farmer's contract is not renewed or may be terminated.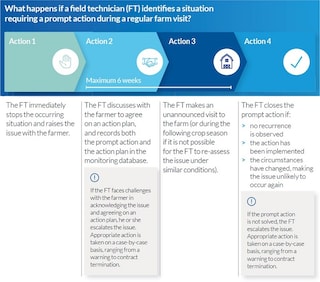 Is this all externally verified?

In 2013 we introduced external assessments, conducted by Control Union, a specialist supply chain auditor. They independently evaluate the implementation of the ALP program. Together with our suppliers, we establish action plans to address any issues they identify. We have found that this process contributes to the strengthening of the program overall and ensures we are making continued progress in addressing issues in our supply chain.

We have currently assessed 21 countries, with a target of achieving 24 by 2020. As part of our commitment to transparency, we publish these assessments and action plans on our website which can be found on PMI.com.

Our hope is that by taking the lead in sharing detailed information about how we are addressing challenging and often systemic labor issues in our supply chain, and by acknowledging both successes and shortcomings, we set a standard that more companies will follow, not only in the tobacco sector but also across other agricultural supply chains.

What impact is the ALP program having?

It is not an easy task to evaluate the impact of our program. But let me give you an example: Last year, field technicians identified around 4,500 child labor cases. These were cases of children mainly harvesting or handling green tobacco or stringing. We also know that the vast majority of the cases occurred in a family context, where children were found working with their own families (92 percent) on small scale farms.

We were able to address over 4,000 of these incidents (89 percent) by implementing targeted remediation interventions, including multi-stakeholder initiatives. In 2017, we addressed 67 percent of the incidents. This increase illustrates our efforts, our progress, and the impact the program is having.

In 2018, we reinforced the ALP program by introducing a Step Change approach to focus on the most prevalent and persistent issues that keep surfacing year-on-year, and to tackle their social and economic root causes which includes poverty, poor infrastructure or local traditions and practices. Ultimately, our objective is to empower local communities and create long-term value.

One key focus area is eliminating child labor from our tobacco supply chain by 2025.

Certainly, we are dealing with systemic issues that cannot be addressed overnight nor by one single company. And this is why we are building partnerships and collaborating with governments, the industry and local communities to sustainably eliminate poor labor practices from our supply chain.