Our Science
World Health Organization report on tobacco: Fact versus fiction
04 Aug 2019
·
4 min read
The latest WHO report on tobacco includes statements PMI disagrees with, and we want to separate the facts from fiction.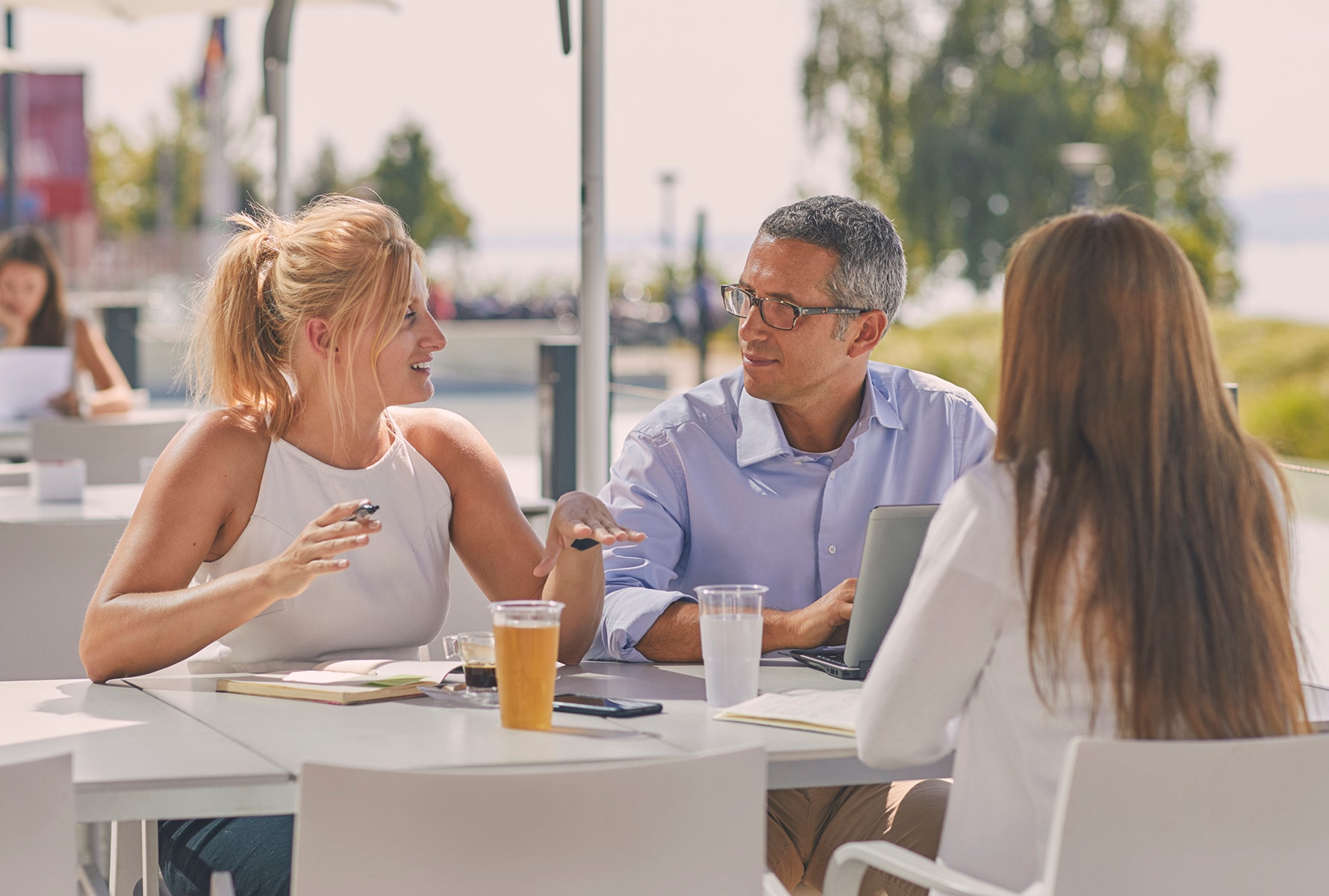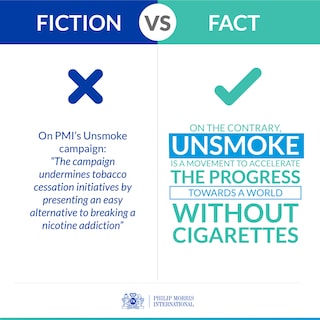 Fiction
On PMI's Unsmoke campaign "The campaign undermines tobacco cessation initiatives by presenting an easy alternative to breaking a nicotine addiction".
Fact
On the contrary, Unsmoke is a movement to accelerate the progress towards a world without cigarettes. It has a very clear stance: if you don't smoke, don't start, if you do smoke, quit, if you don't quit, change. Cessation is a core part of the movement, but Unsmoke also embraces the reality that not all adult smokers will quit. They deserve factual, clear information and access to scientifically substantiated better alternatives to continued smoking. We have made absolutely clear that better alternatives are not alternatives to quitting, nor are they designed or marketed as cessation devices. They are, however, much better choices for adult smokers who would otherwise continue smoking. Our communication is clear and consistent: nicotine is addictive and not risk-free, but it is not the primary cause of smoking-related diseases. Progressive tobacco policy accepts the fact that nicotine is one of the reasons why people smoke. Zero tolerance towards nicotine does a disservice to the nine out of 10 adult smokers who continue to smoke each year.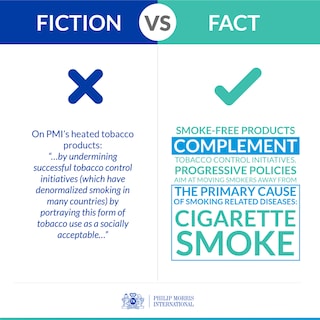 Fiction
On PMI's heated tobacco products: "…by undermining successful tobacco control initiatives (which have denormalized smoking in many countries) by portraying this form of tobacco use as a socially acceptable…"
Fact
On the contrary, smoke-free products complement tobacco control initiatives. Progressive tobacco control policy embraces the concept of harm reduction and aims at moving smokers away from cigarette smoke, being the primary cause of smoking related diseases. The American Cancer Society recently highlighted the role of our flagship smoke-free product in the rapid decline in cigarette sales in Japan, which has seen its rate of decline in cigarette sales quintuple from a 2 percent decline per year from 2011 through 2015 to a 10 percent decline per year from 2015 through 2018, all without a major change in national tobacco control policy.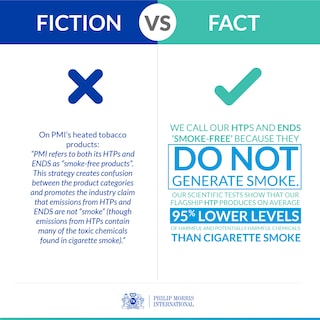 Fiction
On PMI's heated tobacco products "PMI refers to both its HTPs and ENDS as "smoke-free products". This strategy creates confusion between the product categories and promotes the industry claim that emissions from HTPs and ENDS are not "smoke" (though emissions from HTPs contain many of the toxic chemicals found in cigarette smoke)."
Fact
We call our HTPs and ENDs 'smoke-free' because they do not generate combustion or smoke. When a cigarette is lit, the tobacco inside it combusts (burns) to generate smoke, which contains thousands of harmful chemicals that can lead to smoking-related diseases. Combustion does not happen in our smoke-free products, which are not risk free but are designed to reduce the number of toxicants compared to cigarette smoke. For our flagship HTP, we have scientifically demonstrated that the aerosol generated has on average 95 percent lower levels of toxicants than found in the smoke of a reference cigarette.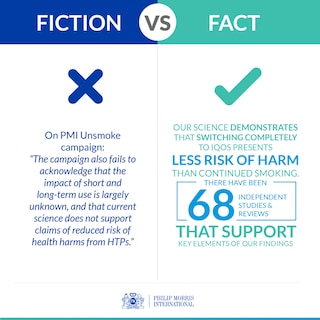 Fiction
On Smoke-Free Foundation: "Through promotion and lobbying by PMI and its front groups such as the Foundation for a Smoke Free World, this campaign seeks to pressure governments to allow these products into domestic markets and exempt them from tobacco control regulation, in particular TaPS bans, taxes and smoke free laws, thereby undermining tobacco control initiatives and weakening WHO FCTC implementation."
Fact
PMI has pledged funding to Foundation for a Smoke-Free World, whose goal is to work for a transformation of the tobacco ecosystem to achieve a smoke-free world. FSFW does not advocate on our behalf. PMI, on the other hand, advocates for pragmatic regulatory frameworks that recognize the different risk-profile of smoke-free tobacco products and can help adult smokers who would otherwise continue to smoke to have information and access to better alternatives.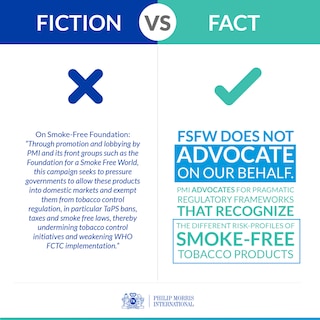 Fiction
On the risk of "conflation" of different products: "This creates confusion between these product categories, which can result in the limited evidence that may support some forms of ENDS as a cessation aid under certain conditions being falsely attributed to HTPs too. For example, the name of the Philip Morris International HTP product iQOS (which is an acronym for "I quit ordinary smoking" can contribute to this erroneous impression).
Fact
First, the acronym claim about IQOS is simply false. Secondly, HTPs and ENDS are two distinctive product categories which are defined by objective product attributes. However, HTPs and ENDS share one commonality, they do not generate smoke, which is the primary cause of smoking related diseases and that's why we collectively refer to them as smoke-free products. We always make clear that smoke-free products (whether HTPs or ENDS) are not a substitute for smoking cessation therapies, they are not cessation devices and that they are designed for adult smokers only who would otherwise continue smoking.