A case study from PMI's Integrated Report 2021.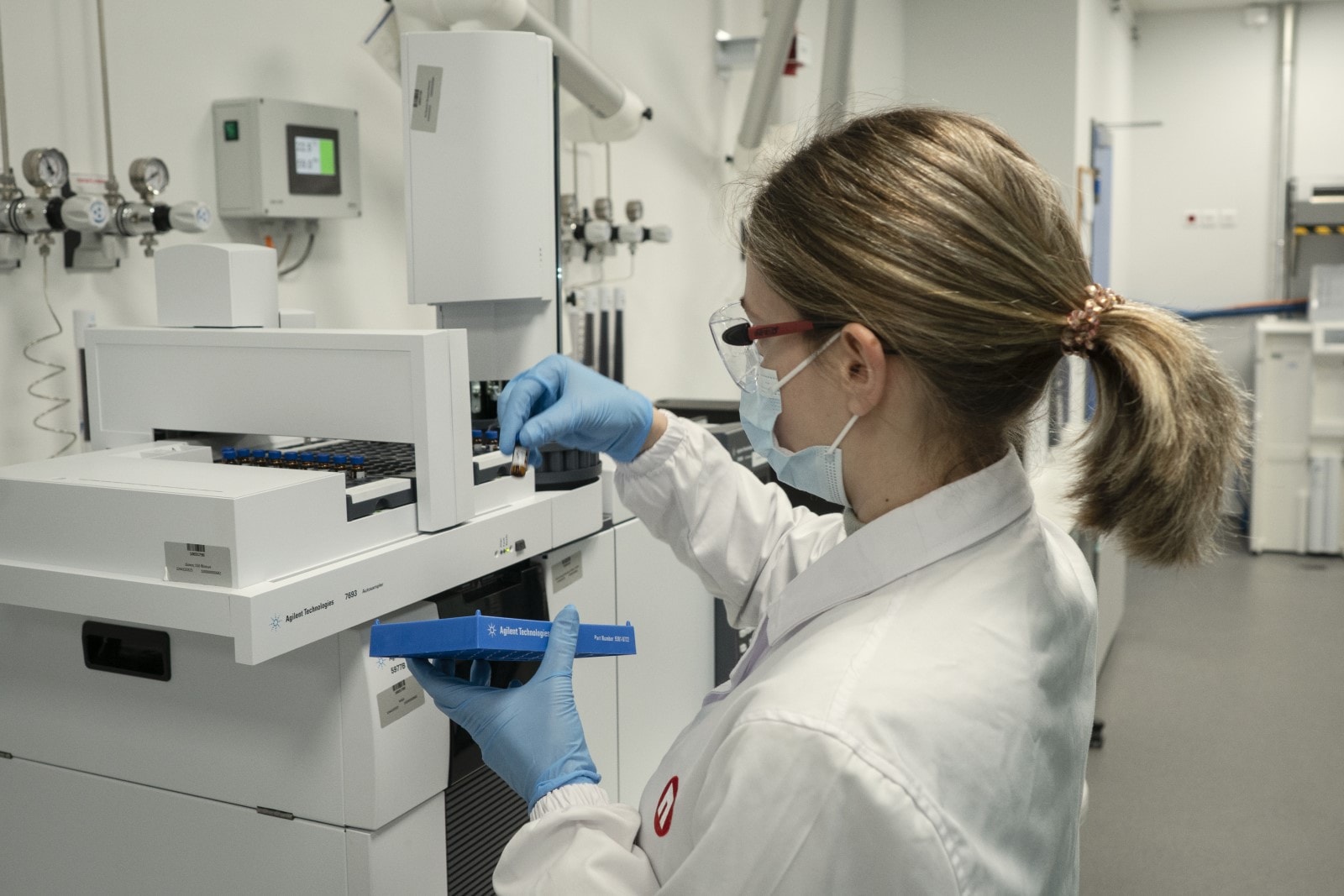 The primary purpose of an integrated report is to explain how an organization creates value over time. The best way to do so is through a combination of quantitative and qualitative information.
According to the Value Reporting Foundation's Integrated Reporting Framework, a company's business model is based on the theory of multiple capitals. The framework categorizes them as financial, manufactured, intellectual, human, social and relationship, and natural. An organization can only build and sustain value if it manages the full range of input capitals efficiently and responsibly.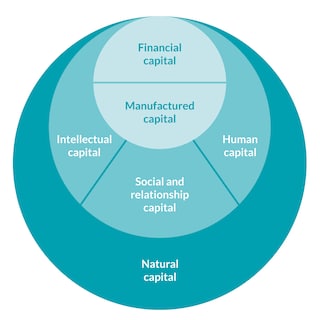 When thinking about PMI and its value creation model, many think about a very successful tobacco company that is transitioning away from cigarettes to offer other forms of nicotine containing products. And while PMI's transformation journey did indeed start with a vision centered on the critical mission of phasing out cigarettes, this is not its sole and ultimate end goal. Researching and developing less harmful non-combustible products that are scientifically substantiated was the first step. Broadening access for adult smokers who would otherwise continue to smoke while simultaneously and deliberately working to phase out cigarette smoking completed the equation of our company's smoke-free purpose.
In the process, we have modified and expanded our social, human, intellectual, and manufactured capital in ways that allow us to now go a step further, aiming at moving from a value proposition centered on doing less harm, toward one where we seek to have a net positive impact on society. These changes are directly linked to our financial capital because they require decisions to be made on capital expenditures and resource allocations that balance trade-offs between other capitals. To help facilitate the type of integrated thinking needed to make these determinations, our finance, strategy and sustainability teams were integrated into a single function reporting to the CFO in 2021.
PMI's value creation model has involved a fundamental transformation from a B2B business model to an increasingly B2C one. Our legacy business was a fairly straightforward one of manufacturing and selling cigarettes through distribution channels in which we had no direct contact with the ultimate consumer. Today, our smoke-free products—devices, in particular—are increasingly sold through direct contact with the consumer. There are many advantages to this approach including ensuring that we focus our efforts on maximizing the benefits smoke-free products can bring to public health while minimizing unintended consequences. We are also able to better understand our consumers' needs in order to support them to switch. This transformation has had major implications for the manufactured, human, intellectual, and social and relationship capital that we need to be successful over the long-term.
To demonstrate the seriousness of our endeavor, in 2020 we introduced a new aspiration to complement our Business Transformation Metrics and 2025 Roadmap: for net revenues of at least USD 1 billion derived from products beyond tobacco and nicotine by 2025. This aspirational goal aims to further cement the confidence we have about the long-term, as we evolve into a broader lifestyle, consumer wellness and healthcare company, leveraging our ability to monetize the skills and assets we have accrued and developed in the process of our transformation. These include our commercial and digital abilities as well as our focus on consumer-centricity, which has enabled us to better inform adult smokers, allowing them to make fundamental behavior changes to improve their health and well-being. Furthermore, we will continue to leverage our life sciences capabilities to move from reducing harm toward doing good, with the goal of having a net positive impact on the world.
PMI is now actively working to expand its purpose and extend its value proposition and innovative capability to commercialize products that go beyond tobacco and nicotine. This is built on two key growth areas: (1) wellness products, where the Company is developing and looking to commercialize scientifically substantiated consumer health products and solutions with the aim to improve people's lives, and (2) healthcare products, where it has already committed resources to its development pipeline of over-the-counter and prescription products.
This is part of a larger transformation that puts science, technology, and sustainability at the heart of PMI's future by building on the Company's expertise and investment in aerosol chemistry and physics, device technology, clinical research, and best-in-class preclinical safety and inhalation models. In order to achieve this, over the past 12 months, PMI has acquired several companies, including Vectura, a UK provider of innovative inhaled drug delivery solutions that enables its partners to deliver their medicines to patients; Fertin Pharma, a Danish leading developer and manufacturer of innovative pharmaceutical and well-being products based on oral and intraoral delivery systems; and OtiTopic, an American inhaled drug development company with a late-stage inhalable acetylsalicylic acid treatment for acute myocardial infarction.
During this period, many of our stakeholders have asked us the strategic link between these acquisitions and our overall strategy and value creation model. Perhaps not as intuitive for external stakeholders as we may have hoped, it seems now pertinent to better explain how PMI's transformation, and evolution to date, allows it to come closer to the purpose and values, as well as structure and composition of companies like Vectura, Fertin, and OtiTopic. We also acknowledge that we have received criticism from medical societies about these acquisitions. While their ultimate recommendation is to not engage with our company and employees in any way, we do not believe this is constructive. We are transparent about our science and intentions and open for discussions with our fiercest of critics. We believe this is a better way of improving public health than a kind of universal ostracism that some are calling for.
PMI's new businesses in wellness and healthcare will help leverage the company's current scientific know-how and technological capabilities in areas such as inhalation and aerosolization to create better products to target unmet patient and consumer needs and deliver a better experience and enhanced products. By providing more data on intangible elements such as intellectual, human, and social and relationship capital we aim to explain how the purpose of these companies is strongly connected with PMI's; our goals are aligned, and therefore the synergies we can create can help accelerate the pace and scale at which we achieve our shared ambition.
We can further illustrate how our business transformation and these acquisitions are changing our value creation model by examining their impact on the different capitals.

Manufactured capital

Our move into smoke-free products means we had to develop entirely new manufacturing capabilities, technologies, fleet, stores, and supply infrastructure. Producing cigarettes is a fairly straightforward exercise. We are now making complex devices using materials we have never worked with before. These processes have implications for energy consumption, water usage, metals, and other raw materials and they need to be recycled. Our acquisitions of Fertin Pharma and AG Snus provide us with access to high-quality manufacturing facilities that will accelerate our presence within the fast-growing modern oral category via a broad range of smoke-free products. This includes nicotine pouches that can help more adults who would otherwise continue to smoke switch to better alternatives and stop smoking. Furthermore, PMI expertise within nicotine delivery, preclinical and clinical assessment will help Fertin and AG Snus to continue growing and innovating with the ultimate goal of switching smokers to better alternatives.
Human capital
We have dramatically changed the skills composition of our employee base. Since announcing our transformation, we have hired more than 400 scientists, as well as experts on electronic product development and on consumer-centricity. We have had to develop entirely different sales and marketing skills, with enhanced digital capabilities. Our acquisitions of Vectura, OtiTopic and Fertin Pharma brought new expertise and talents within inhaled therapeutics research and development and oral consumer health products and solutions. These new capabilities will accelerate our evolution into adjacent business areas while applying our significant scientific expertise within areas such as preclinical safety, clinical development, regulatory affairs, and final product safety. PMI intends to continue increasing the total level of expenditure in research and development to further strengthen the acquired scientific capabilities and skills, with the ultimate goal of building an end-to-end development of inhaled therapeutics and oral consumer health products.
Intellectual capital
As of year-end 2021, our R&D work and its associated innovations have resulted in 1,770 patents granted for smoke-free technologies by the five largest intellectual property offices in the world (IP5) since 2015. Since announcing our transformation, almost the totality of our R&D spending has shifted towards our smoke-free products. This work has given us deep knowledge about how the human body absorbs substances through inhalation and this has been fundamental to both develop our proprietary inhalable technology, as well as partner and venture on the acquisition and development of other complementary inhaled therapeutics products and wellness products. Our acquisitions of Vectura, OtiTopic, Fertin Pharma and AG Snus represents a significant addition to our R&D through access to new patents and know-how within i) inhaled therapeutics formulations, devices, and therapeutic indications, and ii) modern oral and intraoral formulation, compositions, uses within health and wellness and within nicotine oral delivery. PMI intellectual property within the smoke-free category has several synergies with the acquired patents and know-how and will help us continue strengthening our overall intellectual capital.
Social and relationship capital
Our consumer-centric business model for smoke-free products means we now have a much more direct relationship with our customers and must engage further with the public health and scientific community, policymakers, and regulators. Our acquisitions of Vectura, OtiTopic, and Fertin Pharma represent new routes to market in new product areas and new opportunities for commercialization, better connecting the needs of consumers than existing products on the market and aiming to provide a better experience. Through moving into new, albeit adjacent, business areas which leverage our existing capabilities and know-how in aerosolization and commercialization, among others, we aim to bring new products to market which have a net positive impact on society. This will involve building relationships with new suppliers, customers, and organizations to achieve our goals and leveraging on the relationships these companies and individuals have built (already) that can help accelerate the pace at which we achieve our goals.
Financial capital
Our expansion into wellness and healthcare is consistent with our longstanding approach to capital deployment. We built our smoke-free business on the back of significant financial investment in R&D, production capacity and commercial development. Several billion dollars of this investment occurred in the years before any revenues were generated from our first full smoke-free product launch. With 2021 smoke-free net revenues of USD 9.2 billion, this long-term approach to investment is now clearly paying off. The same principle applies to our investments in wellness and healthcare, as we build capabilities for sustainable long-term growth. In 2021 we invested $[TK] billion in wellness and healthcare acquisitions to complement and enhance our own development platform and product pipeline, in addition to ongoing R&D investments. This provides an excellent foundation to build towards our long-term goals, including our ambition to generate over USD 1 billion in net revenues from products beyond nicotine by 2025, as an initial milestone in creating a new long-term source of financial returns.