It's a well-known fact that cigarette smoking is harmful and causes serious disease. But not everyone knows why that is.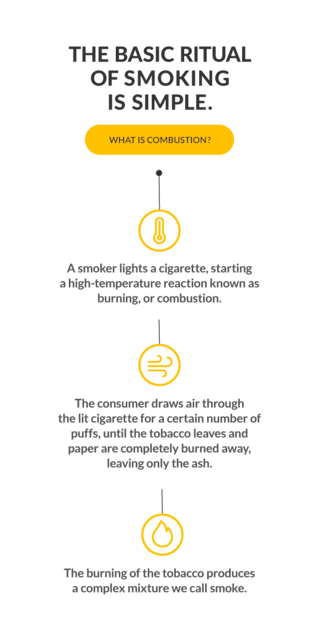 WHY IS BURNING THE MAIN PROBLEM?

Cigarette smoke contains flavors from the tobacco blend, as well as nicotine that exists naturally in tobacco leaves.

The burning process that releases the tobacco flavors and nicotine also produces over 6,000 chemicals.

Around 100 of these chemicals have been identified as causes or potential causes of smoking-related diseases, such as lung cancer, cardiovascular disease, and emphysema.

While nicotine is addictive and not risk-free, it is not the primary cause of smoking-related diseases.
OFFERING ALTERNATIVES WITHOUT SMOKE
For those adults who don't quit, there are better alternatives to continued smoking that don't burn tobacco. Since this action creates so many harmful chemicals, we asked our scientists and engineers to find other satisfying ways to deliver flavor and nicotine for current smokers.
Through years of research and development, we've developed a new class of breakthrough products that do not rely on the principle of burning—and which we believe are a much better choice than smoking.
Since none of these products burn tobacco, they don't reach the high temperatures needed to combust material and produce smoke. Instead, we have found several ways to produce a flavorful nicotine-containing aerosol that a consumer can inhale, but with significantly lower levels of harmful chemicals compared to the smoke of a burning cigarette.