10/12/2020
Philip Morris International appoints new Managing Director for the UK and Ireland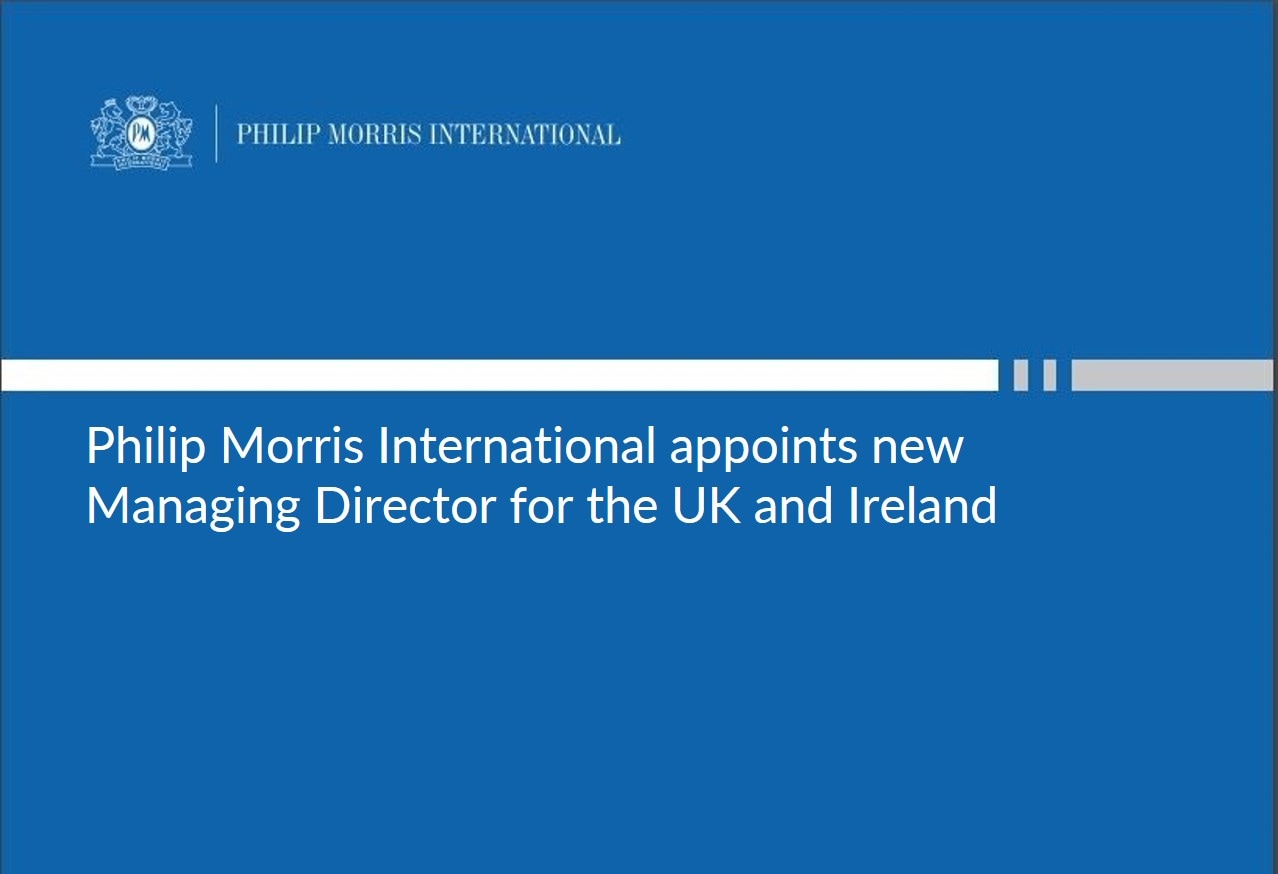 Philip Morris International (PMI) is pleased to announce the appointment of Christian Woolfenden as Managing Director, UK and Ireland – effective as of 1 November 2020. He will be based in London, and report to Frederic De Wilde, President of the European Union Region at PMI.
Welcoming Christian Woolfenden to PMI, Mr De Wilde said:
"Christian is a strong commercial leader with a proven track record of growing businesses. He has best-in-class consumer, marketing and digital transformation experience. In his new role, Christian will continue to build our portfolio of reduced-risk products through a variety of channels."
Christian Woolfenden joins PMI from Photobox, the international digital printing and personalised gift business, where he was Group CEO. He has also been CMO and Retail Managing Director, UK and Ireland with Paddy Power, where he drove an omnichannel retail strategy for more than 600 stores and 3,000 colleagues, leading change in a complex regulatory environment. Christian was previously Global Brand Director for Bacardi, and he held a number of roles at Proctor and Gamble. He has a proven track record of reshaping businesses using insight-led consumer strategies. As an investor in technology businesses, Christian has used his experience to help guide emerging start-ups, and has also served as a Non-Executive Director with the STV Group. Christian is a qualified accountant and holds a Degree in Pharmacology from Liverpool University.
Christian Woolfenden said:
"I'm excited to be joining Philip Morris International – and the mission to help the UK become smoke-free. With an estimated seven million adults in the country still smoking, it's crucial they have access to good information and choices around better alternatives to cigarettes. I'm looking forward to building on the existing success of PMI's reduced-risk products in the UK, and driving forward the changes that will help people that would otherwise continue to smoke to give up cigarettes for good."
Christian Woolfenden joins Philip Morris Limited (PML) as it continues to transform into a smoke-free business – and, in doing so, make a meaningful contribution to the UK Government's plan to be smoke-free by 2030.
Philip Morris International (PMI) is leading a global transformation in the tobacco industry, creating a smoke-free future – ultimately replacing cigarettes with smoke-free products to the benefit of adults that would otherwise continue to smoke. The company has invested more than £6bn since 2008 to develop and commercialise industry-leading products.
IQOS
, Philip Morris International's heated tobacco product, produces no smoke and emits an aerosol with 90-95% lower levels of harmful compounds than cigarettes
1
. PML aims to broaden and deepen the debate about reduced-risk products, and the important role they can play in tobacco harm reduction.
Christian Woolfenden takes over from Peter Nixon, who has served four years as Managing Director of Philip Morris Ltd (PML); his next move will be announced in due course.
Mr De Wilde said:
"I would also like to take this opportunity to thank Peter for his outstanding contributions as a leader of the UK and Ireland markets. Peter reshaped the commercial organisation in the UK to pave the way for the launch of our reduced-risk portfolio. From a standing start following its launch in 2016, he has successfully spearheaded the growth of IQOS in the UK."
In the last 12 months alone the retail market value share of
IQOS
has grown several-fold, overtaking its closest competitor to become the UK's most successful smoke-free brand
2
.
- ENDS -
Notes to editors
1
Average reductions in levels of a broad range of harmful chemicals (excluding nicotine) compared to the smoke of a reference cigarette (3R4F). Important information: it does not necessarily equal a 95% reduction in risk.
IQOS
is not risk-free.
2
Source: Nielsen data, August 2020 which encapsulates multiple grocers and General Trade in retail.
For media enquiries in the UK please contact the UK Press Office
PML@thephagroup.com
/ 020 7025 1373
Philip Morris International: Delivering a Smoke-Free Future
Philip Morris International (PMI) is leading a transformation in the tobacco industry to create a smokefree future and ultimately replace cigarettes with smoke-free products to the benefit of adults who would otherwise continue to smoke, society, the company and its shareholders. PMI is a leading international tobacco company engaged in the manufacture and sale of cigarettes, as well as smoke-free products and associated electronic devices and accessories, and other nicotine-containing products in markets outside the United States. In addition, PMI ships a version of its
IQOS
Platform 1 device and its consumables authorized by the U.S. Food and Drug Administration to Altria Group, Inc. for sale in the U.S. under license. PMI is building a future on a new category of smoke-free products that, while not risk-free, are a much better choice than continuing to smoke. Through multidisciplinary capabilities in product development, state-of-the-art facilities and scientific substantiation, PMI aims to ensure that its smoke-free products meet adult consumer preferences and rigorous regulatory requirements. PMI's smoke-free
IQOS
product portfolio includes heat-not-burn and nicotine-containing vapor products. As of June 30, 2020, PMI estimates that approximately 11.2 million adult smokers around the world have already stopped smoking and switched to PMI's heat-not-burn product, available for sale in 57 markets in key cities or nationwide under the
IQOS
brand. For more information, please visit www.pmi.com and www.pmiscience.com.