Welcome to Philip Morris Hungary Ltd. We were established in 1992 after Philip Morris acquired the Eger Tobacco Factory. Today, we are one of the largest tobacco companies in the country.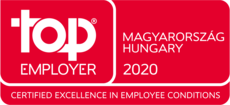 ~ 180
EMPLOYEES
Key facts
Main brands
Marlboro, Multifilter, Philip Morris, Chesterfield, RGD
Philip Morris Hungary Ltd. provides nationwide coverage. Overall, about 150 employees work for the company.

Our brand portfolio includes international brands like Marlboro and Philip Morris, as well as local brands such as Multifilter.

Philip Morris Hungary has an active charitable contributions program, supporting initiatives in the communities where our employees live and work. These programs also focus on helping those in need and supporting other initiatives that benefit local communities.
Based on Article (2) § 20. of Act XLVIII of 2008 on the Basic Requirements and Certain Restrictions of Commercial Advertising Activities Philip Morris Hungary Ltd. announces the following:

Philip Morris Hungary Ltd. made no expenditures on sponsoring in 2019.

Philip Morris Hungary Ltd. spent HUF 103.510.093 on advertising in 2019.