The campaign which communicates the processes of selection and development of our people, and which represents the values that distinguish Philip Morris' culture.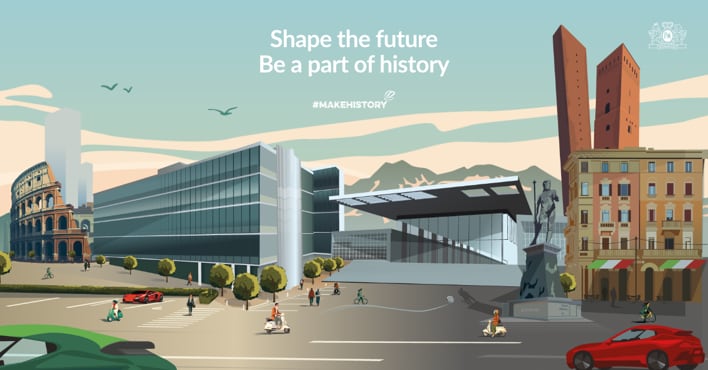 MAKEHISTORY is our employee value proposition and is based on four different pillars:
Revolutionary Change, Stronger Together, Shape the Future, Endless Experience.
These pillars are the core of the
collaborative
and
inclusive
culture
that characterizes our company, where everyone can develop their professional skills and get inspiration to play a key role in the mission of achieving a smoke free future, all over the world.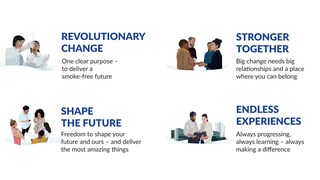 Let's shape the future together
Our strength is the ability to shape the future, while making incredible projects. We are not afraid to ask ourselves brave questions every day and we never stop being curious about our surroundings. We like to think openly and explore new solutions that make our ideas successful. It is not just a question of achieving the goals set but of being able to dream big in order to build an extraordinary and ambitious future.

To do this we need curiosity, expertise and collaboration. Collaborating and exchanging our ideas means being stronger together. We want each of us to feel valued and motivated to give our best. Respect and trust in others are key in order to make our future a success.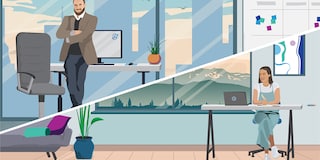 Change creates experience
#MAKEHISTORY means promoting a
revolutionary change
and making a mark on everything we do. We are aware that building a smoke-free future is a challenging mission but we are ready to face it together with passion.
Being a company that comes into play also means offering
endless
experiences
. Whichever way we decide to go, we will be sure to meet ambitious people who, like us, are committed to achieving challenging goals, encouraging others to do the same.
Here are some colleagues who are making history with us
Eva Garcia
Manager Quality, Philip Morris Manufacturing and Technology Bologna
Gianluca Iannelli

Head of Smoke-Free Products Category, Philip Morris Italia
Stefano Crisaldi
Director Environmental Engineer, Philip Morris Manufacturing and Technology Bologna
Eleonora Santi
Director External Affairs, Philip Morris Italia
Fulvio Girardi
Head of Commercial Operations, Philip Morris Italia
Zeljana Piccolotto
Manager Open+, Philip Morris Manufacturing and Technology Bologna
Marco Petta
Manager Production Manufacturing, Philip Morris Manufacturing and Technology Bologna
I started my Endless Experience in Philip Morris 18 years ago and since then I have had the opportunity to work in two different countries in a multicultural environment that has enriched me a lot both personally and professionally.
Always moving forward, constantly learning, making a difference: this is the chance that thousands of people working in this company have.

We are at a turning point for our company, our people and our consumers.
We are the only tobacco company in history that is committed to building a smoke-free future and we are creating a culture of change to tell our incredible story. We are Revolutionary Change.

We are leading a huge revolution in our industry. We are the only company in the sector that is committed to building a smoke-future and with this goal we constantly invest in Research and Development and in the implementation of the most innovative and advanced technologies. We encourage the learning and growth of our people to develop the skills needed to make our vision a reality, generating a revolutionary change.

In Philip Morris we share our experience with new colleagues, welcome them, acquire new skills thanks to the multicultural nature of our community. We value inclusion and diversity. We respect and believe in each other, we work in harmony to make our future a success. This means being
stronger together.
Curiosity is one of the characteristics that has always distinguished me. Here at Philip Morris I have always been encouraged to ask questions, to think openly and to explore new skills to make our ideas a success. We dream big to build extraordinary and ambitious solutions, we are the ones who shape our future.

We have the opportunity to shape our future and build incredible projects.
Our people never cease to be curious about our consumers, ourselves and the world. Our culture is based on achieving goals, but we give our people the support and space they need to plan and live the future together.

In our company we are going through a profound change, and profound changes need deep relationships. Collaboration is the foundation of our corporate culture, we constantly share our ideas to shape the future together.
Through mutual respect and our inclusive culture, which supports and inspires each of us, we know that we are stronger together.