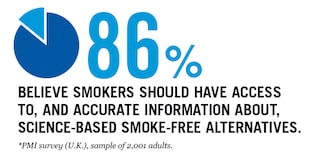 A smoke-free future can be achieved in the U.K., but only if regulation allows adult smokers access to, and accurate information about, the full range of science-backed alternative products available.
The U.K. has made significant strides in helping adult smokers quit cigarettes.
Millions of adults who would otherwise continue to smoke have already switched to e-cigarettes, thanks to improved access to and information about these products.

However, more needs to be done. Today, there are almost seven million adult smokers in the U.K. who have yet to find a suitable alternative to continued smoking. We should not give up on them.
That's why we're appealing to all key parties—from the government to the tobacco industry itself—to work together to give every adult smoker access to and information about all better alternatives to continued smoking, such as heated tobacco products and nicotine pouches, as well as e-vapor.
If we can achieve this, we can help the U.K. give up smoking and deliver the smoke-free future.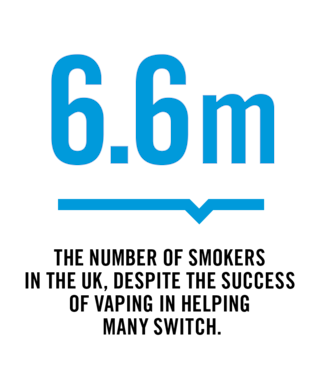 By Dr. Moira Gilchrist, Vice President, Strategic & Scientific Communications, Philip Morris International
At Philip Morris International we believe that we can go smoke-free in the UK within 10 years.
But that won't happen without the right regulatory support.
Of course, the best choice any smoker can make is to quit tobacco and nicotine altogether. Nevertheless, there are still 6.6 million smokers in the UK. Smoke-free products have helped millions of adult smokers switch away from cigarettes but those who don't quit need to find a smoke-free product that works for them.

The Government's approach on taxation, the restrictions on marketing and packaging regulations for cigarettes, and the support for vaping have all contributed to the decline in smoking prevalence. However, these measures alone will not allow the UK to meet its 2030 smoke-free ambition – bolder action is required now.
It's time the UK allowed adult smokers better access to – and information about – the full range of smoke-free alternatives available. We know people want this – 86 percent of adults support the idea**. And more than three-quarters of adults (77 percent) believe policy makers need to better consider the views of tobacco and nicotine consumers when deciding on regulations for tobacco and nicotine-containing products.
Philip Morris is playing its part. We are the only major tobacco company that has pledged to go smoke-free. And we've made incredible progress.
We've cut the vast majority of commercial support for our combustible cigarette business. To date, we have invested more than $9bn in smoke-free products, to help adults who don't quit, switch away from combustible cigarettes. Just eight years ago we were a cigarette business. At the end of our last quarter, more than 30 percent* of our total net revenues came from smoke free products. And 13.5 million adults across the globe have switched to one of our products and abandoned cigarettes completely. Our commitment to transformation is undeniable. We are aiming for 50 percent of our total net revenues to come from smoke-free products by 2025.
But we cannot shape the UK's smoke-free future alone.
If the UK embraces smoke-free innovation, combined with the right regulatory and policy approach, it can help accelerate an end to smoking once and for all.
*PMI Q3 2022
** Online survey conducted by Povaddo on behalf of PMI (Feb 5 - 23, 2022) with 2,001 interviews conducted in the UK.