Welcome to Coltabaco S.A.S and Philip Morris Colombia S.A. affiliated companies to Philip Morris International in Colombia. Coltabaco S.A.S was established in 1919 and became a Philip Morris International affiliate in 2005. Philip Morris Colombia S.A. was established in 1999. We offer a high quality products portfolio such as Marlboro, Chesterfield and L&M.
In March 2017, IQOS, the worlds leading tobacco heating system device was launched in Colombia. IQOS technology commercialization is authorized in the U.S. market by the US Food and Drugs Administration (FDA). On average, IQOS generates 95% lower levels of harmful and potentially harmful compounds than cigarette smoke due to its innovative smoke-free technology.

Key facts
Main brands
Marlboro, Chesterfield, L&M
Tobacco heating system units: HEETS
Tobacco heating system device: IQOS
Coltabaco S.A.S is a Great Place to Work®
As Coltabaco S.A.S takes forward its transformation journey, it embodies an inclusive culture and fosters diverse teams - essential to driving an innovative and progressive organization. The company strives to be a catalyst of change - by onboarding the most talented industry professionals and mentoring them through varied experiences across competitive roles, cross-functional market projects and movements, global and regional exposure, comprehensive learning programs, and career coaching.

In 2022, these efforts were recognized when Coltabaco S.A.S was certified by Great Place to Work, the global authority on workplace culture. Coltabaco S.A.S is also EQUAL-SALARY certified for its sustainable policies and practices, which ensure that male and female employees are paid equally for equal work.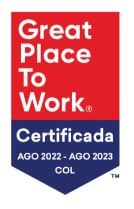 Integrated Management System (Compromiso OPEN)

Consumo de Cigarrillos y Salud

Práctica de Protección de Datos Personales (Colombia)

Anexo de Seguridad de Información (Colombia)

Information Security Annex (Colombia)

Política de tratamiento de datos personales de Socios comerciales (COLTA...

Política de tratamiento de datos personales de Socios comerciales (PMC)
Head Office
Philip Morris Colombia S.A.
Calle 81 #11/08. Edificio 8111, Piso 3
Bogotá
Colombia