Welcome to Philip Morris China, Philip Morris International's (PMI) local affiliate, based in Beijing.
In December 2005, PMI signed landmark strategic cooperation agreements with the China National Tobacco Company for the licensed production of PMI's Marlboro brand in China, and for the establishment of an international joint venture to promote Chinese heritage brands in international markets.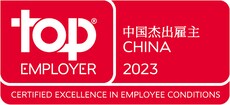 ~100
employees
Licensed production of Marlboro in China began in August 2008 at two Chinese cigarette factories. The brand is distributed throughout the country. Since 2008, Chinese brands, under cooperation, have been launched and distributed in international markets, including the Czech Republic, and Poland.

Philip Morris China actively supports the local communities where it operates. This includes sponsoring programs to promote education and help people in need. One example is our partnership with the China Youth Development Foundation to build schools in poor and remote areas of China.
Philip Morris (China) Management Co. Ltd.
Unit 3118, 31F China World Tower 2
No. 1 Jianguomenwai Avenue
Beijing 100004
+ 86 10 5928 0288
Speaking Up at PMI
PMI is committed to doing business ethically and with integrity, honesty, respect, and fairness. Employees, business partners, and stakeholders can raise concerns using PMI's Speaking Up channels.

To learn more about how to make a report, click here.