6/26/2019
Heated Tobacco Launches in Bristol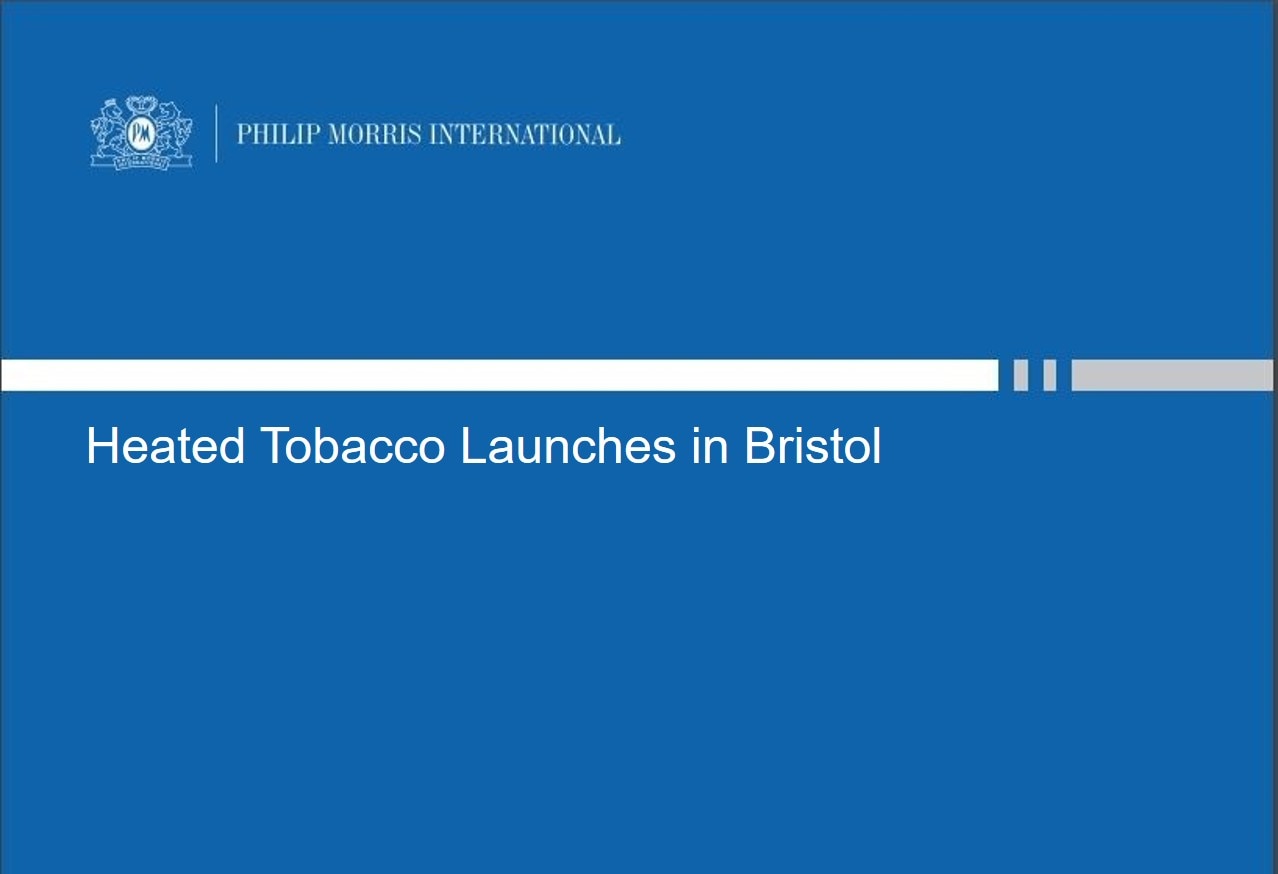 Heated Tobacco set to launch in Bristol with 4 new IQOS stores, 30 new jobs and 100+ HEETS stockists in the city

IQOS expansion is designed to help 40,000 smokers in Bristol switch away from cigarettes for good; 7 in 10 smokers who try IQOS heated tobacco for a week give up smoking completely

Research by Frontier Economics last year showed that the City of Bristol could be the first area in England to go smoke-free, reaching the target by the mid-2020s
IQOS Heated Tobacco will arrive in Bristol this month as a new alternative for the city's 40,000 smokers.i Four new IQOS stores are set to open across the city, heated tobacco sticks (called 'HEETS') are now available in 100+ stores and 30 new jobs are being created to help smokers understand how to switch from cigarettes to less harmful alternatives. Stores are in Cabot Circus and Cribbs Causeway with two other locations opening in the summer.

Expansion into Bristol follows the successful launch of IQOS in London with device sales reaching a total of 100,000 over the past two years.

IQOS heated tobacco is a new technology that allows smokers to heat rather than burn tobacco. This removes on average 95% of the harmful toxins found in traditional cigarette smoke.ii IQOS is the result of £4bn research and development investment by Philip Morris International over the past decade. There are now over 10 million IQOS consumers globally.iii

Last year, research by Frontier Economics found that Bristol could be the first area in England to go totally smoke free by 2024.iv To hit this target, however, many more of the city's 40,000 smokers will need to switch to smoke free alternatives than currently predicted. According to Public Health England nearly half of smokers do not realise that alternatives are less harmful than cigarettes.v

Peter Nixon, Managing Director of Philip Morris Limited, believes bringing IQOS heated tobacco to Bristol gives smokers in the city a genuine new choice. He said: "We chose Bristol for our expansion outside London because this could be the first city in the whole country to be Unsmoked. We believe IQOS could make that happen even faster. The reason is clear: 7 out of every 10 smokers who try IQOS heated tobacco for a week give up cigarettes completely. That is the equivalent of 28,000 fewer smokers in Bristol alone."

Notes to Editors

The Bristol stores will be located at:
- IQOS Boutique Cribbs Causeway, Unit UR141, The Mall @ Cribbs Causeway , Bristol, BS10 7UH
- IQOS Boutique Cabot Circus, Unit SU52, Cabot Circus, Bristol, BS1 3BX

Contact:
For media enquiries: Shelley Frosdick
Phone: 020 7025 1373 - Email: pml@pha-media.com


i Office for National Statistics' Adult Smoking Habits in the UK 2017 https://www.ons.gov.uk/peoplepopulationandcommunity/healthandsocialcare/healthandlifeexpectancies/bulletins/adultsmokinghabitsingreatbritain/2017
ii Compared to the smoke of a reference cigarette (3R4F). It does not necessarily equal a 95% reduction in risk.
Source: Average of the reductions in the concentrations of a broad range of harmful and potentially harmful chemicals measured in the IQOS aerosol compared to those measured in the smoke of more than 1,600 cigarette brands in over 40 countries between 2008 and 2017. Aerosol and smoke collections performed under the Health Canada Intense machine-smoking regime. Reduction calculations exclude nicotine.
iii 2019 Annual Meeting of Shareholders, May 2019 – https://www.pmi.com/investor-relations/press-releasesand-events/2019-annual-meeting?EventId=5277238 (key documents, slides, slide 27)
iv Frontier Economics, August 2018 – 'Working Towards a Smoke-Free England' -
http://www.frontier-economics.com/uk/en/news-and-articles/news/news-article-i4373-kicking-the-habit-butwhen-wide-regional-variation-in-meeting-smoke-free-goals/
v Public Health England, December 2018 – www.gov.uk/government/news/phe-health-harms-campaignencourages-smokers-to-quit
Around 2.5 million adults are using e-cigarettes in England, and they have helped thousands of people successfully quit – but many smokers (44%) either believe that vaping is as harmful as smoking (22%) or don't know that vaping poses much lower risks to health (22%).