We have built an environment where our employees can bring their full selves to work, contribute their best, support each other, and drive the innovation and consumer-centricity needed to help us to achieve our vision of a smoke-free future.
Across our two businesses in the UK – Philip Morris Limited and PMI Global Studio – we are proud to employ a diverse workforce of around 800 people in the UK of more than 50 nationalities.

Equal Pay for Equal Work
In 2019, PMI became the first company globally to earn EQUAL-SALARY certification from the non-profit EQUAL-SALARY Foundation, following an intensive quantitative and qualitative review of pay and related practices. This independent accreditation verifies that PMI pays men and women equally for equal work in the more than 90 countries in which PMI operates.

PMI joined the rigorous equal-pay certification process by commissioning an independent third-party auditor to undertake an in-depth review of our Talent Development, Performance Management and Reward Practices.
The EQUAL-SALARY accreditation goes beyond the requirements of equal pay legislation in the UK, and it is testament to our progress and leadership in this area. Our pride at this achievement is matched by our whole-hearted commitment to continue to maintain these high standards.

Work 180
We are certified by Work180 as an 'Endorsed Employer for Women in 2023'. The international job network connects businesses with talented women. Work180 pre-screen every employer on their jobs board to see where they stand on pay equity, flexible working, paid parental leave, equal opportunities and a range of other criteria.
Inclusive Employers
We are proud members of Inclusive Employers, the UK's leading membership organisation for employers looking to make inclusion an everyday reality in the workplace.
Our Employer Resources Groups (ERG) put the power of change directly into our people's hands. These grassroots teams include representatives from across the business, who channel their passion and expertise to provoke and inspire everyone at PMI to think differently on the issues that matter to them.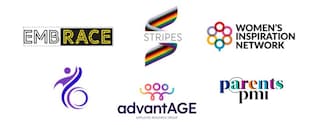 Spotlight on EMBRACE and STRIPES
Embrace
EMBRACE is our Race and Ethnicity ERG. It is an inclusive community that welcomes colleagues from races, ethnicities and cultural backgrounds from all over the world.
EMBRACE works to:
Create a culturally inclusive workplace where all employees feel secure and comfortable to speak on issues which pertain to race and cultural background.
Enable us to gain a better understanding of its performance on race equality and inclusivity.
Increase representation of BAME colleagues across all levels of the organisation.
Enable us to extend its contribution to race equality beyond its people.
Work towards becoming signatories of BITC's Race at Work Charter.

Stripes UK
STRIPES UK launched in 2016, with the aim of raising awareness and understanding of LGBTQ+ issues. It also champions and celebrates the contribution made by LGBTQ+ employees and their allies.
The STRIPES brand was extended to a further 26 PMI markets in 2019 and has also inspired a global LGBTQ+ ERG.
STRIPES UK's mission:
To build and maintain an inclusive and diverse environment for LGBTQ+ employees.
To foster a culture where individuals of all identities feel confident to bring their whole selves to work, empowering them to fully contribute to our vision of a smoke-free future.