Welcome to Philip Morris International's (PMI) affiliates in Italy, Philip Morris Italia and Philip Morris Manufacturing & Technology Bologna (PMMTB).

Philip Morris Italia, based in Rome, is responsible for the sale and merchandizing of PMI brands throughout the country. We are the largest tobacco company in Italy, with a dynamic portfolio that includes top international brands such as Heets, Marlboro, Merit, Philip Morris, Chesterfield. Philip Morris Italia was established in 2001 and today employs more than 1,000 people in its head office and regional sales offices.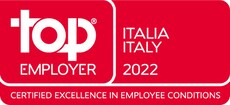 + 2,000
Employees
Key facts
Main brands
IQOS, HEETS, Marlboro, Merit, Philip Morris, Chesterfield.
Since 2010, Philip Morris Italia has been mentioned by the Corporate Research Foundation (CRF) Institute as one of the top employers in Italy. We are recognized for our capability to attract and retain talent, based on a wide range of career opportunities, employee development programs, and our compensation and benefits.
We are also strongly committed to making a difference in the communities where our employees live and work. We support nonprofit organizations in the fields of education, culture, domestic violence prevention, and the fight against hunger and extreme poverty.
Philip Morris Manufacturing & Technology Bologna (PMMTB) is PMI center of excellence for staff training, prototyping and large-scale production of smoke-free tobacco products.
PMMTB (previously Intertaba) became a PMI affiliate in 1963. Over the years, the company, cooperating with PMI, has built a solid expertise in prototyping and industrializing technologically advanced cigarette filters. Thanks to the skills developed over the years at the Zola Predosa site, in 2014 PMMTB expanded its presence in the Emilia-Romagna region with the new production plant in the industrial area of Crespellano, as a result of an investment of more than 1 billion euros.
As the first plant of its kind in the world, PMMTB is where industrial processes for production of innovative products are defined. The know-how developed internally is exported abroad as a key asset in the conversion phase of the other production subsidiaries of the group, thus extending the perimeter of activation of the manufacturing activity carried out in Italy beyond the borders of the national territory.
The plant receives raw and semi-finished tobacco to produce tobacco sticks and thanks to the work of over 1,500 people employed, the plant responds to the international demand of the many countries where IQOS platforms are currently marketed.
PMMTB is characterized by high levels of technological innovation and state-of-the-art sustainability practices.

Philip Morris Italia S.r.l.
Philip Morris Italia S.r.l.
Via Po 11-13-15
00198 Roma
Italy
+39 06 85 44 51
Philip Morris Manufacturing & Technology Bologna S.p.A.
Via Giacomo Venturi, 1-2
40056 Località Crespellano
Valsamoggia – Bologna

+39 051 351 7611