Sustainability
Clearing a way forward: PMI employees help clean up their communities
29 Sep 2019
·
5 min read
For World Cleanup Day, groups of PMI employees worked to improve their environment, removing litter – and especially cigarette butt litter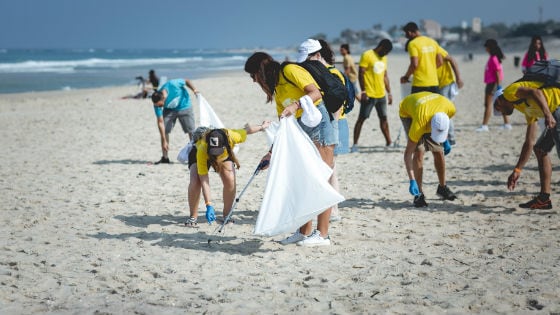 Nothing shines a light on community spirit like a joint effort to tackle an issue that effects everyone. And littering is an issue that effects not just the people living in a community, but also the environment at large. That is why Philip Morris International (PMI) employees took to the streets and parks of their local communities with a purpose: to tackle littering. PMI is committed to reduce cigarette butt littering worldwide and our country affiliates are kick-starting the global campaign by raising awareness about the issue.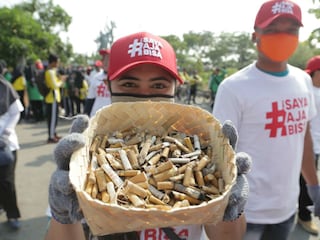 Building a smoke-free future is a key focus for PMI. But there are other important societal and environmental issues where the company can also play its part. PMI is taking a more systematic approach to the issue of cigarette butt littering, which involves analyzing and taking action on the causes of littering, looking at the drivers of behavior change, promoting equipment for proper disposal, and raising awareness. Stretching across 30 nations – from Australia to the Ukraine – groups of employees un-littered their environment by organizing cleanups to remove all types of litter, including bags, bottles, and cigarette butts.

"Our goal is to contribute to impactful solutions to the problem of cigarette butt littering," said Huub Savelkouls, PMI's Chief Sustainability Officer. * "Awareness-raising initiatives such as the World Cleanup Day play an important role in uniting individuals around the world to promote litter-free communities."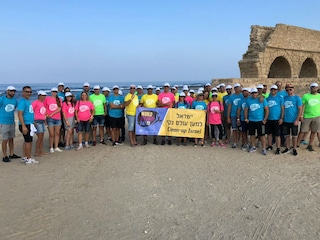 On this occasion, more than 82 tons of litter was picked up across 46 cities, which equates to 2.5 million m2. And in places such as the Philippines, the day proved truly successful, with 1,000 employees engaging with their communities to collect 45 tons of litter.†

While not a permanent solution, these cleanups help to raise awareness of the issue of littering – and cigarette-butt littering particularly – in local communities. It will take a joint effort from many stakeholders to properly address the global issue, but these local activities show what is possible when everyone comes together.
Coming together to take action against littering
Over 3,000 employees, volunteers, local community members, and government officials collected 782,360 cigarette butts.†
TWO SEPARATE CLEANUPS WERE HELD IN THE CZECH REPUBLIC, IN PRAGUE AND IN KUTNÁ HORA WITH 29 VOLUNTEERS.
56KG OF WASTE WAS COLLECTED, INCLUDING 11,000 CIGARETTE BUTTS.
IN GRÄFELFING, A DISTRICT OF MUNICH, AROUND 40 VOLUNTEERS PARTICIPATED IN A CLEANUP TO CLEAR THE LOCAL STREETS OF LITTER.

200KG OF WASTE AND 37,500 CIGARETTE BUTTS WERE PICKED UP.
FIFTY VOLUNTEERS JOINED EMPLOYEES TO HELP CLEANUP THE ASPROPYRGOS BEACH AREA.

200KG OF PLASTIC, GLASS AND METAL WERE PICKED UP.
A GROUP INCLUDING 150 EMPLOYEES CLEANED UP TWO BEACHES ALONG THE COASTLINE OF ISRAEL NEAR CAESAREA.

70KG OF WASTE AND 6.7KG OF CIGARETTE BUTT LITTER WAS PICKED UP.†
NEAR THE MOUNTAINS OF ALMATY, ALMOST 100 EMPLOYEES TOOK PART IN A CLEANUP HELD IN A NATIONAL PARK.

300KG OF WASTE AND 1,500 CIGARETTE BUTTS WERE PICKED UP.

30 FIR-TREES WERE PLANTED.
THIRTY-SEVEN EMPLOYEES HELPED CLEANUP PART OF VERKIAI REGIONAL PARK IN VILNIUS, AND ŠNELLI PARK IN TALLINN. THEY ALSO PLANTED A JAPANESE GINKO TREE IN RIGA, WHICH IS INCLUDED ON A WEBSITE BY THE NATIONAL LET'S DO IT MOVEMENT OF LATVIA, WITH A WISH FOR A SUSTAINABLE LATVIA.

209KG OF WASTE AND 11,560 CIGARETTES AND HEETS WERE PICKED UP.†
THE PRAIA GRANDE IS A POPULAR SURFING BEACH THAT IS LOCATED ON THE WESTERN EDGE OF THE SERRA DE SINTRA NATIONAL PARK. 42 PEOPLE, INCLUDING EMPLOYEES AND PARTNER ORGANIZATIONS, HELPED TO CLEAR IT OF LITTER.

115KG OF WASTE AND 17,500 CIGARETTE BUTTS WERE PICKED UP.
FORTY PEOPLE, INCLUDING EMPLOYEES AND ORGANIZERS, HELPED TO CLEAN UP THE BEACH IN NGOR, THE MOST WESTERN POINT OF THE AFRICAN CONTINENT.

40 BAGS OF WASTE AND 10,000 CIGARETTE BUTTS WERE PICKED UP.
EMPLOYEES IN SINGAPORE PARTNERED WITH KINDRED, AN NGO, TO CLEAN UP THE PANJANG NEIGHBORHOOD. 74 EMPLOYEES AND THEIR FAMILIES TOOK PART, WITH TWO REPRESENTATIVES FROM THE NGO.

40KG OF WASTE WAS PICKED UP (INCLUDING 9.7KG OF RECYCLABLES)
TWENTY-THREE EMPLOYEES VOLUNTEERED TO COLLECT WASTE AT A BEACH IN MELBOURNE, WITH OVER 500 CIGARETTE BUTTS PICKED UP.

EMPLOYEES IN JAPAN PARTNERED WITH A LOCAL NGO AND CONDUCTED A LUNCHEON SEMINAR ON PLASTIC POLLUTION IN THE OFFICE. 23 EMPLOYEES AND VOLUNTEERS TOOK TO THE STREETS FOR THE CLEANUP.

40KG OF WASTE AND 50 CIGARETTE BUTTS WERE PICKED UP.†
WORLD CLEANUP DAY FOR INDONESIA SAW MORE THAN 260 VOLUNTEERS, SPLIT BETWEEN TWO CITIES, JAKARTA AND SURABAYA.

12,500KG OF WASTE AND 25,000 CIGARETTE BUTTS WERE COLLECTED.
WITH 1,079 PARTICIPANTS IN 4 CITIES (WESTERN BICUTAN, TAGUIG; LAPASAN COASTAL, CAGAYAN DE ORO; BAGUIO CITY PUBLIC MARKET; AND AS FORTUNA, BANILAD CEBU CITY) SPANNING TWO DAYS OF ACTIVITIES, THE PHILIPPINES HAD BY FAR THE LARGEST NUMBER OF VOLUNTEERS JOINING WORLD CLEANUP DAY. THEY ALSO CONTRIBUTED TO MORE THAN HALF THE TOTAL WASTE COLLECTED GLOBALLY.

45,509 KG OF WASTE AND 57,000 CIGARETTE BUTTS WERE COLLECTED.
OUR ITALIAN TEAM, COMPRISED OF 80 EMPLOYEES, PARTNERED WITH THE NGO RETAKE ROMA, ONE OF THE MOST ACTIVE ENVIRONMENTAL ORGANIZATIONS IN ROME, AS WELL AS WITH LET'S DO IT ITALY. THIS CLEANUP WAS LINKED TO THE ONGOING #CAMBIAGESTO ANTI-LITTERING CAMPAIGN.

122KG OF WASTE AND 12,000 CIGARETTE BUTTS WERE PICKED UP.†
FORTY-SEVEN PMI EMPLOYEES IN NORWAY, FINLAND AND DENMARK PARTNERED WITH LOCAL NGOS – KEEP NORWAY TIDY, SOME, THE NORWEGIAN WASTE AND RECYCLING ORGANIZATION AND THE PRESTIGIOUS KEEP ARCHIPELAGO CLEAN (FINLAND). IN FINLAND, EMPLOYEES CLEANED UP PLASTIC FROM SUOMENLINNA, A UN WORLD HERITAGE SITE CLOSE TO HELSINKI.

1,980KG OF WASTE AND 2,750 CIGARETTE BUTTS WERE PICKED UP.†
SIXTY-TWO EMPLOYEES, IN PARTNERSHIP WITH A LOCAL NGO, CONVERGED IN MALAGA TO CLEANUP 1,3KM OF A LOCAL BEACH.

26KG OF WASTE AND 12,000 CIGARETTE BUTTS WERE PICKED UP.†
IN SWITZERLAND, 170 EMPLOYEES VOLUNTEERED TO CLEAN UP A POPULAR LOCAL PARK IN PARTNERSHIP WITH THE CITY OF LAUSANNE. THE EVENT WAS INTRODUCED BY HUUB SAVELKOULS, PMI CHIEF SUSTAINABILITY OFFICER. *

262KG OF WASTE AND 30,000 CIGARETTE BUTTS WERE PICKED UP.
FIFTY-THREE VOLUNTEERS, CONSISTING OF PMI EMPLOYEES AND OTHER LOCAL STAKEHOLDERS, JOINED FORCES IN COSTA RICA TO COLLECT 205KG OF WASTE (INCLUDING 25KG OF RECYCLABLES).

IN CANADA, 32 VOLUNTEERS PARTICIPATED IN THE CLEANUP IN FOUR LOCATIONS IN THE GREATER TORONTO AREA, PICKING UP OVER 50 BAGS OF WASTE AND 5,000 CIGARETTE BUTTS.

IN SEVEN CITIES (CANCÚN, GUADALAJARA, MEXICO CITY, MONTERREY, QUERÉTARO, SAN LUIS POTOSÍ, AND YUCATÁN), 140 VOLUNTEERS CAME TOGETHER. THE TEAM IN MEXICO PARTICIPATED IN THE WORLD CLEANUP DAY WITH GREAT IMPACT – THEIR TEAM PHOTO WAS USED AS THE OFFICIAL PHOTO FOR THE PRESS RELEASE OF THE WORLDCLEANUPDAY.ORG.

92 BAGS OF WASTE AND 61,000 CIGARETTE BUTTS WERE PICKED UP.
NINETY EMPLOYEES VOLUNTEERED IN UKRAINE, COVERING AN ISLAND, A LAKE, SIX PARKS AND EVEN A MOUNTAIN (1598M ABOVE SEA LEVEL). THEY SHOWED THEIR COMMITMENT TO THE CLEANUP BY PICKING UP 16,380KG OF WASTE. THAT'S 182KG PER PERSON!
WITH 585 VOLUNTEERS, INCLUDING EMPLOYEES, NGO'S, GOVERNMENT AND LOCAL BUSINESSES IN SIX CITIES, THE CLEANUP IN RUSSIA SPANNED THE MOST TIME ZONES, WITH CLEANUPS ALONG FOUR RIVERS, NATIONAL PROTECTED AREAS AND URBAN AREAS.

4,240KG OF WASTE AND 54,500 CIGARETTE BUTTS WERE PICKED UP.
IN SOUTH AFRICA, 66 VOLUNTEERS TOOK TO THE STREETS OF CAPE TOWN ON A MISSION TO PICK UP AS MANY CIGARETTE BUTTS AS THEY COULD. AND THEY DID – 400,000 OF THEM! THE BAGS WERE EMPTIED ON A BUSY SQUARE DURING LUNCHTIME TO SHOW AND RAISE AWARENESS OF THE NUMBER OF CIGARETTE BUTTS THAT END UP IN THE STREETS, BEFORE BEING CORRECTLY DISPOSED OF.
NINE EMPLOYEES JOINED THE WORLD CLEANUP DAY IN LA REUNION, SHOWING THEIR COMMITMENT TO CLEANUP THE BEAUTIFUL ISLAND.

* Jennifer Motles succeeded Huub Savelkouls as Chief Sustainability Officer on November 1, 2020, following Mr. Savelkouls' retirement from PMI.

** Baltics (Lithuania, Latvia, Estonia)

*** Nordics (Finland, Norway, Denmark)

† These figures are not final