The certification by the independent EQUAL-SALARY Foundation is an important building block on the road to creating a more inclusive, gender-balanced workplace.
The EQUAL-SALARY Foundation is an independent, non-profit organization based in Switzerland. The EQUAL-SALARY Certification verifies that organizations have sustainable policies and practices to ensure that they pay their male and female employees equally for equal work.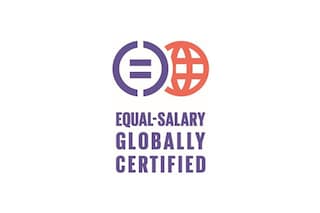 Gender pay equality cannot be taken for granted. PMI is leading by example and taking concrete steps to verify its equal-pay practices by obtaining the Global EQUAL-SALARY Certification by an external third party. We want to foster trust among our employees and future talent by creating a workplace founded on fairness, inclusion and diversity—essential ingredients for our business transformation.
A rigorous, third-party validation on equal pay
EQUAL-SALARY Certification includes more than a simple comparison of salary data to ensure we pay men and women equally for equal work—it's a process that includes multiple steps:
Step 4
Global certification
PMI submits its Compensation Data, i.e. all the relevant data which might impact the determination of salaries for female and male employees, and Compensation Documents, i.e. policies and other documents that relate to the Compensation Data in each country.
PwC, the Foundation's entrusted auditor, conducts a series of interviews at PMI to gather information about:

a. senior leadership commitment to the EQUAL-SALARY principles

b. PMI's global People & Culture (P&C) management and strategy

c. the resources, processes, and indicators in place to drive fair remuneration across the globe
On-site audits take place in PMI affiliates around the world to evaluate:

a. management's commitment to equal remuneration between men and women

b. the integration of EQUAL-SALARY principles in all P&C processes and policies

c. employee perceptions of gender equality in the organization
After fulfilling these steps, PMI will receive Global EQUAL-SALARY Certification, and may communicate about this achievement both internally and externally.
Further audits take place two and three years after the certification to:

a. confirm PMI's ongoing commitment to a fair, non-discriminatory wage practice between men and women

b. demonstrate continual improvement in applying the EQUAL-SALARY principles

c. validate any actions identified through the on-site assurance work
By its global character, the certification of Philip Morris International is a major step for pay equality between women and men. That a leading Fortune 500 company makes such a commitment is a strong signal. We are proud of the international scale that PMI's global certification gives to our cause.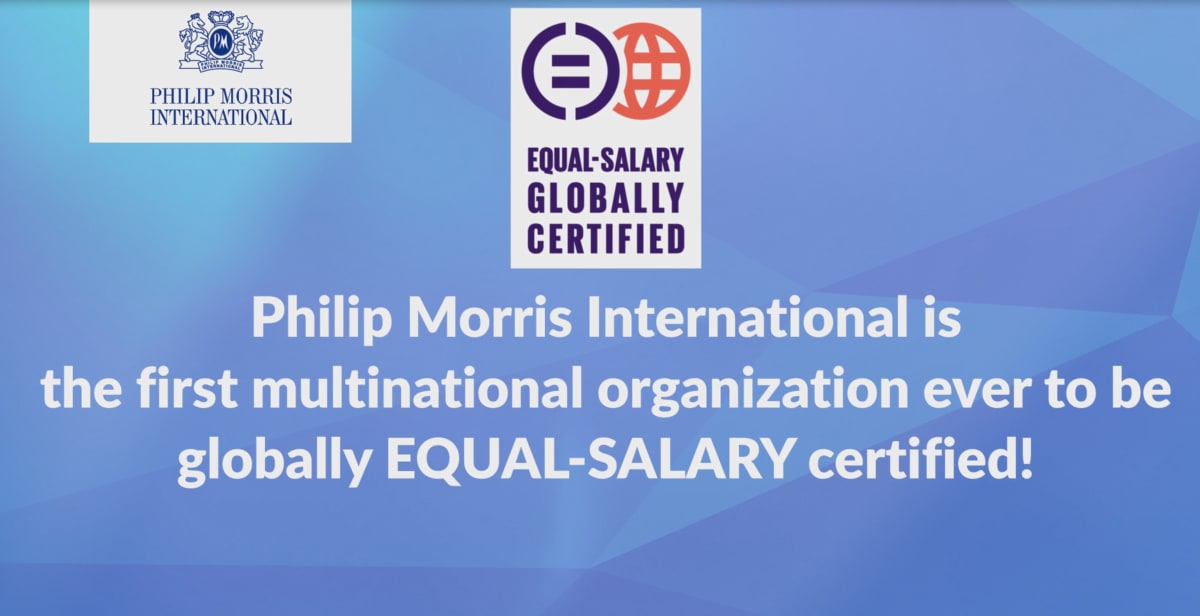 *This video clip lasts 4 min 5 sec
*Instrumental music plays throughout video*
Logos of Philip Morris International and the Equal-Salary Globally Certified appear on the background accompanying the following text:
Philip Morris International is the first multinational organization ever to be globally EQUAL- SALARY Certified!
This is what some of our local leaders had to say:

* The question: "Why is the EQUAL-SALARY certification important to you?" is written on screen.*
Andrzej Dabrowski from Mexico is pictured sitting down, along with his written quote: "I am convinced improving gender balance will help us be a better organization – more creative, more diverse and more effective."
Tetiana Karpova from Argentina is pictured looking at the camera, along with her written quote: "it is the minimum standard of equality and reinforces our commitment to a more inclusive and fairer world to us, our children and our grandchildren."
Ilwoo Chong from Korea is pictured holding the Equal Salary Foundation's Certificate of Conformity in his hands.

Alongside the photo of Ilwoo, his written quote reads: "The EQUAL-SALARY certification strengthens our attractiveness as an employer, increases employer pride knowing that they work for a progressive company that supports an inclusive work environment."

Xavier Ducarroz from Slovakia is pictured smiling and standing. His written quote reads: "It is important for our transformation because it makes us a more attractive employer, builds employee engagement and contributes to a more inclusive environment."
Roberto Yunen from the Dominican Republic is pictured smiling at the camera. His written quote reads: "The certification is a concrete proof of our commitment to gender equality. The vice president of our country sees us as pioneers for tackling the equal pay and gender gap".

Vassilis Gkatzelis from Egypt is pictured smiling at the camera. His written quote says: "It is one more testimony that we are committed to inclusion and diversity. Now what's given for us is not a given elsewhere. We can create a broader movement to improve pay equity in the rest of the world."

* The question: What did you learn from the EQUAL-SALARY certification process? is written on screen *

Arpad Konye from the Czech Republic is pictured holding a champagne glass in his hand and raising a toast to an audience. Arpad's quote is written on screen: "Inequalities can come from so many factors throughout the employee lifecycle, and are often unobservable. To fight them, we must continuously review from many perspectives."
Aibat Akhmetalimov from Kazakhstan is pictured smiling at the camera. Aibat's quote is written on screen: "As part of the review we realized that due to maternity leaves, women sometimes miss salary increases and their salaries fall behind. We revised the salary review process for these special cases"

Fabian Luis from Venezuela is pictured. His quote reads: "We better understand pain points for women. We learned that women feel interrupted by men while expressing their opinions. This is not only rude, this is also killing new and good ideas."

Mindaugas Trumpaitis from Indonesia is pictured. His quote reads: "The certification reminds us that sustainable gender gap equality is not just about the pay. This is also about the recruitment practices, development and careers opportunities we provide."

Markus Essing from Germany is pictured. His quote said: "It is much more than providing the same money for the same work done. It is about offering the same opportunities for women and men in our company."

Alexander Reisch from India is pictured. His quote reads: "The certification process goes beyond a salary analysis; it assesses leadership commitment and asks employees their own perception on equality and inclusiveness."

Christos Harpanditis from Greece is pictured. His quote reads: "Equal opportunity is relevant to all our practices – from hiring to development of skills and talents, to assistance to young mothers, to career paths within the organization."

* The question: What action will you take to progress gender balance? is written on screen*

Shea Lih Goh from Japan is pictured with her arms crossed. Her quote reads: "Improving our gender balance will remain our priority. Equality important is to ensure that we provide the support and build the culture that allows our diverse talent to express and contribute their personal best."

Gilles Bazus from Algeria is pictured smiling at the camera. His quote reads: "Women bring more collaboration, emotional intelligence, intuition and optimism in an organization – critical for our transformation. I will strive to create more opportunities and conditions to ensure balanced representation across all levels."

Aleksandar Jakovljevic from Serbia is pictured with his arms crossed. His quote reads: "We will constantly and intentionally look for actions to promote and ensure equal treatment on all levels. My personal commitment remains to continue with organizational health checks and improvements."

Carlos Serrano from Colombia is pictured sitting down. His quote reads: "Diversity, women in management and women in the company bring fresh ideas – as part of transformation and it's the right thing to do."

Ana Russo from Costa Rica is pictured sitting at a desk. Her quote reads: "This is the beginning of our diversity and inclusion roadmap so we can maximize potential and excel our business. The process helped us identify improvement areas."

Brett Cooper from Hong Kong is pictured with the skyline of Hong Kong behind him. His quote reads: "I am really proud to have worked on the range of different things to increase our diversity. One of which was our maternity and paternity leave, which is now a leading practice in Hong Kong."

Jeanne Polles from France is pictured looking at the camera. Her quote reads: "We need to continue to promote diversity and inclusion with all the leaders. And it's important that we are tracking recruitment – men and women – and that we are looking at promotions, to be sure that we're doing the right thing."

Ashok Rammohan from Russia is pictured smiling at the camera. His quote reads: "I am making sure that we have plans in place to exceed our inclusion and diversity targets. And more importantly I am planning to make sure we beat the targets at senior leadership levels, which is important for the rest of the organization to see role models."

Dominique Leroux from Switzerland is pictured sitting down. His quote reads: "I commit to personally reviewing the proportion of women compared to men hired, promoted and leaving Philip Morris so we close the gaps and reach our goal of 40% women in management by 2022."

Nikitas Theophilopoulos from Belgium is pictured looking at the camera. His quote reads: "We have flexible working arrangements, part-time, flexitime. We do a lot of training on unconscious bias before the annual review cycle. These will help us to make sure that all employees can truly be themselves."

The logo of Philip Morris International appears on screen.

Equal pay in practice
Switzerland
PMI was the first international company to obtain the EQUAL-SALARY label in Switzerland in 2015. In doing so, we set ourselves apart as a top employer where principles of fairness, diversity, and inclusion are the foundation for our success.
Japan
In Japan, our EQUAL-SALARY experience was one of many "firsts": Philip Morris Japan (PMJ) was the first company outside of Switzerland to obtain EQUAL-SALARY Certification in November 2016, and by applying the Foundation's rigorous equal-pay methodology in the country, PMI helped bring their work to an international level, encouraging other companies to follow suit.
Global
The Global EQUAL-SALARY Certification verifies that PMI pays men and women everywhere we operate worldwide equally for equal work. We are proud to be the first company to receive this global certification in 2019.
What about the gender gap?
While Global EQUAL-SALARY Certification doesn't directly address the gender leadership gap at PMI, the qualitative audit is helping us uncover potential barriers that may hinder equal opportunities for women to advance. That process has generated more conversations, and focused management's attention on the need to improve the gender balance at PMI. And this is just the beginning.

Read more about our Inclusion & Diversity work.
* Melissa Whiting left PMI in October 2021.
Explore roles
Explore all available roles and be one step closer to experiencing our culture for yourself.
Register your interest
Can't find the job you're looking for? Join our Talent Community and we'll let you know when the best roles for you are available.