Philip Morris International marked the 8th annual EU Anti-Trafficking Day
on October 18 by partnering with NGOs in Latvia, Estonia, Lithuania and the Czech Republic to increase awareness about human trafficking.
In Latvia, Philip Morris Latvia (PML) has been working with local NGO, "Safe House" since 2010. The organization supports victims of human trafficking and forced labor (including prostitution). To mark EU Anti-Trafficking Day 2014, "Safe House" organized a month-long series of activities with the support of the Social Integration Fund, the Municipality of Riga (Latvia's capital city) and PML. As part this effort, the organization held seminars for social workers and municipal police officers as well as training sessions for youth supervisors. "Safe House" also developed a special simulation exercise on human trafficking designed to provide practical information for young people and let them experience how it feels to be a victim. The exercise was conducted in schools and social institutions across Latvia on October 18th.
The campaign activities and simulation game received widespread media coverage. Watch here.
In Estonia, Philip Morris Estonia (PME) works with local NGO, "Living For Tomorrow", an organization addressing human trafficking through prevention and assistance for victims. To mark EU Anti-Trafficking Day 2014, "Living for Tomorrow" organized a conference on September 24th entitled, "Responsible business: Prevention of Human Trafficking and Labour Exploitation in the Baltic Sea Region". The conference was co-organized with the Ministry of Justice and Ministry of Foreign Affairs. The Council of Baltic Sea States and University of Tartu were conference partners.
Photo from the conference, "Responsible business: Prevention of Human Trafficking and Labour Exploitation in the Baltic Sea Region"

The event aimed to raise awareness about the issue of human trafficking, to provide an opportunity to share learnings from other countries' experiences in dealing with the issue, and to promote better cooperation among NGOs in the Baltic region around this important topic. Speakers at the conference called for greater cooperation between businesses, government institutions and NGOs to set up an 'early warning system' to identify potential human trafficking cases and take steps to address them. Participants included NGOs and public sector representatives from Latvia, Lithuania, Denmark and Russia, as well members of the press.
In Lithuania, Philip Morris Baltic (PM Baltic) has been supporting Caritas Lietuvos since 2009. The organization hosts training sessions for judges and prosecutors on human trafficking and develops communication and information materials for vulnerable target groups and the general public.
This year, Caritas adopted the idea used in 2013 by "Safe Shelter" in Latvia, namely, to use an eye-catching trailer campaign throughout the country to mark EU Anti-Trafficking Day.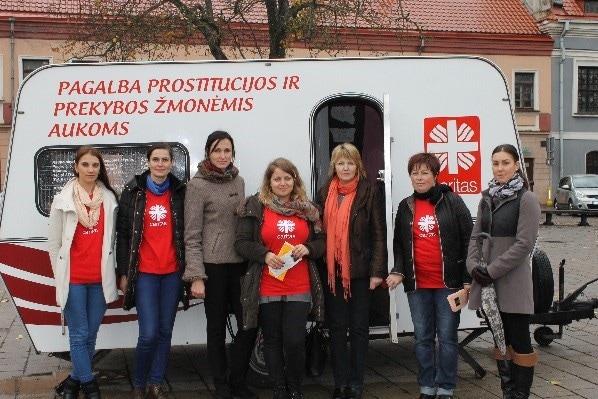 Caritas' campaign trailer and local staff and volunteers

The trailer contained an exhibition about the real impact of human trafficking and labor exploitation of individuals in society and was on display at several university campuses in Lithuania on October 18th. Staff and volunteers conversed with students about the issue and encouraged young people to get more involved in addressing human trafficking by signing a petition.
Philip Morris Czech Republic partners with local NGO, the Slovak-Czech Women's Fund, an organization which supports the work of "La Strada", the only NGO in the country solely dedicated to the issue of trafficked and exploited persons. On the occasion of this year's EU Anti-Trafficking Day, "La Strada" promoted two European campaigns: one aimed at individuals potentially high at risk of being trafficked entitled, "Going to work abroad? Don't let them get you!" and one aimed at the wider public entitled, "Used in Europe," raising awareness of human trafficking as a pan-European issue. The Slovak-Czech Women's Fund assisted with the message development and information dissemination for both campaigns.
These initiatives are part of PMI's ongoing efforts to help empower women reach their full potential and improve the livelihoods of women, children, their families and local communities where we do business.
For more information on the Eighth EU Anti-Trafficking Day and other pan-European activities in this area, click here.