We would like to honor the memory of a great PMI leader, John Hogan, who, sadly, passed away on Sunday, January 3, 2021, as a result of complications from the COVID-19 virus in a hospital near his home in Verbier, Switzerland. He was 77.
Few may have heard of John Hogan, who retired from our company in 2002 as Vice President of Marketing for Europe, following a bright career of almost 30 years. John—or "Hogie" as he was known in the business—was a titan in the motorsport world and had a huge impact on the four- and two-wheel sports, setting the gold standard for commercial partnerships and shaping the relationships with teams, rights holders, and drivers and riders.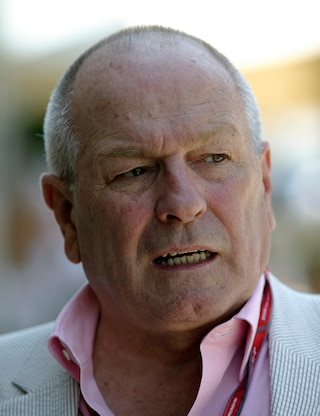 John Hogan (1943-2021)
© Paul-Henri Cahier/Getty Images
Hogie must be considered one of the primary forces in creating modern sponsorship and event marketing in motorsport, not only by providing financial resources, but also by putting together great teams and elevating the popularity of the sport. When he first entered the paddock during his early days as an advertising executive, Formula 1 was little more than a niche festival for motor racing, held mainly on a few European racetracks; when he left the sport he loved, it was a global event with races from Brazil to Bahrain. As CEO André Calantzopoulos said, "He should be remembered for his incredible business acumen and long-term perspective for building commercial relationships as much as for his great sense of humor and compassion, which helped create the worldwide phenomenon that is Formula 1 today." *
John was notorious for his modesty and his high appreciation for personal relationships, even as one of the most influential figures in the sport, sitting in the FIA Formula 1 Commission as representative of the sponsors. He did all of this while maintaining a low profile. He didn't strive for recognition. One certainly wouldn't have seen him going around the paddock seeking the glare of television lights. He let the results speak for themselves.
Hogie arrived in the series at a time when sponsorship scouting and exploitation was still in its infancy. He was a key player in moving the goalposts and showing what could be done as Bernie Ecclestone expanded the series' horizons, and broadcast coverage became increasingly important
When he joined Philip Morris in 1973, the company was already involved with British Racing Motors (BRM), and it was on Hogie's watch that it switched to McLaren with Emerson Fittipaldi in 1974.
The Brazilian won the World Championship that year, getting the new relationship off to a great start. Perhaps Hogie's most influential move came as McLaren's fortune waned after the 1976 World Championship with James Hunt. Hogie engineered a merger between McLaren and Rondel. The resulting team was called McLaren International, and it went on to win a string of World Championships with Nikki Lauda, Alain Prost, and Ayrton Senna. This period included the famous 1988 season when Prost and Senna won 15 of the 16 World Championship races, a stunning record.
Hogie was not a gambler, but his instincts were sure. There was an earthquake in the Formula 1 paddock when he took PMI out of McLaren to full title partnership at Scuderia Ferrari for the 1997 season. It was a leap of faith for Hogie, who believed that the newly recruited Michael Schumacher and his technical team headed by Ross Brawn could succeed. The decision signaled the start of an unprecedented era of success for the Scuderia team with Schumacher, who would win the first of five titles with Scuderia Ferrari in the 2000s.
Hogie had an enormous influence on the career trajectory of many drivers and riders, including Fittipaldi, Jones, Hunt, Lauda, Prost, Senna, Berger, Hakkinen, Schumacher, Agostini, Sheene, Roberts, Lawson, Rainey, Sainz Sr. and—more importantly—he was a mentor for several generations of PMI marketing managers and directors, dedicating his time to counsel, advise, encourage, support, and befriend them.
He may not have been on every magazine cover, but he was the definition of "people who know, know." Hogie's impact is recognized by everyone in the motorsport world as nothing short of monumental. He also managed a rare feat in a sport known for its occasionally bitter conflicts: He was liked by everyone.
John Hogan leaves a legacy of, arguably, one of the most successful partnerships in sport. More than that, he leaves a legion of admirers and friends who were privileged to know him. But he was not only one of the most influential figures in motorsport, he was also one of us. "Every year when he paid a visit to our hospitality space in the paddock, he was always eager to learn about the progress at PMI and how we were transforming our business while maintaining the fundamental elements of relationship-building," said Riccardo Parino, Vice President Global Communications Partnerships at PMI, who is responsible for the company's ongoing partnerships with Scuderia Ferrari and Ducati Corse. "Hogie's story reminds us of the value of building a legacy grounded in results, not on recognition. As an architect of PMI's history in motorsports, he created a legacy that lives on today and continues to evolve."
John Hogan, born in Sydney on May 5, 1943, leaves behind his wife, Annie, their son Andrew, and daughter Ally.
*André Calantzopouplos was speaking in his role as CEO at the time. On May 5, 2021, Jacek Olczak succeeded Mr. Calantzopoulos as CEO, and Mr. Calantzopoulos became Executive Chairman of the Board.