Our supply chain accounts for a significant portion of our potential social and environmental risks and impacts. We are committed to identifying, managing, and addressing these risks and impacts responsibly.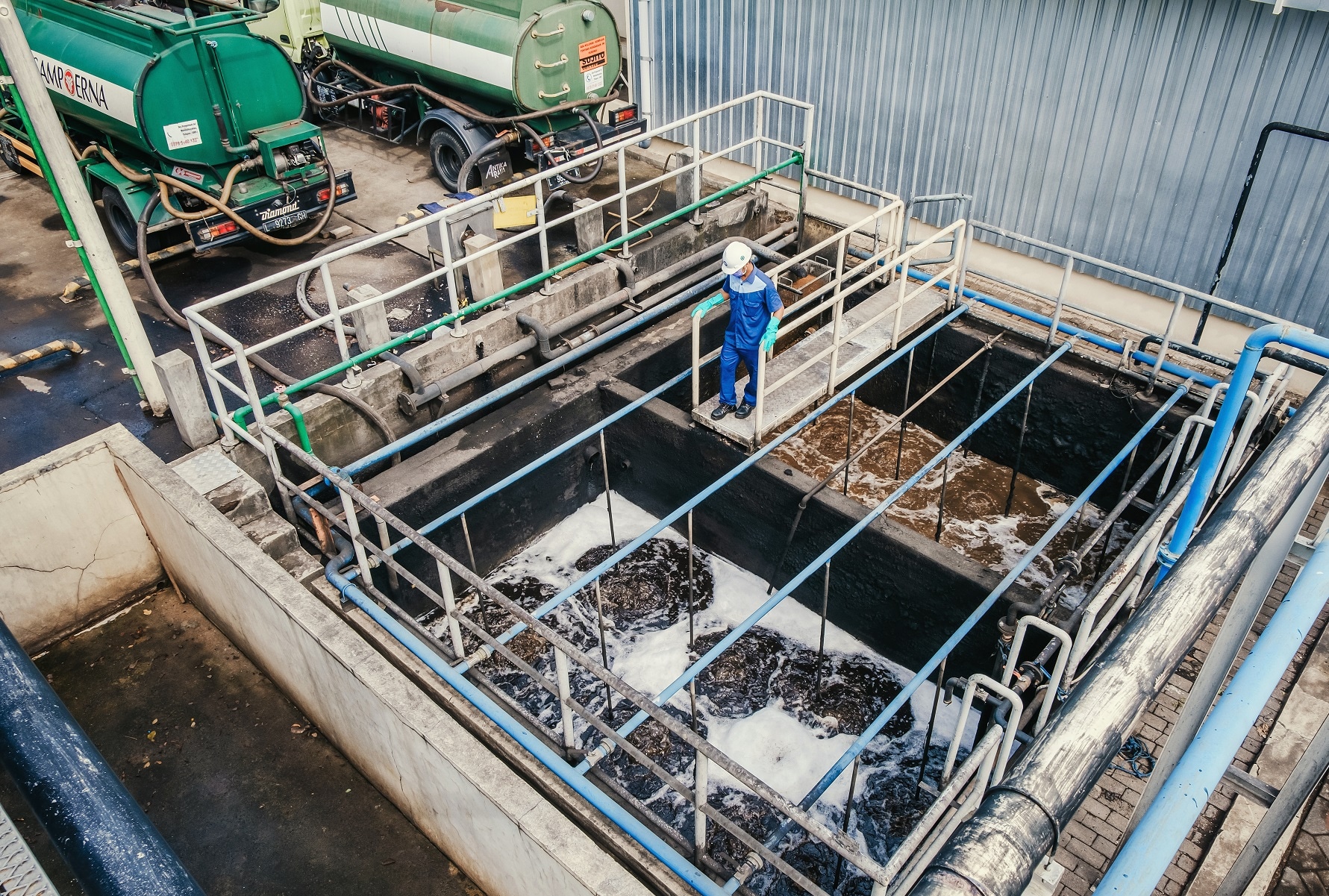 Our approach
Our operations rely on securing high-quality, cost-effective, and fit-for-use materials and services from suppliers, who are expected to adhere to PMI's environmental, social, and governance (ESG) requirements. To enhance our supply chain sustainability and achieve tangible environmental and social improvements, we identify and address current and potential risks while seizing opportunities to create a positive impact in the communities in which we and our suppliers operate.
Our approach to sustainable supply chain management is built on the following core principles:
Proactive engagement with our suppliers is key to fostering open and transparent relationships in which expertise is shared and built together.
We take a risk-based approach, deploying tailored tools and interventions and prioritizing areas in which we can have the greatest impact.
We seek to support our suppliers in continuously improving their sustainability performance and achieving the highest compliance standards.
We leverage our reach and understanding of our supply base to implement impactful programs and accelerate progress in our priority sustainability corridors, such as our efforts to tackle climate change, preserve nature, and promote fair working conditions.

Our supply chain sustainability due diligence is guided by our Responsible Sourcing Principles (RSP), which align with the UN Guiding Principles on Business and Human Rights (UNGPs), the Ten Principles of the UN Global Compact, and International Labour Organization (ILO) Conventions. The RSP detail our ambitions and set process and performance requirements for our suppliers of materials and services. We expect all our suppliers—and in particular our critical suppliers—to meet our RSP requirements and demonstrate good sustainability performance.

In addition to our RSP, we apply tailored due diligence instruments and mechanisms within specific segments of our supply chain. In our tobacco supply chain, our work is governed by our Good Agricultural Practices (GAP) and our Agricultural Labor Practices (ALP) Code, which are operationalized at farm level by field technicians working year-round with the farmers contracted by PMI and our suppliers. In our electronics supply chain, we leverage the work of the Responsible Business Alliance (RBA).

Adherence to our RSP—and GAP for our tobacco supply chain—is built into our contractual agreements with suppliers. We use a suite of tools, including third-party assessments, on-site audits, and field visits, to monitor and encourage the continuous improvement of our suppliers.

The sustainable sourcing of goods and services involves broad cross-functional collaboration within PMI, executed by our Procurement and Global Leaf and Product Development teams with the strategic support of Operations Sustainability, and overseen by our Senior Vice President, Operations.
Fostering collaboration with our network of suppliers
We engage and seek to influence a large number of our suppliers—companies with a diverse set of strategies, priorities, and cultures—to jointly progress on our sustainability journey. To achieve our sustainability-related ambitions, we work on common projects to drive improvements in operations and beyond. To do so, we use a variety of channels, including virtual events, webcasts, training sessions, surveys, and an annual supplier awards event.
Overview of our supply chain in 2022
With over 30,000 tier 1 suppliers globally, our supply chain spend amounted to approximately USD 12.6 billion in 2022. Our global supply chain is organized into two main streams—direct spend (focused on materials used to manufacture our finished products), and indirect spend (focused on goods and services necessary to operate our business).
Currently, our global supply chain supports our two main finished product streams—smoke-free products that are increasing in resource allocation, in line with our growth strategy and combustible cigarettes. Smoke-free products accounted for 43 percent of our supply chain spend in 2022, up from 35 percent in 2021.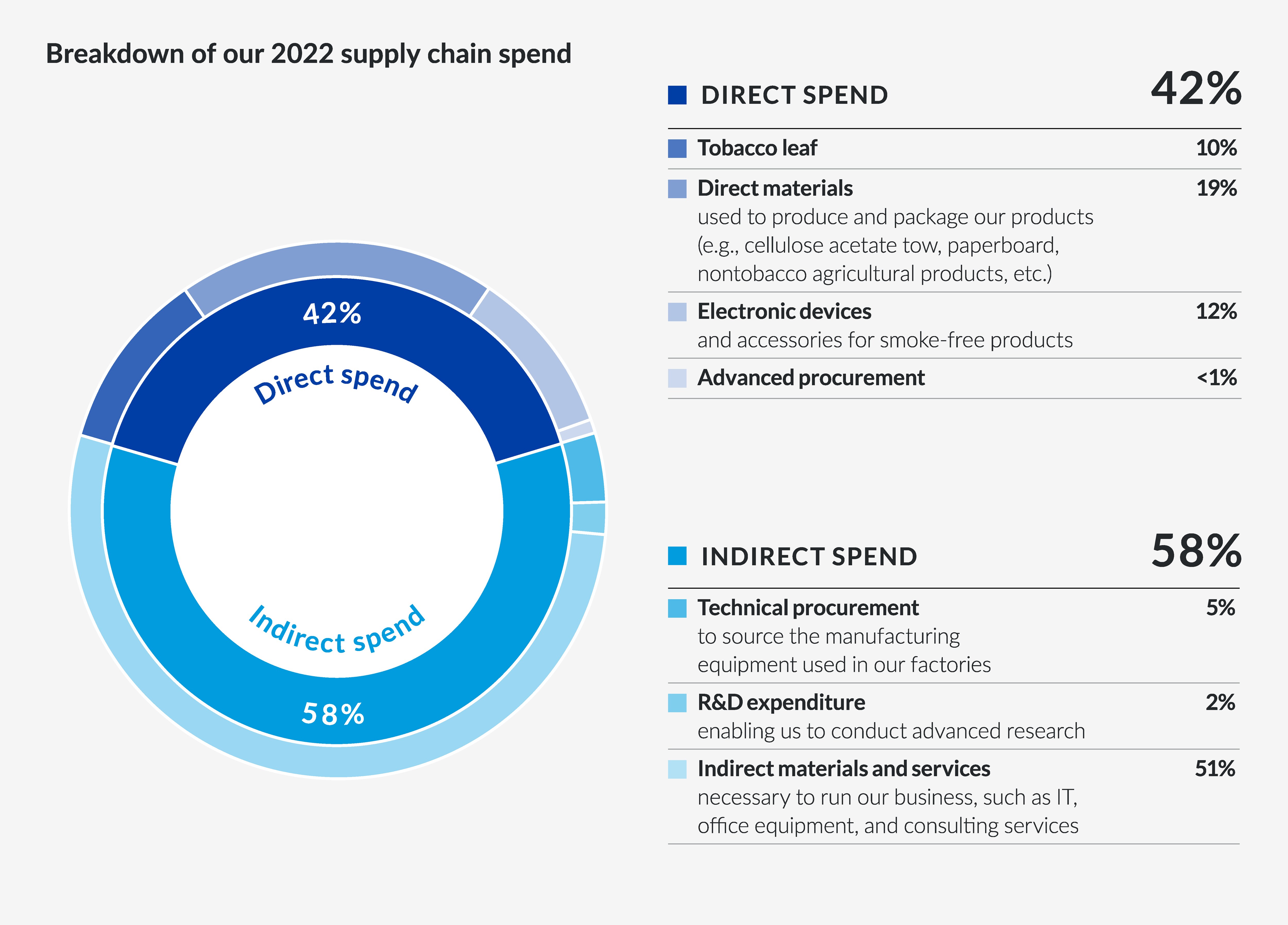 The supply chain categories exposed to the highest sustainability risks identified to date pertain to our direct spend and include:
Tobacco production, with the main risks associated with working conditions, child labor, climate change, access to water, and the socioeconomic well-being of farming communities
Electronics manufacturing, with the main risks relating to working conditions
Paper and pulp-based materials, with the main risks linked to deforestation, biodiversity loss, and climate change
Find out how we work to address these specific challenges in dedicated sections of this report: Improve the quality of life of people in our supply chain, Tackle climate change, and Preserve nature.
During the year, our supply of direct materials was under pressure due to high demand for primary commodities, a global transportation shortage, congestion, and cost inflation, largely driven by energy prices, as well as drought in Europe, flooding in Pakistan, and high pressure on fertilizers and other crop input prices. Despite these challenges, our robust contingency plans enabled us to maintain stable production in our manufacturing centers and continue contributing to our sustainability goals.
Updating our Responsible Sourcing Principles
During 2022, we began the review of our Responsible Sourcing Principles (RSP) and related Implementation Guidance documents, enhancing the content and accounting for external trends and anticipated regulatory developments. We embedded the results of our company's most recent sustainability materiality assessment and priorities and considered our company's progress in evolving and transforming our business model.
We expect to release the updated version of our RSP in 2023. Concurrently, we will execute a robust roll-out plan that incorporates internal capability building across functions and awareness sessions with our suppliers.
Monitoring the sustainability performance of our critical suppliers
We deploy tailored due diligence instruments across our direct materials, electronics, tobacco, and indirect materials and services supply chains. This allows us to increase the visibility of our suppliers' sustainability performance and implement risk mitigation plans with continuous improvement approach.
We have set an aspiration for 100 percent of our critical spend to be sourced sustainably by 2025. In 2022, we made continued progress, achieving 93 percent (2021: 83 percent). Critical spend refers to components used in the manufacturing of PMI's finished products. In addition to the nature of the component, a supplier's criticality is also evaluated on the basis of spend segmentation and supply flexibility, as relevant. For suppliers of direct materials and electronics, we use minimum threshold scores in our due diligence platforms to determine whether sourcing is sustainable. All tobacco purchased from contracted farmers under the integrated production system is considered sustainable.
Direct materials supply chain
We leverage our partnership with EcoVadis—the leading global service provider of online ESG supplier assessments—to monitor and assess the sustainability performance of our suppliers of direct materials (excluding tobacco and electronics suppliers, for which we use tailored due diligence tools, as described in this section).
During 2022, 116 suppliers representing 97 percent of our total direct material spend were assessed. Of these, 93 percent demonstrated a good sustainability performance, based on the score provided by the assessment platform, and only 7 percent were below the minimum threshold required and had to complete a corrective action plan before reassessment in 2023. The areas for improvement identified are segmented by theme, indicator, and priority. High-priority improvement areas are mainly related to the implementation of policies in ethics and sustainable procurement across the supplier's operations. Medium- and low-priority improvement areas highlight gaps in environmental and human rights policies and reporting.
We followed up on findings from our 2021 assessments by launching, as necessary, corrective action plans, reassessments, and audits. The large majority (80 percent) of the suppliers reassessed after completing a deep-dive review of their corrective action plans improved their sustainability performance, and 60 percent of them achieved the minimum score required by PMI.
Assessing the sustainability performance of our indirect spend supply chain
Alongside our activities on prioritized spend categories, during 2022 we further explored our indirect spend supply chain. We engaged through a multistakeholder, sector -specific working group and started the process of identifying risks and complexities of the category. In 2023, we will deepen and refine our strategy, taking the lessons learned into consideration.
In addition, we continued to assess the sustainability performance of our suppliers across other procurement categories, including indirect materials and services. This allowed us to evaluate suppliers representing approximately 40 percent of our indirect spend in 2022.
Electronics supply chain
As our company transforms, a key area of focus is our expanding electronics manufacturing supply base. Besides being new to PMI, the electronics supply chain is complex and dynamic, and comes with specific challenges, including the presence of conflict minerals.
Overview of our electronics supply chain

Having joined the Responsible Business Alliance (RBA), the world's largest industry coalition for sustainable supply chains, in early 2021, we centered our work in 2022 on expanding the coverage of our suppliers with RBA available audit mechanisms. We continued to participate in RBA's Validated Assessment Program (VAP)—the standard for on-site compliance verification and effective, shareable audits. Under the program, independent external auditors review our electronics suppliers' sustainability performance against the RBA Code of Conduct, aligned with our RSP. To further increase visibility, we also leveraged Customer Managed Audits (CMAs), an additional audit standard recognized by RBA.
In 2022, 67 percent of our spend with critical electronic suppliers were covered by VAP or CMA audits. The average RBA score of our suppliers was 173 (out of a maximum of 200), compared with an RBA average of 160 in 2021. The audit reports revealed that the most common issues relate to working time, emergency preparedness, environmental management system, and low engagement of suppliers with their own suppliers to implement the RBA Code of Conduct.
In parallel, in 2022, we performed an extensive analysis of PMI's due diligence framework for our electronics supply chain as well as industry benchmarks and review of upcoming human rights legislation.
As a consequence, we will continue leveraging RBA initiatives and tools and further engage with other members to strengthen capability of our procurement teams and suppliers in 2023. A key focus will be to work with the suppliers to address identified issues.
Conflict minerals
We are committed to operating with integrity and to responsibly source 3TGs (tin, tantalum, tungsten, and gold), which are used in our products. These minerals are sometimes mined using forced labor or used to finance armed conflict in certain conflict-affected and high-risk parts of the world.
Our 2022 conflict minerals submission to the U.S. Securities and Exchange Commission, covering the year ended December 31, 2021, showed that the smelters from which our suppliers source 3TGs for PMI's Covered Products (as defined in the submission) either conformed with the Responsible Minerals Initiative (RMI) audit program (242 smelters) or were undergoing the assessment process (16 smelters).
Another mineral, cobalt, is also linked to unethical mining practices. This critical raw material is used in the batteries that power our smoke-free devices. While the quantities required for our products are minor compared with the global market size, we are deploying a due diligence program based on the RMI approach, along with tools to identify and address potential human rights risks in our supply chains. In 2022, seven battery suppliers responded to a PMI request, and one supplier was unable to provide information. Subsequent due diligence indicated that, as of December 31, 2022, each of the 19 smelters from which PMI battery suppliers source cobalt were either on RMI's conformant list (17 smelters) or undergoing the assessment process (two smelters). We continue to engage with our suppliers to improve visibility in this complex supply chain and enhance our due diligence framework.
Tobacco supply chain
We define sustainable tobacco production as the efficient and competitive production of quality tobacco in conditions that limit as much as possible the impact on the natural environment and improve the socioeconomic circumstances of the people and communities involved.
Our Good Agricultural Practices (GAP) define the principles and measurable standards to be met by all those who grow and supply tobacco to PMI. These standards focus on four areas: governance, crop, environment, and people. The latter is governed by a dedicated Agricultural Labor Practices (ALP) Code.
GAP principles are mandatory for all suppliers of tobacco to PMI and are reflected in supply contracts.
Overview of tobacco sourcing under PMI's integrated production system
As a consequence of our smoke-free transition, the share of our purchased volume of tobacco directed to the manufacture of combustible cigarettes is steadily declining while the proportion dedicated to the production of consumables for heated tobacco products is increasing. Overall, we are seeing a gradual decrease in total volumes sourced, as smoke-free products use at most half the amount of tobacco required for combustible cigarettes. These dynamics led to a sizeable decline in the amount of packed tobacco purchased (from approximately 291,000 tons in 2021 to around 281,000 in 2022). During 2022, we sourced tobacco grown across 20 countries, with most of our volume coming from Argentina, Brazil, China, and Indonesia.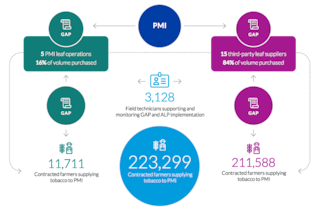 Note: The volume purchased through third-party leaf suppliers includes spot purchases (i.e., unplanned purchases for which we do not have access to sustainability data), which represented approximately five percent of our total purchased volume in 2022.
Maintaining full traceability and monitoring in our tobacco supply chain
To a large extent, responsible sourcing stems from strong relationships on the ground. PMI's Integrated Production System (IPS) connects leaf suppliers and farmers beyond the customary boundaries of a commercial relationship and enables direct technical support, agronomic advice, financial loans, and various other services. IPS covered 99 percent of our tobacco purchases in 2022. The excluded amounts originated from Indonesia and Malawi.
IPS is vital to providing traceability and visibility in our supply base; it enables the deployment of our GAP and ALP monitoring and remediation system down to the farm level. At the center of this system are field technicians, employed by PMI or our third-party suppliers, whom we estimate visit each farm on average at least five times during the crop season and monitor how well sustainability requirements are applied and commercial processes are working. These technicians provide agronomic assistance, deliver training to farmers, identify and address labor issues, and ensure the implementation of improvement plans.
In 2022, field technicians allowed us to monitor compliance with GAP by all farmers supplying tobacco to PMI under IPS.
Third parties, such as specialized NGOs, can also monitor GAP implementation. This is an approach we have taken in Brazil since 2020 in collaboration with Produzindo Certo, a specialist company helping farmers operate more efficiently and sustainably. During 2022, almost all (over 99 percent) contracted farmers agreed to be part of this voluntary program.
Our strategy highlights the importance of governance-related topics, which cannot be overstated. Our company's policies, rules, and procedures define our ability to implement sound strategies that successfully address environmental and social issues.

This online content about our Integrated Report should be read in conjunction with PMI's Integrated Report 2022. Unless otherwise indicated, the data contained herein cover our operations worldwide for the full calendar year 2022 or reflect the status as of December 31, 2022. Where not specified, data comes from PMI financials, non-financials, or estimates. Unless explicitly stated, the data, information, and aspirations referenced do not incorporate PMI's Vectura Fertin Pharma business (consolidating the 2021 acquisitions of wellness and healthcare companies Fertin Pharma A/S, Vectura Group plc., and OtiTopic, Inc.), nor the late 2022 acquisition of Swedish Match AB. Please also refer to 'This report at a glance' on page 2 of the Integrated Report 2022 for more information. Aspirational targets and goals do not constitute financial projections, and achievement of future results is subject to risks, uncertainties and inaccurate assumptions, as outlined in our forward-looking and cautionary statements on page 214. In the Integrated Report 2022 and in related communications, the terms "materiality," "material," and similar terms, when used in the context of economic, environmental, and social topics, are defined in the referenced sustainability standards and are not meant to correspond to the concept of materiality under the U.S. securities laws and/or disclosures required by the U.S. Securities and Exchange Commission.