At PMI, we see diversity as our greatest strength, and are committed to building an inclusive culture and workplace reflective of the world's diversity. Our focus is on creating an environment where our employees from across the globe can contribute their best, support each other, and drive the innovation and consumer-centricity needed to help us to achieve our vision of a smoke-free future.
At PMI, that means a work environment where personal situations are understood, differences are valued, and everyone is treated with fairness and respect. We want our 73,500 employees worldwide to feel supported, respected, and have the opportunity to achieve their full potential, regardless of their gender, age, race, nationality, gender identity, ethnicity, sexual orientation, religion, disability, or any other diverse characteristic that makes them themselves, visible or invisible.
Leveraging the talents of women
Achieving gender balance at all levels of the company is one of our top priorities. Our focus is firmly on leveraging the full talents of both women and men. Currently, women make up 42 percent of our workforce. Just under 37 percent of our management positions are held by women. Our goal is to increase that figure to at least 40 percent by 2022.
How do we make this happen? First, we aim to recruit equal numbers of men and women at all levels. To support this, our job advertisements use gender-neutral language, we push for gender-balanced shortlists, and we use diverse interview panels to reduce the risk of unconscious bias in talent assessments. Second, we focus on supporting the growth and advancement of all employees through personalized development plans and access to learning opportunities, contributing to more gender-balanced leadership over time.
We also support our female talent by creating opportunities to network and build mentoring relationships with peers and role models.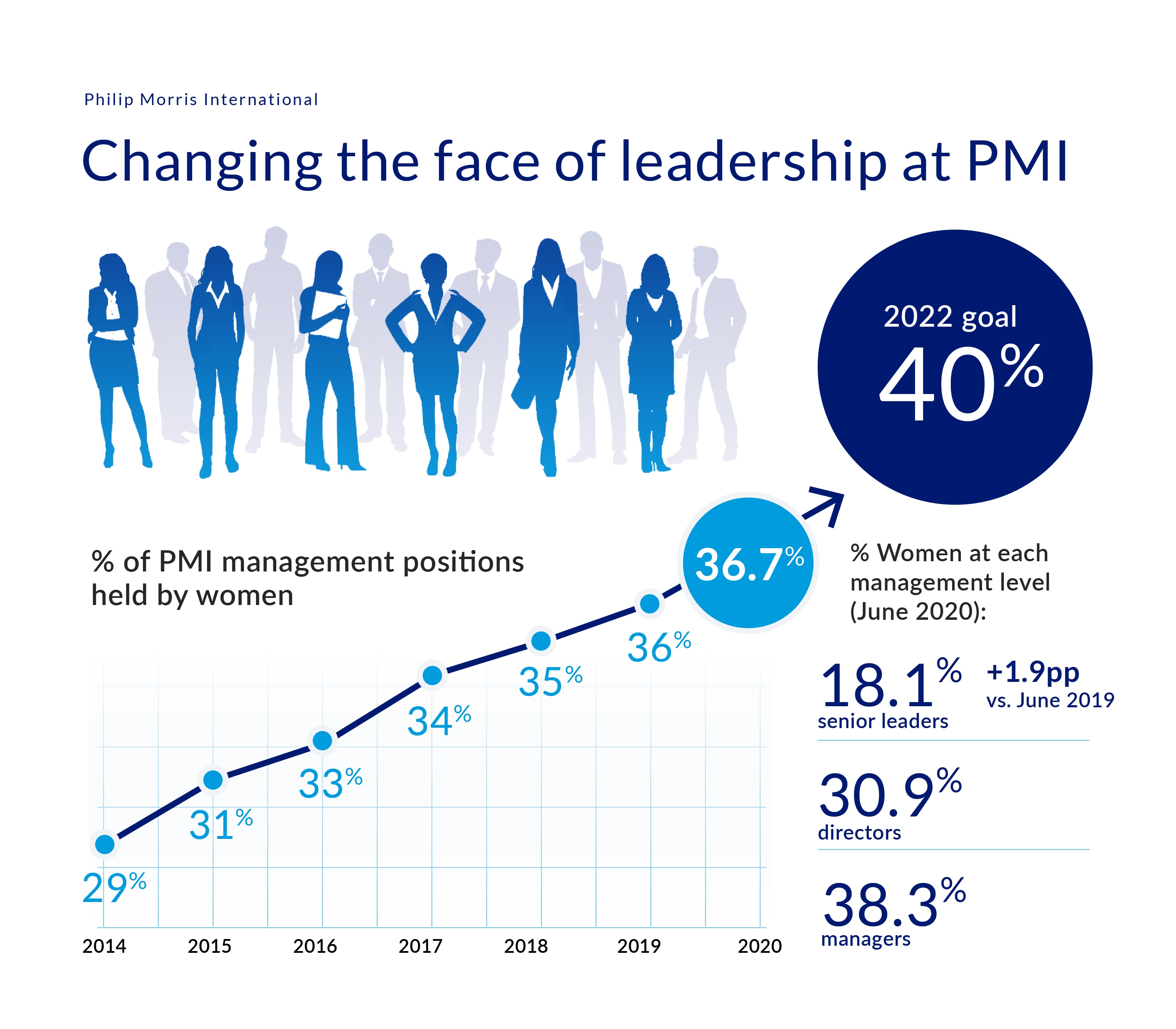 Smart work: Driving people-centricity, flexibility, and diversity across our global workforce
In July 2020, PMI introduced a new forward-looking hybrid model of work, known as "SMART WORK," giving employees the option to choose a combination of remote and office-based work. The approach offers employees worldwide greater flexibility over when and where work is done depending on their individual needs and preferences, the feasibility of specific job requirements, and local regulations.
This working model underpins our commitment to building a more inclusive, flexible, and people-centered corporate culture. We strive to be an attractive employer that is focused on supporting sustainable high levels of performance by trusting our people and giving them the space to design their work in a way that works best for them.
Equal pay for equal work
A fair and inclusive workplace also means an equal salary for equal work. We have reinforced our commitment to closing our gender gap by undergoing an independent equal pay certification developed by the EQUAL-SALARY Foundation. We are proud to be the first international company to receive the Global EQUAL-SALARY Certification in 2019.


Learn more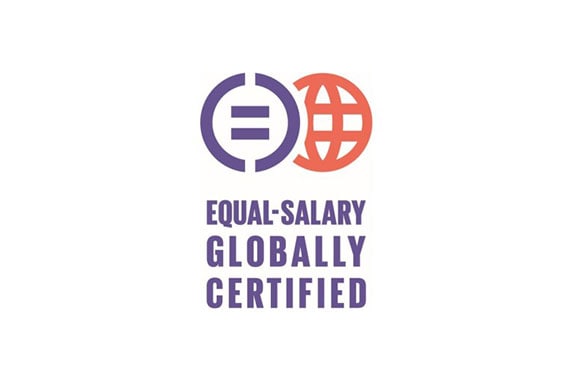 Moving beyond inclusion and gender balance
Beyond our two global priorities—an inclusive workplace and closing our gender gap—we support locally important dimensions of diversity wherever we operate. These range from championing our LGBTQ+ community to persons with different abilities, individuals from different ethnicities, and across generations.

For example, a global network of employees from 23 countries around the world has joined forces to lead initiatives to further Lesbian, Gay, Bisexual, Transgender, and Others' (LGBTQ+) inclusion at PMI, and to build stronger ties with the LGBTQ+ community. PMI recently became a Global Diversity Champions member of STONEWALL, the largest LGBTQ+ network in Europe.
An inclusive culture for all
Inclusion and diversity means everyone is welcome and included.
At PMI, we believe strongly in creating a sense of belonging, connection, and community, and in raising awareness and understanding of our differences, so that our workplace is one where colleagues stand with and for each other. Our global LGBTQ+ employee network (STRIPES) is an example. A global network of LGBTQ+ employees and allies from 27 countries around the world leads employee-centric initiatives to further inclusion at PMI, and to build stronger ties with the LGBT+ community. PMI is also a Global Diversity Champion member of Stonewall, the largest LGBTQ+ network in Europe.
Read more about our LGBTQ+ inclusion efforts and the celebration of Pride month at PMI here.
We also have, or are in the process of setting up, other employee-led networking groups that foster a culture of belonging, through awareness and education events, and networking and mentoring opportunities. The networks focus on gender, LGBTQ+, ethnicity and race, disability, and mental health. Each is inclusive in its approach, open to all and embracing intersectionality. All are sponsored by a PMI Corporate Executive member.
We are making progress, and there is more to be done. An inclusive and diverse workplace drives innovation and consumer-centricity, which are essential if we are to accomplish our smoke-free vision. It also makes PMI an even more engaging, interesting, and joyful place to work. And we are committed to attracting and hiring, developing and advancing a greater diversity of talented people for roles at all levels of our organization, leveraging data and systems to mitigate bias, and promoting behaviors that help to forge a more inclusive work environment.
Explore roles
Explore all available roles and be one step closer to experiencing our culture for yourself.
Register your interest
Can't find the job you're looking for? Join our Talent Community and we'll let you know when the best roles for you are available.