KPMG report finds European illicit cigarette market continues to grow despite overall decline in consumption
KPMG's annual study on illicit cigarette consumption in the European Union (EU), the United Kingdom, Norway and Switzerland has reported that while total cigarette consumption declined last year in the EU, illicit cigarette consumption increased in the region by 3.9 percent in 2021—or 1.3 billion cigarettes—reaching 35.5 billion cigarettes.
The report, commissioned by PMI, adds that had these cigarettes been legally purchased, it is estimated that an additional EUR 10.4 billion in taxes would have been raised by governments in the EU.
The rise in illicit cigarette consumption, particularly counterfeits, shines a spotlight on the increasing number of adult smokers who are turning to illicit tobacco, particularly as economic pressures increase.
Illicit cigarette consumption in the EU, UK, Norway and Switzerland during 2021
2:56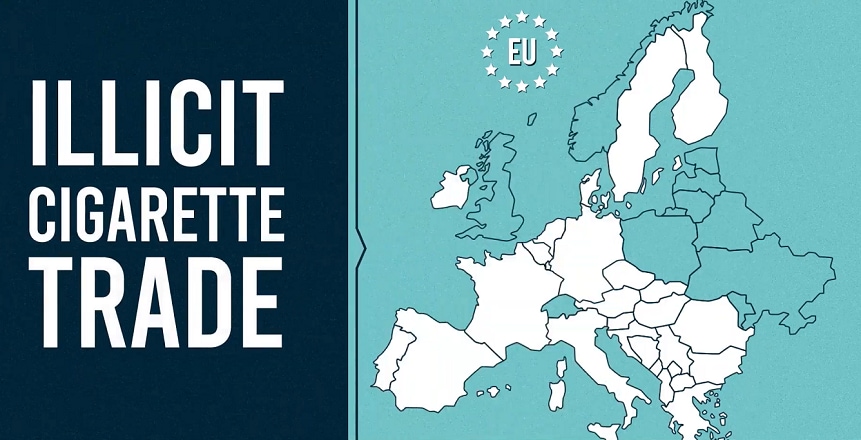 France remains the largest market for illicit cigarettes in the EU
The increase in illicit consumption was largely driven by a spike of counterfeits in countries such as France. France remains the largest market for illicit cigarettes in Europe; counterfeit cigarette consumption increased by 33 percent last year.
This increase equates to 3.4 billion extra illicit cigarettes flooding the French market, bringing its total illicit consumption to a worrying 15.1 billion cigarettes—which is 8.1 percent of total consumption in the EU.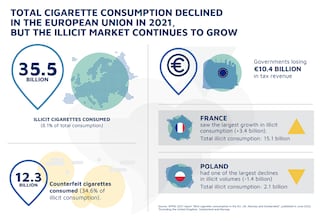 "The findings of the KPMG Report should be a real wake-up call. It's alarming that in countries that maintain high excise taxes on cigarettes, such as France, instead of driving a decrease in smoking prevalence, we see a rise in counterfeit cigarette consumption. In fact, in France in the past five years, while the average price of a pack of legitimate cigarettes has increased by more than half, the number of adult smokers has only marginally decreased," said Gregoire Verdeaux, Senior Vice President, External Affairs, PMI.1
Illegal manufacturing sites moving west to get closer to higher-priced end market
The study also indicated that due to continued travel and border restrictions related to the COVID-19 pandemic, organized criminal groups have shifted their focus towards manufacturing counterfeit cigarettes within EU borders.
Interviews conducted by KPMG with seven different law enforcement agencies found that illegal manufacturing sites are increasingly moving west in Europe to get closer to higher-priced end markets, such as France and the U.K.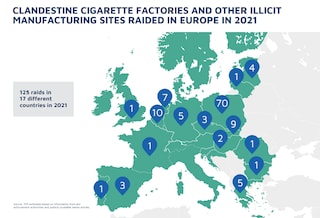 Calls for support for consumers to switch to better alternatives
In response to the report, PMI is calling for regulators and policymakers to consider the millions of adult smokers who are turning to the black market instead of switching to better alternatives.
"At a time when people across Europe are facing higher prices of many basic goods, the risk that more adult smokers—especially those among the lower-income population—turn to illicit trade is now significant. This creates an even more urgent need to ensure that smoke-free alternatives are available and affordable for all, to enable them to make a better choice instead of buying from the black market," mentioned Verdeaux.
The continued growth of a black market where cheap, fake, and unregulated cigarettes are easily available seriously undercuts legitimate efforts to eliminate smoking by impeding the ability to reduce smoking rates and to keep cigarettes away from youth.
The KPMG report also found some positive trends: 16 out of 27 EU member states experienced declining or stable consumption of illicit cigarettes in 2021. Among these countries, Poland saw one of the largest declines in illicit volumes, showing a 3.7 percentage point decrease in its share of illicit cigarette consumption.
"Some EU countries have adopted differentiated policies on alternatives to cigarettes that support the continued decline of cigarette consumption while reducing illicit trade, and they are already yielding encouraging results. The European Commission in Brussels should make this the foundation for the future," mentioned Verdeaux.