PMI IMPACT's Expert Council member Navi Pillay on human rights: "You cannot leave anyone behind"
Ms. Navi Pillay, a tireless advocate for human rights, and one of the members of the
PMI IMPACT
Expert Council, recently sat down with Philip Morris International's (PMI) Vice President of Illicit Trade Prevention, Alvise Giustiniani, to discuss how businesses all over the world can effectively tackle illicit trade, as well as human rights abuses.
For Ms. Pillay, governments, businesses, and individuals all have a responsibility to help advance human rights and address abuses. "You cannot leave anyone behind," says Ms. Pillay, "We need business to embrace that."
As the former UN High Commissioner for Human Rights, Ms. Pillay has dedicated her career to addressing the challenges of defending human rights and fundamental civil freedoms. In 2011, after a 15-year campaign, the UN Human Rights Council endorsed the United Nation's first Guiding Principles on Business and Human Rights. Under her leadership, a global standard for the roles of businesses and governments in ensuring companies respect human rights was established.
Speaking to Mr. Giustiniani, Ms. Pillay reflected also on her experience with the PMI IMPACT Expert Council. This body of experts combines members' knowledge and skillsets across law, anti-corruption, and the fight against organized crime and illegal trade. Together, they are enabling organizations to fight illegal trade and related crimes, and implement impactful solutions. Click on the video to find out more: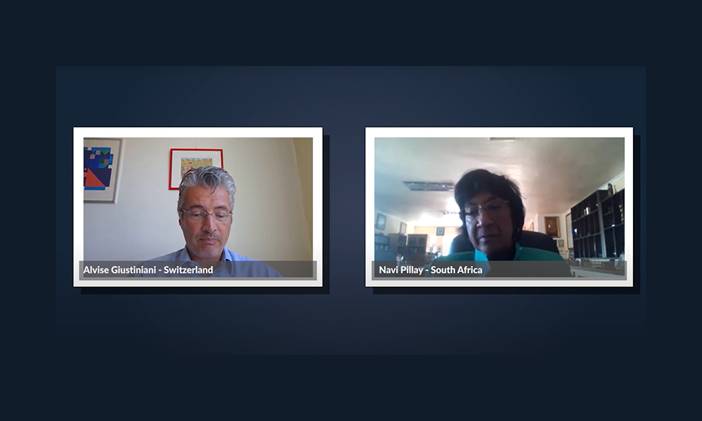 PMI IMPACT is the global initiative of Philip Morris International (PMI) to support public, private, and nongovernmental organizations in the fight against illegal trade, corruption, organized crime, and related crimes. A council of independent experts evaluates and selects the projects for the award of grants by PMI.

The projects selected by the Expert Council of PMI IMPACT are led by organizations from a variety of backgrounds and different parts of the world. Since 2016, PMI IMPACT has accrued an ecosystem of grantees, developing innovative solutions to eradicate illegal activities affecting the economy and society at large. To date, it has provided USD 48 million to fund 60 projects in 30 countries.
Biography of Ms. Navi Pillay
Ms. Pillay was the first woman to establish a law practice in her home province of Natal, South Africa. Later elected by the UN General Assembly, she served as a judge on the International Criminal Tribunal for Rwanda for eight years—the last four as president. She has been at the forefront of human rights throughout her career, and a pioneering advocate for protecting and weaving citizens' liberties into the fabric of modern business. As president of the International Nuremberg Principles Academy Advisory Council and vice president of the International Association Against the Death Penalty, her dedication to human rights continues to this day.

Click here for more information of Ms. Navi Pillay's work on human rights.