Our ambition is to create a smoke-free future. But we can only achieve this public health breakthrough if we all work together.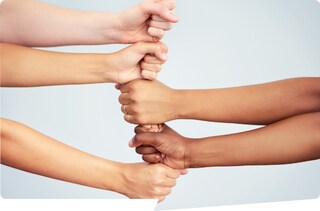 There are 1.1 billion smokers in the world today. And according to the WHO, there will still be more than a billion smokers in 2025.
This is partly because, in spite of all the efforts of regulators, governments, and health professionals, more than nine out of ten adult smokers will not quit smoking in any given year.
It's only with a united front that we can deliver science-backed alternatives to these adult smokers who would otherwise continue smoking.
Talking is the starting point for this change. Conversations based on scientific facts – rather than emotion – can create the potential to accelerate our progress towards a smoke-free future.
After all, the best decisions are made in partnership, not isolation.
That's why we're encouraging politicians, regulators, public health groups, scientists and key opinion leaders to consider science-backed alternatives to continued smoking as an additional tool to help address a global public health issue – in concert with existing anti-smoking measures aimed at preventing initiation and encouraging cessation.

PMI's commitment to a smoke-free future

We're aware of the skepticism when it comes to the tobacco industry. We understand that doubts exist. But some people may not be aware that we have taken the dramatic step of committing to a smoke-free future.
We're devoted to innovative smoke-free products, and we want to lead the way in making cigarettes history. That in itself is a powerful statement for a corporation to make, when cigarettes are still its core business. This is disruptive transformation on an unprecedented scale.
Since 2008, we have invested $6bn in the research, development, scientific substantiation, and manufacturing capacity of our smoke-free portfolio. We are now a science- and technology-driven consumer-centric business delivering adult smokers better alternatives to continued cigarette use.
We are doing the right thing. It's what society expects of us. But we must all recognize that we can't provide the answers or solutions alone.
That's why we're asking policy-makers and regulators to talk to us. To acknowledge the powerful role smoke-free alternatives can play in dramatically reducing smoking rates. To realize they can be a part of the solution.
Rhetoric, misconceptions, and misinformation rooted in the past only create obstacles to the better future the hundreds of millions of men and women who would otherwise continue smoking deserve.

Building trust through science
A smoke-free future is something we can't create on our own. Only through committed collaboration can it come to fruition. To achieve unity and lay the foundations for smoke-free change, we recognize the importance of transparency in gaining the trust and support of decision-makers.
That's why we're striving to turn tides of opinion by putting robust science and data at the forefront of the conversation.
A dialogue between the industry and regulators will allow sharing of information about the rigorous assessment undertaken during the development phase, the independent studies on our products, as well as our methods and results.
Is nicotine, or burning, the main problem?
Many people assume that it's nicotine that makes smoking cigarettes harmful. In fact, while addictive and not risk-free, it is widely accepted that nicotine is not the primary cause of smoking-related disease.
Public Health England (PHE) is clear in its guidance on stopping smoking that: "Perhaps the greatest obstacle we face is the widespread misconception amongst smokers and health professionals that most of the harm of smoking comes from the nicotine.
While nicotine is the addictive substance in cigarettes, it is relatively harmless. In fact, almost all of the harm from smoking comes from the thousands of other chemicals in tobacco smoke, many of which are toxic."
Nicotine is one of the reasons why people smoke cigarettes ¬– along with other factors for example, taste and ritual. But it is possible to experience nicotine without smoking.
It's the high levels of harmful chemicals produced when tobacco is burned that is the main problem. That's the scientific basis which remains the cornerstone of our smoke-free products.
Our scientifically substantiated better alternatives to continued smoking eliminate the burning process, and have significantly fewer and lower levels of harmful chemicals in their aerosols compared to those in cigarette smoke. Of course, this needs to be scientifically assessed for each specific product.
Our position is clear: the best choice for any adult smoker is to quit tobacco and nicotine altogether. However, the truth is that most of them don't, and these men and women deserve better choices.
This must not be at the expense of youth or non-smokers. Regulation and responsible marketing can play an important role here, in maximizing the benefits of these products by reaching intended audiences and minimizing use by unintended audiences.
At PMI we have in place a set of Good Conversion Practices that we apply wherever we commercialize our smoke-free products. For example, we refuse to offer these products to people who have never smoked or those who have quit.
Don't adult smokers deserve better from the industry, politicians and regulators alike? With facts overruling emotion, imagine what could be achieved for the hundreds of millions of these men and women.