More than ever, a new conversation on nicotine is needed. A conversation that must be paired with meaningful action by society.

Written by
André Calantzopoulos. Chief Executive Officer, PMI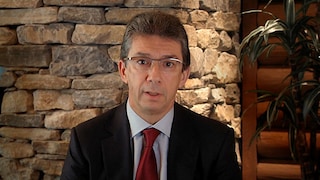 For years, young people have been rightly warned not to smoke cigarettes. With the current rapid pace of innovation in the tobacco products space today, that crucial conversation must evolve. We must be emphatic that youth should not use any nicotine-containing product. Period. Nicotine is addictive and is not risk-free. I'm the CEO of Philip Morris International (PMI) and a parent. I am clear with my children: Do not use any nicotine-containing products.
In light of recent activity by the U.S. Food and Drug Administration (FDA) to tackle e-cigarette use by American youth, a new conversation on nicotine is needed more than ever – a conversation that must be paired with meaningful action by society.
Alongside parents, public health professionals and regulators, makers of tobacco and nicotine products must do their part. One of the most vocal members of the tobacco control community, Matthew Myers, president of Campaign for Tobacco Free Kids, said recently that "the public health impact of different products varies based on how and to whom they are marketed." I agree.
At PMI, we envision a smoke-free future – a world without cigarettes. For the hundreds of millions of men and women globally who will otherwise continue to smoke, our goal is to switch them to nicotine-containing products that are substantiated as better choices than continuing to smoke.
Globally, our innovative products are available in more than 51 countries. We know that great care must be taken to achieve our smoke-free goal. Youth should not become nicotine users. Former smokers and never smokers should not return to, or pick up, the tobacco or nicotine habit. The focus must be on providing better choices to the men and women who smoke today, including the 40 million Americans who do so.
A new conversation on nicotine is needed more than ever – a conversation that must be paired with meaningful action by society.
We take that responsibility seriously. Our Good Conversion Practices serve as our bedrock for encouraging adult smokers to switch, while working to prevent unintended use in the countries where we sell innovative products that do not burn tobacco. We have no intention of offering these products to people who have never smoked or those who have quit smoking. We are also clear that these products are not risk-free or a safe alternative to cigarettes. Similarly, our marketing standards are rooted in the principle that we market and sell our products only to adult smokers.
Flavored e-cigarette liquids have been named as a factor in driving youth interest in e-cigarettes. In the U.S., on April 30 2019, the FDA authorized for sale three options of our heated tobacco product: a full tobacco variant and two menthol variants. These approximate to the taste and experience adult American smokers are accustomed to, and we believe this is vital to helping them make the switch from cigarettes.
There is a balance that must be struck. Youth should not use nicotine products. That is beyond dispute. At the same time, public policy in the U.S. recognizes the role that new tobacco and other nicotine containing products can play in helping move adult smokers away from cigarettes. Achieving this balance is absolutely necessary to realize a true public health breakthrough.
In the order authorizing the sale of our heated tobacco product, the FDA set out clear commercialization guidelines, including marketing requirements, that maximize the opportunity for adults to switch from cigarettes, while minimizing unintended use. We fully support this objective. FDA set high standards and we look forward working with them to implement the order.

GOOD CONVERSION PRACTICES FOR PMI's SMOKE-FREE PRODUCTS
Issued on pmi.com on August 16, 2019

PMI offers a variety of quality, scientifically substantiated smoke-free products that are much better choices than continued smoking. Our vision is that our smoke-free products will one day replace cigarettes.
Cigarette smoking causes serious diseases and is addictive. Without question, the best decision any smoker can make is to quit tobacco and nicotine use altogether.
PMI's smoke-free products are for adults who would otherwise continue to smoke or use other nicotine products.
We do not offer PMI's smoke-free products to people who have never used tobacco or nicotine products or who have quit using tobacco and nicotine products. Our smoke-free products are not an alternative to quitting and are not designed as cessation aids.
PMI's smoke-free products are not risk free and contain nicotine, which is addictive. Switching to a smoke-free product is, however, a much better choice than smoking.
We support our adult smoke-free product users in their journey to full conversion through education and guidance.
For consumers to experience the benefits of smoke-free products, they must switch completely and abandon smoking permanently.
Minors should not use tobacco or nicotine in any form.
Pregnant women, diabetics and people with heart problems should not use any tobacco or nicotine product.