Public calls on their governments to embrace science-based solutions for adult smokers—and act faster
30 Oct 2023
·
4 min read
New international survey reveals growing impatience among the public toward their governments' tobacco policy approach, with respondents demanding that decision-makers keep pace with technology, innovation, science, facts, and data.
The public is counting on their governments to enable adult smokers who don't quit to access smoke-free products that are a better choice than continued smoking, according to a new international survey commissioned by PMI.
It follows a groundswell of evidence that's beginning to emerge showing the potential positive impact of smoke-free products on public health.
Where embraced by regulators, these better alternatives to continued smoking are reducing smoking rates faster around the world than traditional tobacco control measures alone—as demonstrated in Sweden, Japan, and the U.K.
And, based on WHO data, estimates, and methods, along with other third-party research, our hypothetical model shows that if smoke-free products are assumed to be 80 percent less risky than cigarettes—and if adults who currently smoke were to switch to them completely—then over their lifetime there's a potential for a 10X reduction in smoking-attributable deaths compared with historical tobacco control measures alone.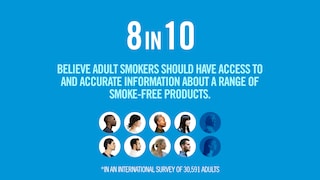 Now, in our survey conducted by independent research firm Povaddo, respondents have called for decision-makers to keep up to speed with technological advances, while ensuring innovative products are appropriately regulated.
A clear picture has been painted of where the public stands on its expectations of tobacco policy:

More than half of global respondents (56 percent) believe their government needs to consider the role better alternatives such as e-cigarettes and heated tobacco products can play in eradicating cigarette use in their country.
88 percent agree that public health authorities should fully embrace and seek to learn from evidence and data from other countries.
8 in 10 global respondents (82 percent) agree they would be somewhat or very angry, frustrated, or upset to learn that a breakthrough that could help address a societal issue was not made available to the public due to government inaction.
91 percent want public health decisions to be based on science and facts.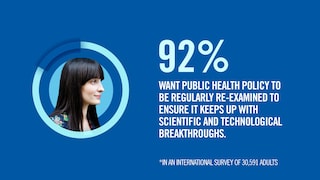 Addressing the impact of government inaction
In a world that demands change, it is imperative that regulators and public health officials hear from those most impacted by a policy of inaction on tobacco harm reduction: Adult smokers who deserve better choices.
Their voices, needs, and aspirations should be central to the strategies and policies society crafts to create a better future.
Our latest survey, fielded among 30,591 general population adults aged 21 or older in 15 countries across the globe, found that citizens want their governments to embrace innovation and rely on scientific facts and data to guide decisions.
Moreover, they question why their governments are not moving fast enough to support positive change.
Of those surveyed:

92 percent want public health policy to be regularly reexamined to ensure it keeps up with scientific and technological breakthroughs.
55 percent believe their government moves too slowly in embracing technological breakthroughs and innovation.
Perhaps most notably, 74 percent believe their governments' failure to embrace technological breakthroughs and innovation in a timely fashion has negative consequences for public health.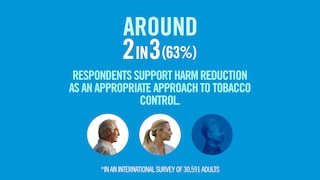 Support for tobacco harm reduction
Encouragingly, the survey shows that people want to see lower rates of smoking and consider a switch from cigarettes to smoke-free products a positive step toward achieving that—with 63 percent supporting the role of tobacco harm reduction.
It demonstrates considerable global support for less harmful, scientifically substantiated smoke-free products—with a majority favoring adult smokers having access to these better alternatives and accurate information about them:

1 in 5 surveyed believe new technologies and innovations could make cigarettes obsolete in their country within the next 10–20 years—a goal championed by PMI.
8 in 10 believe people who smoke should have access to, and accurate information about, a range of smoke-free products. Moreover, nearly three-quarters of current smokers say they would be more likely to consider smoke-free alternatives if their governments provided information on how they differ from cigarettes.
Too often, such information is denied to them, with 42 percent of respondents saying they do not have the right tools and information to make the best choices for their health.
75 percent of current adult smokers surveyed would consider using smoke-free alternatives if they were more affordable than cigarettes, the most harmful form of nicotine consumption.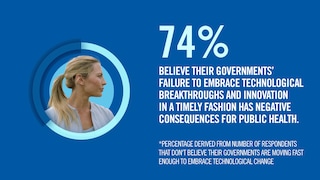 Working together to eradicate cigarettes
The overriding message from the respondents came through loud and clear: Leaders can't deliver a better future if they're mired in the past.
Too often, unfounded biases, misconceptions, ideology, rhetoric, and the amplified bullhorns of special interest groups result in ineffective policies and regulations that thwart progress.
A strong consensus emerged that people's voices must be heard and respected, with 81 percent of respondents agreeing that governments need to consider the views of adults who smoke or use nicotine products when deciding how to tax and regulate nicotine products.
Continuing policies of inaction are clearly not fit for purpose. Citizens and constituents say it is past time for decision-makers to embrace harm reduction and alternative nicotine delivery technologies as a key component of global tobacco control.
We're playing our part, committed to delivering a smoke-free future and phasing out cigarettes entirely.
But relegating cigarettes to the display cases of museums requires governments, public health officials, and the private sector to work together to effect positive change.
The message from the world's citizens, backed up by growing data, is clear: Acting with urgency and common sense to reduce the harm caused by cigarettes could benefit millions across the globe. So, we ask: What are governments waiting for?

Survey methodology
Povaddo conducted the online survey on behalf of PMI between March 30 and April 20, 2023. The survey was fielded among 30,591 general population adults aged 21 or older in 15 countries: Argentina, Austria, Brazil, Colombia, Dominican Republic, Malaysia, Mexico, Pakistan, Philippines, Serbia, South Africa, South Korea, Tunisia, United Kingdom, and United States. Approximately 2,000 interviews were collected in each country. Data have been weighted by age, gender, and nicotine product use per market to match national statistics. Results are accurate to a margin of error of +/- 1 percent.