Our ambition to accelerate the end of cigarette smoking rests on rigorous scientific assessment, highly reliable products, and strict regulatory compliance.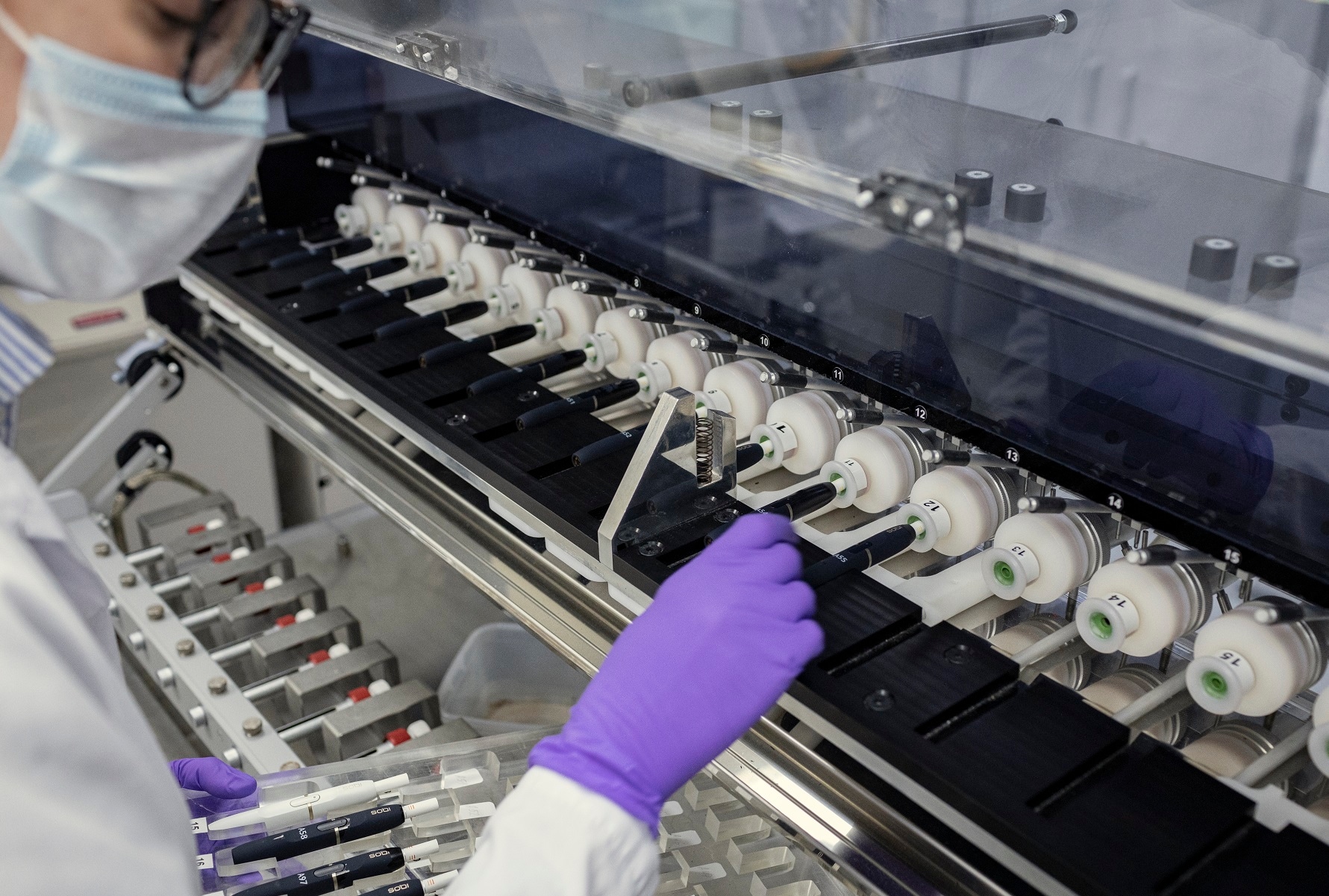 Cigarette smoking causes serious disease and is addictive. We take our duty as a manufacturer seriously to ensure that—for adults who continue to smoke—any additives used (e.g., flavorings) do not increase the health risks inherent to cigarette use.
For adult smokers who switch to products that do not combust tobacco, it is of paramount importance that these alternatives are scientifically substantiated to present less risk of harm than continued smoking, and also that they are developed, tested, and manufactured according to applicable regulations and standards to ensure consistent product integrity and quality.
Developing and commercializing products that meet stringent scientific requirements and technical design criteria are critical to a smoke-free future. By maintaining and continuously improving the reliability of our products while complying with regulations, we protect our reputation and brand equity.
Our quality management system (QMS) covers all our products—smoke-free and combustible. Governance and accountability for consistent product integrity, quality, and reliability sit at the highest management level under the leadership of the Chief Life Sciences Officer at PMI and are guided by our QMS, as well as by other internal and external standards. Work on product integrity and reliability is mainly carried out by teams in our product development, procurement, manufacturing operations, and quality organization departments. Their collective efforts ensure that we preserve quality, from raw material to the retail shelf.
Our approach to product reliability starts with our contracted farmers and suppliers. We work with them to secure high-quality raw materials and components, applying robust procurement processes, detailed auditing, and rigorous quality assurance procedures.
Our factories are designed to manufacture our products to the highest quality standards, following the ISO 9001 certification principles. This includes, for example, the careful selection of materials that come into contact with semifinished and finished products during manufacturing and the appropriate training of operators.
Our manufacturing quality management systems are subject to inspection by authorities and certified bodies. Globally, a team of product quality associates ensures that all incoming materials, semifinished components, and finished products across our global footprint meet our quality assurance and quality control standards. Additionally, we have over 100 corporate quality professionals who establish and embed standards throughout our QMS processes. We supplement these measures with dedicated third-party quality management programs and by placing a PMI quality assurance colleague on-site at the locations of each key electronics manufacturing supplier of our smoke-free devices.
Product reliability also extends to the packaging, storage, and transport of finished goods to ensure that they reach the consumer in proper condition. Packaging has a crucial role to play in this regard and also helps ensure the traceability and identification of our products so we can act promptly should issues arise. Each packaging unit for our devices and consumables is imprinted with a unique serial number that allows us to trace the entire supply chain journey, from factory to market, enabling backward traceability should a product quality issue arise. In the event of a product recall, of which there were none in 2022, or an identified quality incident, we can leverage this traceability to investigate the problem and undertake any necessary containment actions in an efficient and targeted manner.
Moreover, we focus on the sustainability and longevity of our products by embedding eco-design principles and end-of-life take-back programs. Learn more here.
Smoke-free products
Our smoke-free products include among others heated tobacco and e-vapor products[1], which comprise both consumables and electronic devices subject to strict design controls. Our process ensures that each product is developed according to predefined and controlled criteria and demonstrates reduced toxicity compared with cigarette smoking. Any alterations to the product are made under a strict change management process that assesses the impact of the change on the product's quality, safety, performance, and regulatory compliance. In addition, as part of product development, we apply use-hazard analysis. We assess the risks associated with the product's intended use and any foreseeable misuse, and we implement appropriate mitigation measures.
Our heated tobacco units and e-liquids are manufactured using ingredients compliant with applicable regulatory requirements and with industry and PMI standards. The tobacco used in our heated tobacco products is tested for the presence of crop protection agent residues to ensure it does not exceed permissible levels per industry guidelines. Nicotine and nicotine salts used in e-liquids must satisfy U.S. or European pharmacopoeia specifications. All other ingredients (with the exception of flavoring extracts from tobacco) are either food grade or satisfy U.S. or European pharmacopoeia specifications. We do not add any ingredients classified as carcinogens, mutagens, or reproductive toxicants. All consumable ingredients—and also nonsubstrate material such as the plastic and other components of cartridges that house the e-liquid and the paper and other components that house the tobacco mixture—are subject to rigorous toxicological risk assessment. We disclose the ingredients of our heated tobacco units and e-liquids on our website.
1 See Glossary.
Heat-not-burn devices
The electronic devices for our heat-not-burn product are manufactured according to internal standards and ISO 9001 principles and are certified according to applicable regulations and standards. The suppliers of the devices' electronic parts and components, including batteries, must also operate under these quality standards. Each finished device is subject to rigorous controls before shipment.
PMI has established a thorough monitoring process to enable early detection of consumer pain points. We use these insights to improve our products and components.
Heated tobacco units
IQOS heated tobacco units (HTUs) are inserted into the device holder by the consumer. Each unit is composed of a tobacco plug (TEREA consumables also contain a metal susceptor), a hollow acetate tube, a polymer-film filter, a cellulose acetate mouthpiece filter, and filter papers. The uniquely processed tobacco plug is made of a reconstituted blend of high-quality tobacco leaves.
The manufacturing of HTUs demands high levels of precision and consistency. We test HTUs for stability, using standard protocols covering a variety of temperature and humidity ranges. The design and packaging aim to preserve product quality and safety in the various conditions to which the product may be subjected (read more on PMI Science).
E-vapor products
Our non-disposable e-vapor devices use a cartridge, or tank, with nicotine-containing e-liquid. The product's reliability depends on the integrity of the tank; if the tank is tampered with, the product could fail. We recognize a trade-off between product reliability and recyclability, but prioritize safety, choosing to use closed-tank systems in the development and commercialization of our e-vapor products. We also test our packaging to ensure compliance with local regulations, including the EU Tobacco Products Directive, and we engage external agencies that test the integrity and safety of our e-liquid packaging.
Our disposable e-vapor product, commercialized as VEEBA, requires no charging, no cleaning, and no refilling (read more here).
Combustible tobacco products
Our combustible tobacco products are also subject to stringent product development controls. We strictly adhere to product specifications and regulations for cigarettes and apply additional internal requirements to ensure the highest quality products. Our ingredients undergo toxicological assessment to ensure their use does not increase the inherent toxicity of cigarette smoke. We disclose the ingredients used in our cigarettes on our website. We keep abreast of changes in regulation and perform further assessments to ensure full compliance with applicable regulations.
Non-tobacco materials used in our products—e.g., cigarette paper, filters, and packaging materials—also undergo toxicological assessment. In assessing packaging materials, we adhere to the main requirements for food contact materials.
Our strategy highlights the importance of governance-related topics, which cannot be overstated. Our company's policies, rules, and procedures define our ability to implement sound strategies that successfully address environmental and social issues.

This online content about our Integrated Report should be read in conjunction with PMI's Integrated Report 2022. Unless otherwise indicated, the data contained herein cover our operations worldwide for the full calendar year 2022 or reflect the status as of December 31, 2022. Where not specified, data comes from PMI financials, non-financials, or estimates. Unless explicitly stated, the data, information, and aspirations referenced do not incorporate PMI's Vectura Fertin Pharma business (consolidating the 2021 acquisitions of wellness and healthcare companies Fertin Pharma A/S, Vectura Group plc., and OtiTopic, Inc.), nor the late 2022 acquisition of Swedish Match AB. Please also refer to 'This report at a glance' on page 2 of the Integrated Report 2022 for more information. Aspirational targets and goals do not constitute financial projections, and achievement of future results is subject to risks, uncertainties and inaccurate assumptions, as outlined in our forward-looking and cautionary statements on page 214. In the Integrated Report 2022 and in related communications, the terms "materiality," "material," and similar terms, when used in the context of economic, environmental, and social topics, are defined in the referenced sustainability standards and are not meant to correspond to the concept of materiality under the U.S. securities laws and/or disclosures required by the U.S. Securities and Exchange Commission.