Our Transformation
Our commitment to preventing youth use of our smoke-free products
5 min read
To achieve PMI's vision of a smoke-free future, it is imperative that our smoke-free products are only used by adults who would otherwise continue to smoke—and no one else. Here is what we are doing to prevent access and unintended use by minors.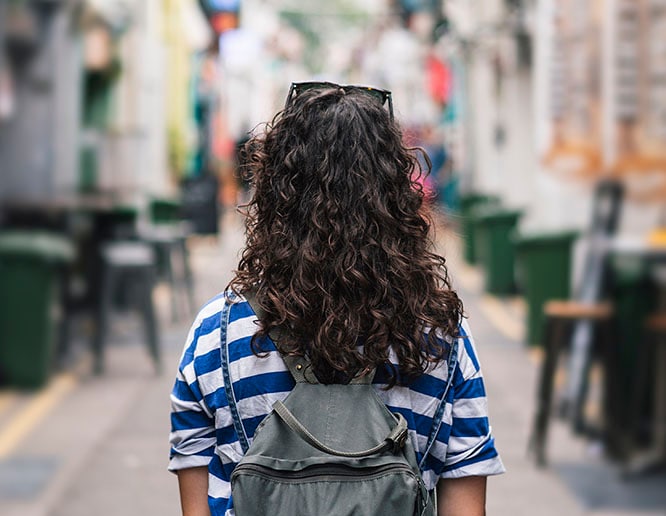 While PMI is committed to providing adults who would otherwise continue to smoke with a range of science-based better alternatives to cigarettes, we are emphatic in our message: These smoke-free products are not intended for people who have never smoked, people who have already quit, or anyone below the legal age of tobacco and nicotine use.
Minors should NOT use any tobacco or nicotine-containing product. This is beyond question.
To achieve our vision of a world without cigarettes, we must do everything possible to keep our smoke-free products out of the hands of youth.
Of course, this requires the efforts of all key parties. We strongly support regulation that ensures only adults can buy tobacco and nicotine-containing products, as well as the strict enforcement of minimum-age laws.
But we also recognize that we have a critical role to play in guarding against youth access to our smoke-free products. We do this in several ways:
We uphold ourselves to strict marketing codes. These are rooted in the principle that we only direct our marketing and sell our products to existing adult smokers and nicotine users.
We have robust requirements of our trade partners. In 2022, 91 percent of our total shipment volume was covered by youth access prevention programs in our indirect retail channels, in line with our ongoing aspiration to maintain greater than 90 percent coverage.1
We are testing a suite of enhanced age-verification novel technologies for our electronic smoke-free products, which we plan to embed where technical capabilities allow.
We use careful product design and labeling. The packaging of smoke-free products clearly indicates that they are only for adults, and we use flavors responsibly in accordance with a central governance process pursuant to which all new flavored product variants are evaluated prior to commercialization.
While PMI alone cannot prevent people who are underage from smoking or using nicotine-containing products, there is a lot we can do—and are doing—to minimize the extent to which these products are accessible and appealing to them.
Strict marketing standards
We are clear about our core principle: We only market our smoke-free products to adult smokers and adult users of nicotine products and do so responsibly.
To minimize the risk of unintended consequences, our robust Marketing Codes include the following rules: We don't use cartoons, youth-oriented celebrities, or models who are, or appear to be, under the age of 25.
We don't advertise on the front or back cover of any print publication for general circulation.
We don't engage in product placement in movies or on television.
We don't place the names or logos of our brands on any promotional item likely to be used or seen by minors.
We do not encourage adult consumers to share commercial content related to our smoke-free products on their personal social media accounts.
We rolled out our Marketing Codes in 2021 to ensure all our activities are only directed toward adult smokers and nicotine users, and to minimize the extent to which minors will see our marketing. We published these Codes in 2022.
We also have a set of internal guidelines that provide more detail, including guidance for markets on how to set up effective youth access prevention programs.
We never place advertising, marketing, or sales material in media channels for minors. They are only used in channels where the audience is reasonably expected to be at least 75 percent above the legal age—including social media platforms. In addition, we use available age gates and age verification for product purposes on our owned and operated channels
When testing how effective our Codes are, we rely on the data and conclusions of the global scientific community, because we don't conduct research involving participants under the legal age of tobacco use ourselves.
But independent studies have shown that our heated tobacco products for example are of limited interest to youth and adults who have never used nicotine products or who have stopped using them—and that we are reaching our intended audience: Those adults who already smoke and continue to do so.
For example, in 2020, The Federal Centre for Health Education in Germany reported the results of a nationwide survey of 7,000 young people between 12 and 25. It found that 7.2 percent smoked, but only 0.5 percent had ever used a heated tobacco product.
Robust requirements of our trade partners
Due to the nature of our business, we do not own or control most outlets where people buy our smoke-free products: 99 percent of our sales are through a third-party retailer.
To ensure these retailers operate according to our standards, we set robust requirements for our trade partners. We work with them to ensure they understand why they should not sell tobacco or nicotine products to youth.
Our ongoing aspiration is that more than 90 percent of our shipment volume is to markets with a youth access prevention (YAP) program in indirect retail in place. This is a combination of guidelines and tools to help affiliates work with trade partners to guard against the sale of smoke-free products to underage purchasers. In 2022, markets representing 91 percent of our total shipment volume were implementing such programs.1
The tools include templates for contracts requiring strict compliance with minimum age laws or, in the absence of such laws, a stipulation that retailers refuse to sell nicotine-containing products to anyone under the age of 18. In 2021, we evolved the minimum requirements for a YAP program.
Other tools include point-of-sale signage, communication templates, and talking points to guide in-person conversations.
We conduct annual training on youth access prevention requirements among all affiliates' salespeople—and mystery shopper programs remain an effective tool markets may elect to use to ensure our responsible marketing principles are adequately followed in the marketplace.
In markets where our influence is limited, we are proactive in our efforts to guard against youth access to our smoke-free products, engaging with stakeholders—including retailers and governments—to find effective solutions.
Age controls
We continue to develop best-in-class technology to prevent youth access and minimize the unintended use of our smoke-free devices. And we are continuously scouting emerging innovations and credible age-verification technologies. In 2020 and 2021, we piloted age-verification technology for online channels in New Zealand and Corsica, which required the consumer to first prove their age with reliable data to activate an e-vapor device. They could then lock and unlock the device—at their convenience—to prevent unintended use.
We plan to further optimize these novel technologies to create a suite of age-verification mechanisms which will be used across our electronic smoke-free devices, where technical capabilities and infrastructure allow, in the future.
Across all our owned retail channels, we require that consumers are verified as of legal age (or at least 18 years old, in markets without a minimum legal age).
And at our physical brand retail outlets, anyone who wishes to purchase our smoke-free products is age-verified by a trained salesperson, using official identity documents if necessary.
Product design and labeling
We apply strict rules governing how we present our products to adult consumers. Our smoke-free consumables' packaging indicates clearly that the product is for adults, is not risk-free, and contains nicotine, which is addictive.
Flavored e-vapor liquids have been named as a factor in driving youth interest in smoke-free products, particularly those with candy or dessert-like names.
While flavors are essential in encouraging adult smokers to switch to smoke-free products, we recognize that certain flavors should not be used.
We evaluate new flavored heated tobacco and e-vapor products to ensure they do not particularly appeal to minors.
At PMI, we know that preventing the unintended use of smoke-free products is fundamental to the sustainability and success of our business—as well as the right thing to do. We have a commitment to society, which expects us to act responsibly. Only by focusing on providing better choices to the adults who smoke today can we achieve our goal for tomorrow: A smoke-free future.
1
Total shipment volume includes cigarettes, other tobacco products (OTPs), and smoke-free product consumables, See PMI's ESG KPI Protocol 2022 for further details.