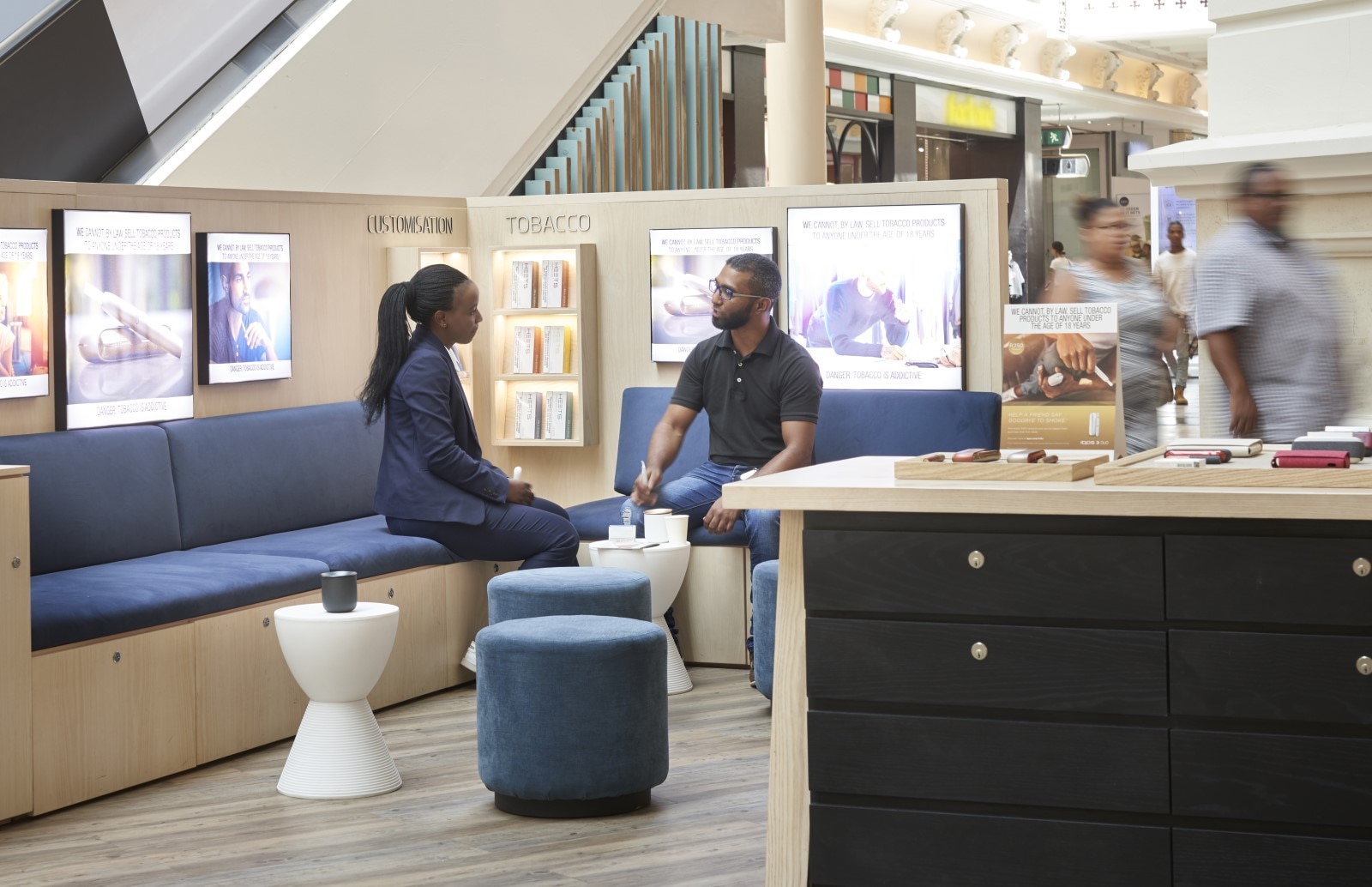 Philip Morris South Africa (PMSA) was established in 2003 and is the country's second-largest tobacco company. It distributes PMI's products domestically and also exports them to markets in the region.
Leonard Dingler (Pty) Ltd, an affiliate of PMSA located in Johannesburg, is a manufacturing entity. It produces tobacco products such as roll-your-own, pipe tobacco, and nasal snuff. In total, the two entities employ over 600 people. PMI's Leaf Operations Center for Africa is located in the head office in Cape Town. The leaf team coordinates tobacco-buying activities in South Africa, Malawi, and Mozambique.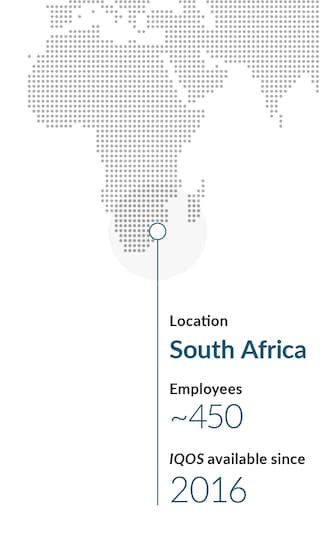 Access to smoke-free alternatives
To date, South Africa is the only African country in which PMI is commercializing its heat-not-burn tobacco system IQOS. The product was introduced to the market in 2016 in Cape Town. Currently, PMI is concentrating the commercialization of smoke-free products in three regions: Gauteng, with major cities Johannesburg and Pretoria; the Western Cape region, including Cape Town; and the KwaZulu-Natal region, with Durban as its biggest city.
Since the initial launch, PMI has opened a permanent IQOS boutique in Johannesburg and expanded the sale of the device and its heated tobacco units, marketed under the brand name HEETS, to 28 retail outlets. These locations are mainly in shopping malls, which attract a high volume of foot traffic from the targeted consumer group: adult smokers. In addition, up to 100 tobacconists now sell IQOS. A wide network of IQOS coaches is significantly contributing to the distribution of IQOS in South Africa through direct interaction with adult consumers. They are charged with presenting the product and demonstrating its use, and they also undertake activation activities in designated hot spots.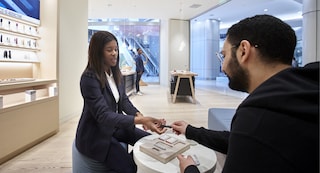 The program started in 2019 and has delivered good initial results; it now accounts for around 20 percent of devices sold.
The economic circumstances and consumer preferences of South African consumers have created some hurdles. South Africa is a country with vast economic inequality, making affordability an issue. To ensure that the largest possible number of adult smokers can afford this better alternative to cigarettes, PMSA has introduced a monthly subscription program for IQOS. Consumers pay the retail price of the device in equal installments over 12 months, without any interest. This program started in 2019 and has delivered good initial results; it now accounts for around 20 percent of IQOS devices sold.
Tackling the issue of littering and waste
In September 2019, PMSA increased its efforts to tackle the issue of cigarette butt littering. On the occasion of World Cleanup Day, PMSA employees teamed with the City of Cape Town and the Central City Improvement District to clean up the city's central business district. The 66 volunteers, 40 of them from PMSA, collected a total of 80 kilograms of cigarette butts. To raise public awareness of the littering issue and the need for proper disposal, the bags were emptied and the contents displayed in a busy square during lunchtime. Since the lack of a good disposal infrastructure is contributing to the problem, the volunteers also handed out pocket ashtrays to smokers to make proper disposal easier.
Another activity around World Cleanup Day involved waste pickup by the Leonard Dingler factory employees in Johannesburg. Some 300 employees participated, gathering a total of 340 kilograms of waste on the premises, which was then disposed of safely. The factory plans to turn this into a quarterly event. In addition, the factory is striving to not produce any waste for landfill and runs a Bokashi project with its tobacco, food, paper, and garden waste. In this composting method, the organic waste is inoculated with specific microorganisms and fermented instead of decomposed. The resulting soil amendment is then used in the landscaping around the factory. This project reduces landfill waste. In 2019, it lowered the disposal rate to around 9 percent from almost 19 percent in the year prior. In its head office in Cape Town, PMSA has made recycling a priority and aims to become a "plastic-free" office. Measures include a dedicated waste-sorting system, a switch from plastic to glass bottles and cups, and the removal of plastic utensils.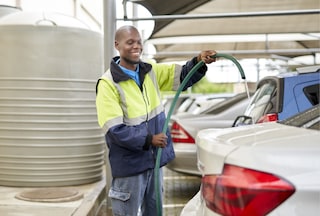 Overall, PMI's fleet has a relatively low collision rate, with 0.87 collisions per million kilometers driven in 2019. The record was significantly worse in South Africa, with 5.63 collisions per million kilometers in 2018, among the worst company-wide. After a thorough investigation and implementation of several measures, the rate dropped to 2.68 collisions per million kilometers in just one year, which equaled an absolute reduction from 44 to 18 collisions. These measures included an awareness campaign for driving safety and a prohibition on driving company-owned cars in the off-hours between 11 p.m. and 4 a.m., as most collisions have occurred between midnight and 6 a.m.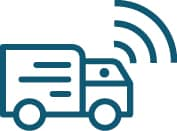 134 vehicles equipped with telematics devices, not only monitoring speed, but also providing indications of undesirable driver behavior
The most significant improvement came through the installation of telematics devices in all 134 fleet vehicles and stronger involvement on the part of the management team. The devices not only monitor speed, but also provide indications of undesirable driver behavior – e.g., changing lanes without using the indicator light or not keeping a proper distance from other vehicles. A fleet specialist analyzes these data and sends a report to line managers, who in turn give one-on-one feedback to drivers. In most cases, this first feedback session is enough to trigger a behavior change in the driver. In other cases, additional training is warranted. Using this program, the local management team aims to lower the collision rate further in 2020 and beyond.
Adequate housing for tobacco workers
South Africa is one of the countries from which PMI purchases tobacco. Our leaf supplier currently works with fewer than 100 farms, which in turn are contracting close to 1,800 workers. As part of its ALP program, PMI has set a goal of improving the working and living conditions of workers across its tobacco supply chain. In 2017, during the Control Union assessment of PMI's local tobacco supplier, Universal Leaf South Africa (ULSA), 14 of the 16 farms visited in the Limpopo region were found to have inadequate workers' accommodation. In the Eastern and Western Cape, seven of the 11 farms visited did not meet accommodation standards. PMI developed a plan with ULSA and strategic partner Verité to address this issue, with the goal of ensuring that workers' accommodation meets the following minimum standards: Houses need to have a waterproof and durable roof, glass windows that can be opened, and electricity (if the infrastructure exists on the farm). Moreover, safe water must be available inside the house or nearby, and houses must be no less than 30 square meters in size.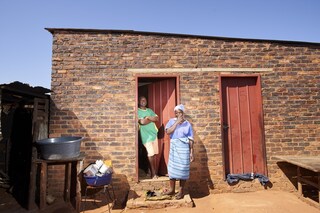 The remediation plan, endorsed by the South African Department of Labor, started with a pilot project in 2017 and expanded to focus on accommodation on larger farms in 2018. A full-scale program continued on all contracted tobacco farms through 2019.
As of the end of 2019, the project has delivered 246 new rooms, 400 renovated rooms, and 92 new or renovated toilets, as well as the installation of electricity on 31 farms that previously did not have access to it. Together, these improvements have benefited over 1,000 workers and their families on 44 farms.
The Ministry of Labor in Limpopo and Ministry of Agriculture in the Cape have validated all the newly built and renovated accommodation and confirmed that they meet the legal standards. This puts us in a great position to achieve our target of providing adequate accommodation to all contracted farms in South Africa ahead of PMI's global timeline of the end of 2020.