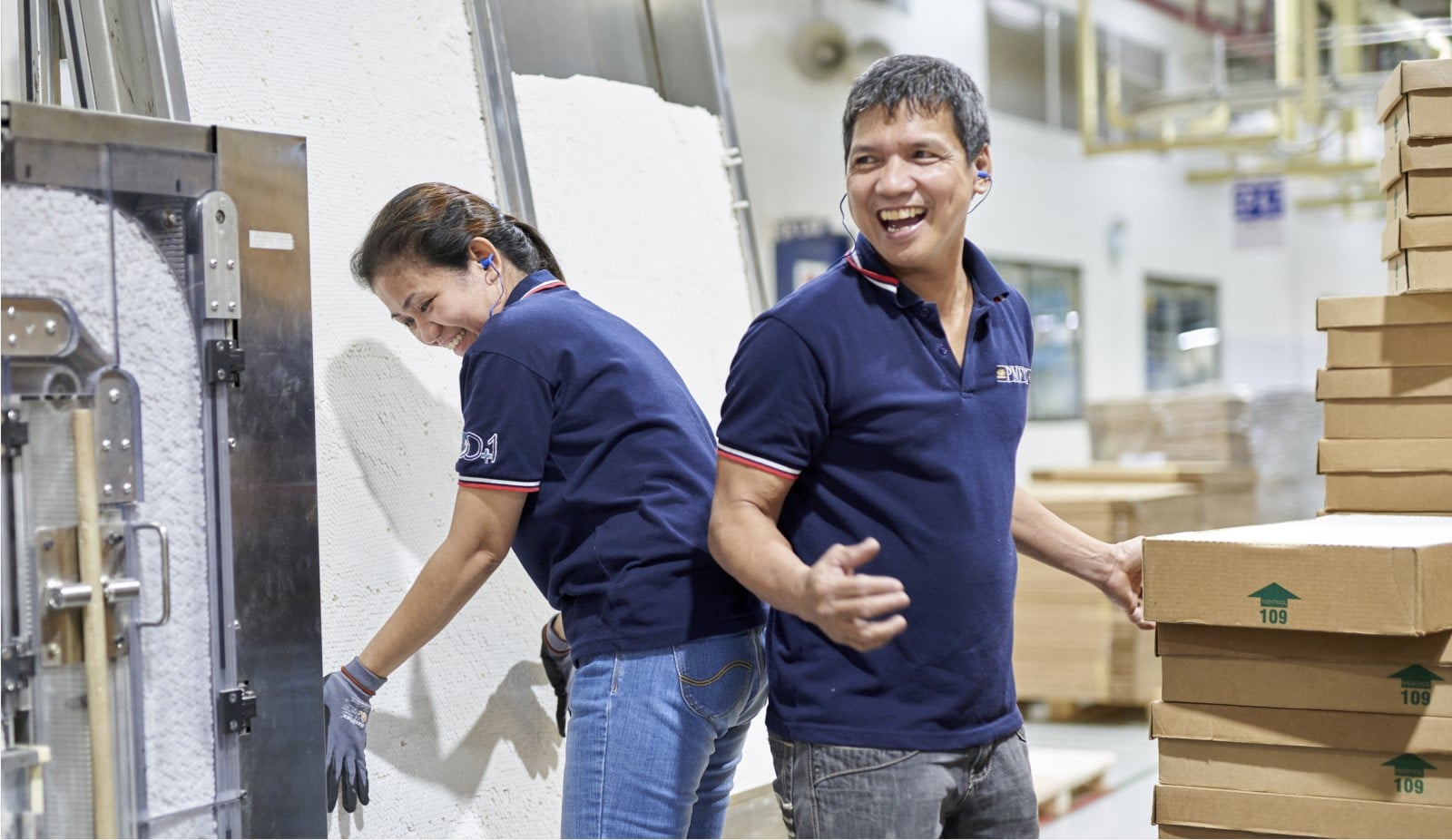 PMFTC is the Philippines affiliate of PMI. Established as a business combination between PMI and Fortune Tobacco in 2010, it is the leading tobacco manufacturer in the Philippines. It produces six of the ten leading cigarette brands in the market, led by Marlboro and the locally best-selling brand Fortune. PMI is also preparing to launch its heat-not-burn product IQOS in the Philippines.
PMFTC's diverse workforce of around 3,800 employees is mainly spread across its corporate office in Taguig City, and two manufacturing facilities in Tanauan City, Batangas and Marikina City, Metro Manila. Its factories produce cigarettes for the domestic and export markets, and semi-finished goods such as cut filler and cigarette filters, primarily for neighboring markets.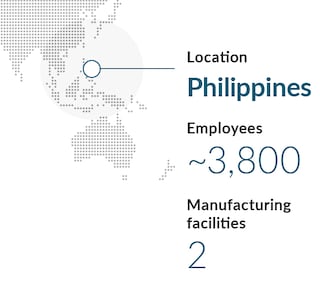 Contributing to local communities
As a responsible corporate citizen, PMFTC is strongly committed to the development and growth of local communities. Its Corporate Social Responsibility program, called Embrace, partners with various governmental institutions, NGOs, and local stakeholders to support programs that are based on needs assessment. The charitable giving, social contributions and community investments are focused on access to education, empowering women, economic opportunity, and especially disaster preparedness and relief efforts. Projects supported by Embrace in 2019 were aimed at making Filipino communities in geographically isolated and disadvantaged areas more resilient, including the construction of a multi-purpose shelter for fishermen in the Batanes region, the building of a new primary school in Sitangkai in the Tawi-Tawi region, and a livelihood project to support indigenous people in the Zambales province.
PMFTC employees were at the core of these relief operations.
Due to the Philippines' geographic location, the country has a high vulnerability to natural disasters like earthquakes, volcanic eruptions, typhoons, and floods. In October and November 2019, PMFTC provided relief assistance to more than 25,000 individuals (close to seven percent of the total affected population) in earthquake-stricken areas in Batanes and Mindanao. After the eruption of the Taal volcano in January 2020, the company's immediate concern was the safety and welfare of affected employees. Within a short period of time, 150 displaced employees had been accounted for and were given immediate assistance. In parallel, PMFTC provided relief to affected communities in the form of food packs, sleeping mats, face masks, and hygiene kits. A total of 7,384 families benefited from this effort.
With their strong spirit of volunteerism and compassion for the community, PMFTC employees were at the core of these relief operations. In addition to the cash donation generated by employees, the first wave of 500 relief packs had been personally delivered by volunteers from the head office, sales offices, and factories to nearby evacuation centers.
Employee engagement and well-being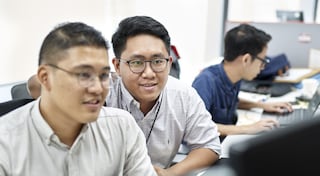 Overall, there is a strong sense of community and pride among PMFTC employees. This was highlighted during our human rights impact assessment in 2019 (read more here). The well-being and health of its employees is a primary concern for the company and it launched several support initiatives in 2019. To help maintain the communal spirit, regular social events are held such as sport festivals, family summer outings, and employee fairs.
A company-wide annual physical exam did reveal instances of high blood pressure and overweightness among employees. To build awareness of their personal health and provide personal expert advice on medical, mental, nutritional and physical fitness, PMFTC launched a "Wellness Superstar Program" across its offices and factories, focusing on:
assessing the individual participant's status, as well as the status of the company as a whole, on different health domains such as lifestyle, medical conditions and overall well-being;

identifying specific factors affecting participants' health, such as food choices, physical activity, sleeping habits, and health-seeking behavior;

providing opportunities for employees to learn about exercises and routines, create achievable goals, practice them, and attain a healthier lifestyle, through health workshops and challenges.
Initially, 150 employees have participated in the pilot project, and the company plans to improve the program based on initial results and expand it to wider participation.
Since many employees expressed that they had limited time and opportunity to exercise, PMFTC devised a number of initiatives to address this. The initiatives aimed to offer opportunities within working hours for exercise, while also providing the employees with routines they could use at home to improve their physical well-being. These measures included Zumba classes during lunchtime hours at the two factories, as well as dance classes and the provision of a fitness coach in the offices. This coach conducts 5-minute exercise sessions for employees on site. The sessions focus on quick mobility workouts to demonstrate the importance of movement, especially in a sedentary workplace. They take place each Friday at the employees' workstation and are conducted with the aim of reducing stress levels and fatigue at the end of the workweek. Participation is high: around 200–250 employees join the workout sessions at their workstations every week.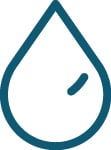 The well-being and health of its employees is a primary concern for the company
Forest conservation in the tobacco supply chain
To assess and mitigate the risk of deforestation, PMI has adopted a global risk map. This global map is complemented by local maps to give the company a more detailed and accurate assessment in a defined location and forms the basis to develop targeted initiatives, when necessary.
The first forest risk map had been developed in 2015 by South Pole, a leading sustainable solutions consultancy, and revised in 2017, as part of a study on the potential impacts of tobacco curing on old growth and primary forests in the Philippines. In 2019, PMI decided to update the local forest risk map for the country, following a change of farmers' bases where it sources tobacco from in the Flue Cured Virginia tobacco production areas in the provinces of Ilocos Norte, Ilocos Sur, Abra, and La Union.
The following information was included in the assessment:
geographic location of the farmers;

areas of old growth forests, protected forests, and other natural forests;

tobacco forest impact zones, defined based on the location of the farmers and the maximum transport distance of the firewood from where it is sourced; and

areas with high, medium, and low deforestation risk of old growth forests and protected forests.
This information helped to identify the farms closest to the old growth forest, protected forests, and other natural forest landscapes. The Philippines land cover map from the Department of Environment and Natural Resource (DENR) classifies between open and closed forests. Closed forests are considered to be sufficiently similar to PMI's adopted definition of old growth forest.
The forest risk map shows that the majority of closed forest with medium and high risk is located in Abra and in Ilocos Norte.
Mitigation plans have been developed with tobacco leaf suppliers to ensure that contracted farmers are able to trace the source of the firewood they use, whether self-collected from their own wood lot or purchased from vendors and verify that it is not coming from old growth forests.
This has been done by conducting a full inventory of farmers' sources of fuelwood; 100 percent monitoring of fuelwood consumption of farmers; providing the farmers with forestry training sessions; assisting the farmers through the provision of planting stocks for silvicultural treatment; and registering with DENR. In 2019, around 3,200 farmers either underwent a full inventory check of their wood lot or set up supply chains with accredited vendors who provide sustainable and traceable fuelwood.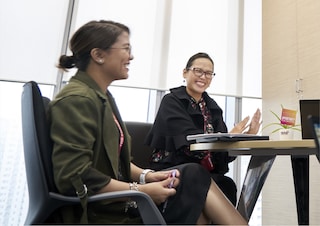 Littering prevention
PMFTC has launched initiatives to help address the issue of littering, including ongoing cleanup activities, aimed at raising awareness of cigarette butt littering as a public issue, and encouraging the public to take action to address it.
In 2019, cleanups around World Clean Up Day took place across four cities: Western Bicutan, Taguig; Lapasan Coastal, Cagayan de Oro; Baguio City Public Market; and Mandaue City, Cebu. Over 1,000 people participated, including 253 employees from PMFTC as well as volunteers from NGOs, government institutions, and the general public. They collected over 45 tons of waste and around 57,000 cigarette butts.
Too often, cigarette butts are not properly disposed in ashtrays or bins. To tackle this, PMFTC ran a two-pronged awareness campaign, targeted directly at adult smokers and retailers to adopt proper disposal. The company placed receptacle units directly in front of tobacco points of sale. In order to help shift the mindset Employees in PMI's office in Taguig of adult smokers, the team came up with innovative ways to collect the cigarette butts: the containers were designed like ballot bins, letting consumers choose between two answers and cast their "vote" by disposing their cigarette butts. After a trial period of four weeks, more than 18,000 pieces of discarded cigarette butts were collected at four points of sale.
The other campaign track included a community of commuter tricycle drivers, who were asked to collect cigarette butts in empty 330ml plastic bottles. Each full bottle could then be exchanged with a partner retailer for USD 1 worth of goods, while the participating retailers received 25 cents per bottle. Nearly 15,000 pieces of discarded cigarette butts were collected in the course of a month.
PMFTC also seeks to address the issue of litter from used cigarette packs. The retailers were engaged in these efforts, and they were asked to recover empty packs. PMFTC's salesmen would then weigh the empty pack received from retailers, and for each kilo collected, retailers would then receive a PHP 100 gift card or 10 coffee sachets (equivalent to USD 2). The affiliate would then consolidate the empty packs and send them to third-party service providers for proper disposal. The program was well received: it increased the awareness of environmental sustainability of more than 62,000 retailers nationwide, who appreciated its simplicity in terms of ease of joining. In 2019 alone, the program helped to retrieve 946kg of pack waste, which equals approximately 172 million empty packs.