Our progress in 2020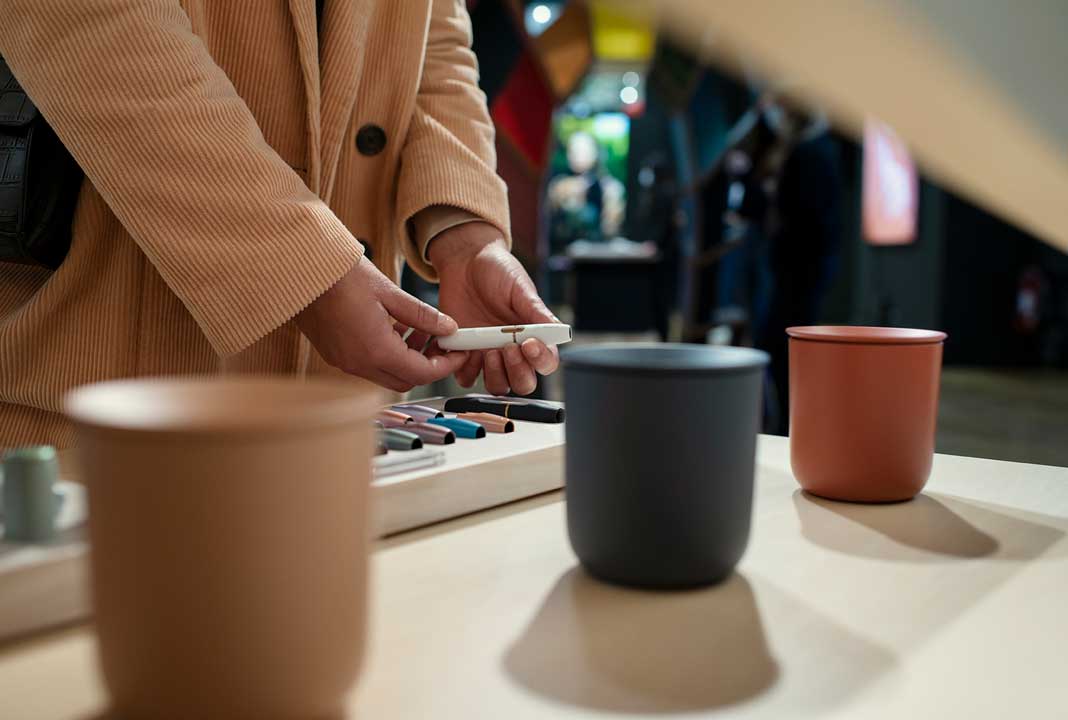 Impact of COVID-19 on our activities in 2020
read more
Electronic devices
In the area of product innovation, we aim to have all our new electronic devices commercialized as of end 2025 certified to validated standards for eco-design. We are also working toward the meaningful inclusion of recycled content in all devices by 2025. To those ends, we are pursuing improvements in areas such as durability, design for repair and recycling, and energy efficiency.
Sustainable design
In 2020, we started commercializing an improved version of our e-vapor product in New Zealand under the IQOS VEEV brand name. Due to efforts to minimize the size of both the device and the e-liquid cartridge, this product represents a significant enhancement in sustainability over the previous IQOS MESH product, which we commercialized in the U.K. Our design innovations decreased the product's CO2 emissions and material consumption while providing a better consumer experience.
Another focus this year was changing the battery technology within our IQOS charging units. Our new battery chemistry offers the same performance but with a reduced carbon footprint versus our previous version. This change was incorporated in the IQOS 2.4+ and IQOS 3 DUO chargers, resulting in a 9 percent reduction in the product's CO2 footprint.
In this chapter
Impact of COVID-19
Electronic devices
Circularity
Consumables
Accessories
Packaging
Next steps

Product eco-design and circularity - topic overview
read more
We began working with PMI in 2018 to collect heated tobacco devices that have failed under warranty period and provide assistance with inspection, intellectual property protection, and recycling. During device inspection, the causes of default are identified and fed back to PMI so that return rate can be reduced through improved product design. In terms of recycling, we do not dispose of any PMI-related waste in landfill and are also making efforts to reduce the percentage of thermal recycling as much as possible. For example, in Japan, there are only a limited number of recycling businesses that will accept mixed plastics, so in order to increase the recycling rate, we sort materials into as high a purity as possible and actively seek out recycling businesses that can accept even small lots of the sorted materials. We meet with PMI regularly to discuss the possibility of reusing waste plastics for our own products, and we also work closely towards the resolution of recycling issues. Working with PMI was the first time for our company, which has 130 business locations around the world, to propose a solution that fully incorporates the concept of resource recycling. In the future, we intend to use our work with PMI as a case study for further expanding our efforts toward the realization of a circular economy.
Circularity
We strive for our products to last and increasingly aim to repair or refurbish them, so they stay in use for as long as possible.
Lifetime optimization
In 2020, we established a cross-functional global program, taking a holistic approach to address product returns and enhance the lifetime of our devices. This effort focused on reducing unnecessary device replacement and limiting e-waste generation, as a consequence. This program was the first step in our journey to improve the overall lifetime of our products, primarily through optimization with the outlook toward refurbishment and repair.
Our IQOS devices are subject to standard product warranties, generally for 12 months from the date of purchase or such other periods as required by law. In many cases, we offer warranty policies beyond the legal minimums to provide additional benefits to our consumers. In 2020, we launched or expanded several service-based solutions to minimize environmental impacts aimed at extending product lifetime through device optimization and maintenance.
We standardized our global guidelines, setting consistent criteria and procedures across all markets where our smoke-free products are commercialized. These guidelines norm our verified returns procedures, as well as the conditions which grant a replacement under warranty or specific loyalty programs. We trained our retail and call center teams on how to assess potential product issues faced by the consumer. We strived to ensure a diagnosis is made before replacing a device, as some issues may be resolved without a replacement and hindering the consumer experience—for instance, by deep cleaning the device or ensuring the software is up to date directly at our brand retail store. We also launched in certain markets a mobile application for IQOS users, which provides tips on how to use and clean the device, as well as basic troubleshooting instructions.
As a pilot effort in the last quarter of 2020, we started installing firmware upgrade capabilities across our consumer touch points, in several core markets. In 2021, we will continue to expand these capabilities across geographies, channels, and touch points leveraging our ever-evolving digital ecosystem.
Inspection, disassembly, recycling, and repair
When IQOS users return broken or end-of-service products, our reverse-logistics program helps to cycle materials back into the economy. Our CIRCLE program provides centralized hubs that inspect, process, and separate materials from our electronic devices for recycling. Our recycling partners are certified R2, a stringent certification governed by Sustainable Electronics Recycling International (SERI). This standard covers all aspects of the electronics recycling value chain—including on-site environment, health, and safety (EHS) practices, waste disposal hierarchy, and traceability of raw materials—and helps to ensure our recycling processes meet the highest possible requirements.
In addition, our CIRCLE hub in the European Union obtained WEEELabex certification in 2020, reflecting our commitment to due diligence practices and advanced recycling. Through our CIRCLE program, we recover and recycle significantly more materials than if the devices were to follow traditional electronic waste streams. Moreover, the inspection and recycling of returned products allows us to improve quality and design by feeding back into our development processes. In addition, the hubs contribute to our fight against illicit trade and counterfeiting—as they reduce opportunities for product diversion—and benefit the regional economies in which they are located.
In 2020, we continued the rollout of our CIRCLE program, achieving 48 percent market volume coverage up from 39 percent the previous year, by adding two new markets to the program (Bulgaria and Ukraine). CIRCLE processed over 191 tons of end-of-life devices and materials (of which, around 160 tons were recycled, with the remainder going to incineration for energy recovery). We significantly improved our recycling rates in 2020 by working with our recycling partners to identify additional technologies, improved disassembly methodologies, and material applications, resulting in an increase to 84 percent in 2020, up from 74 percent in 2019. With the aim of expanding our current footprint, we also established plans to launch a third centralized facility, located in Russia, in 2021.
Since the introduction of our CIRCLE hubs in 2018, with recycling rates of 45 percent we have made tremendous progress in improving our performance. Our aggressive goals lead to top performance levels of our existing products at over 80 percent. The next step for us is to maintain these results and recycle our materials to higher quality standards, while expanding coverage of our product returns and recollection. With regular introduction of new products and versions to the IQOS portfolio, we recognize the continued challenge to maintain performance levels. We are now focusing on quality of material output and efficiency through improved disassembly techniques and enhanced automation, in addition to our efforts in repair and refurbishment. Moving forward while maintaining superior recycling performance of over 80 percent, our aim is to expand our geographic and volume coverage, and repair capabilities to amplify the positive impact of these programs.
Our preference is to roll out CIRCLE globally; however, it is not possible to implement the service in all markets at this time due to legislative restrictions related to e-waste transportation. In markets where CIRCLE has not yet been implemented, IQOS users can still return their devices to specified locations. We aim to recycle these devices via local partners with similarly high standards of electronics recycling; for example, our affiliate in the United Arab Emirates uses an R2-certified recycler.
We strive to establish commercially viable repair-and-refurbish programs to offer a second life to devices and cycle them back into the economy. We are also leveraging on digital infrastructure to ensure upgrade capabilities for all our devices. In 2020, we worked with our reverse logistics partners to leverage and expand our existing CIRCLE infrastructure for the future possibility of repair and refurbishment. We will continue to expand these initiatives in 2021.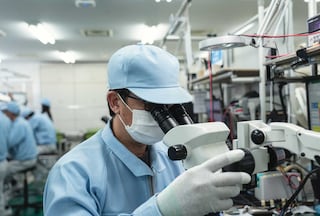 Carbon footprint
In our operations, eco-design principles inform how we use life-cycle analysis (LCA) to assess the carbon footprint of our products, from tobacco sourcing to end-of-life impacts.
So far, we have analyzed IQOS devices, heated tobacco units, and packaging. In 2020, we finalized the results for our new e-vapor product, IQOS VEEV. This new version has a lower carbon footprint thanks to efforts to reduce the overall product size and decrease material use. We also conducted further investigations into the carbon footprint of nicotine liquid in partnership with a third party and one of our primary suppliers. This study allowed us a more detailed understanding of the impacts along the value chain and will provide insight for future improvement.
IQOS currently has a higher carbon footprint than combusted cigarettes. Primarily, this is due to the use of an electronic device, which involves new components and requires electricity to charge. This element accounts for 13 percent of the total carbon footprint of the IQOS 3 system. Additionally, the process to manufacture heated tobacco units is more energy intensive than for cigarettes, due to the production of cast leaf tobacco.
We are working to close the gap between combustible and smoke-free products through improved manufacturing processes, extending the usable life of our electronic devices, and decreasing the total CO2 footprint through smart material selection and sustainable design practices.
Over the past two years, we have reduced the overall CO2 impact of our smoke-free products through improvements in manufacturing processes and in our tobacco supply chain. One of these initiatives has been to look at the density of tobacco within the product, to reduce both CO2 impact and provide a better consumer experience. By modifying the design of the heated tobacco plug slightly, we were able to reduce the CO2 impact per stick (considering the raw materials and manufacturing impact) by 4 percent while enabling a smoother insertion of the heated tobacco unit (HTU) in the holder and generating a more consistent aerosol delivery, addressing one of our more common consumer pain points. We continue to explore additional material optimizations for our HTUs including material replacement to drive down CO2 impact per stick.
Product certifications
Product certification can help drive performance by raising the standards to pursue and provide comprehensive information to consumers, enabling them to make more sustainable product choices. These certifications are also a way for us to transparently and consistently disclose the environmental performance of our products to all of our stakeholders.
Smoke-free products—and heated tobacco products, in particular—are a relatively new product category; as such, they typically are not covered by existing eco-standards. In order to achieve our objectives, we will ensure devices are designed per our sustainable design criteria and we will seek to develop and implement new category standards as necessary to achieve our certification goals.
In 2020, we launched a program to identify relevant certification schemes for our smoke-free product devices as part of our efforts to reach our target of having all electronic devices eco-design certified by end 2025. This exercise was conducted with third-party experts and informed by comprehensive benchmarking. The next step in our journey is to reach out to the prioritized agencies and evaluate the process for rule making for our heat-not-burn product portfolio. We will also, in the short term, work to identify other ways to publicly disclose performance of our products through structured disclosure programs. Establishing a robust roadmap is the foundation to achieve our aim of eco-certification for all PMI developed devices launched by end 2025.
Consumables
We are exploring ways to minimize the environmental and social impacts of the consumables for our smoke-free products; these include the HTUs used with our IQOS heat-not-burn product and the cartridges used with our IQOS VEEV e-vapor product.
In addition to developing services to reduce the end-of-life impact of our products, our innovation and design teams are exploring low-carbon, recyclable, and biodegradable options for the materials used in our heated tobacco units and combustible cigarettes.
We are clear that there is a risk that HTUs could be littered, but we have good indication that the littering rate for HTUs is lower than for cigarette butts. We want to make littering a thing of the past—along with cigarette smoking. In recent years, we conducted surveys in Italy and Japan, and counted littered HTUs compared with cigarette butts in Athens. Those surveys indicated that the new rituals introduced to legal-age smokers following their conversion to smoke-free products present an opportunity to help consumers change former habits of cigarette butt littering.
In 2020, we deepened our understanding of consumer behavior related to the disposal of used HTUs and consumers' potential motivations and requirements for participating in a PMI-driven collection scheme. More specifically, we found that the statements that resonate most with consumers are those referring to anti-littering and streets cleanup as opposed to recycling applications, HTUs' second life, or broader statements about corporate responsibility. Adult users believe that recycling initiatives require effort on their part; consequently, 60 percent of them believe that incentives (e.g., product discounts) could positively influence a program's participation rate. Finally, participatory recycling initiatives were shown to have the potential to differentiate the brand and its attractiveness, and to reinforce adult smokers' decision to switch from combustible cigarettes to IQOS. We explored ways to deploy an effective and economically viable end-of-life collection service for our IQOS products to further reduce littering.
We continue to work with waste management and recycling partners to explore the potential second life we could give to recycled HTUs. Our research to date shows that the properties of cellulose acetate would enable the material to be given a second life through a variety of applications such as spinning the fibers into fabrics or creating pellets that can be pressed/injection-molded into a variety of hard goods. Though these results are promising, recycling opportunities for cellulose acetate—unlike for many metals and plastics—are not widely available, and there is not yet a developed waste stream across the globe that we can leverage.
As HTUs and cartridges don't burn, and the consumers don't have to stub them out, we aim to offer effortless, convenient, and fully recyclable solutions for these consumables. We believe that this would allow us to support our consumers to adopt better behaviors from a sustainability perspective by giving them the practical, easy, and free tools they need. In 2020, we designed pilot programs to collect and recycle the consumables from our smoke-free products (including various generations of HTUs and cartridges), partnering with the best-in-class recycling companies all around the world to make sure the used consumables don't end up in a landfill but are used for recycling or energy creating incineration. We plan to launch our first pilot in Switzerland in 2021 and will communicate progress in our next report.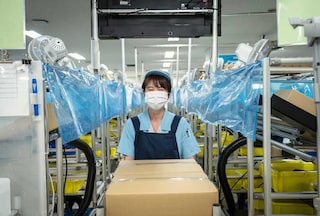 Accessories
A focus in 2020 was exploring potential uses of recycled materials processed through our CIRCLE hubs to manufacture IQOS accessories. We identified PC/ABC, a common plastic found in many electronics and consumer goods, as the material with the highest potential. We have laid the groundwork to set up a closed-loop recycling system in one of our CIRCLE hubs and have developed several Proof of Concepts in our investigations considering our current IQOS accessories range. We expect to operationalize this project in the coming years with closed loop accessories sold globally. In addition to closed loop material reuse, we continue to explore alternative sustainable materials for our accessories range.
In line with the EU SUP Directive, we modified our IQOS cleaning sticks so they are now composed of paper instead of plastic. We commercialized these sticks in the U.K. and France in 2020 and will deploy them in all EU markets in 2021. Going beyond the regulatory requirements, we are investigating packaging improvements, including moving to a fiber-based solution.
Packaging
Our approach to packaging contributes significantly to our efforts to preserve and protect the planet's resources.
We use packaging for all our products, including combustible cigarettes and our smoke-free electronic devices, consumables, and accessories. Our product packaging is made primarily from board and paper. In 2020, we estimate (mainly based on preliminary suppliers self-declarations) that over 70 percent of the volume of board and paper we sourced for our packaging came from suppliers certified to Forest Stewardship Council (FSC) or Programme for the Endorsement of Forest Certification (PEFC) standards. Furthermore, we developed an assurance framework coupling the wood, pulp, and fiber's countries of origin with the holding of FSC or PEFC Chain of Custody certifications by our board and paper suppliers and their supply chain partners. This methodology was reviewed and validated by a third party. As a result, based on our 2020 purchased volumes, 61 percent of our board- and paper-based packaging materials were sourced at no risk of deforestation of primary and high conservation value forests. These results are being audited by a third party at the time of preparation of this report.

We aim to develop solutions that minimize the use of packaging materials and improve their circularity without compromising protection and convenience. We are driving our approach through ambitious commitments. By 2025, we aim to achieve:
100 percent of packaging made with recyclable materials
95 percent of packaging materials from renewable sources
To deliver on these commitments, we employ a twofold strategy: First, we aim to eliminate unnecessary packaging, and in particular plastic packaging, and to implement solutions allowing us to minimize materials used. Second, to prevent the depletion of finite resources, we seek to increase the recyclability of our packaging and to reduce the use of materials made from nonrenewable sources. We are working to eliminate the use of aluminum inner liners by end of 2022 and of non-recyclable plastics by end of 2025.
Fundamental to our work is integrating circularity considerations covering the sourcing of renewable materials, the minimization of packaging, and the reduction of end-of-life implications. In the design stage, for instance, we prioritize the use of recyclable mono-materials and reducing the void inside packaging to optimize transportation, both of which reduce the product's CO2 footprint. To ensure circularity, the packaging should be easily recycled by consumers; this requires that a recycling infrastructure be available for the materials selected in markets across the globe.
Our teams in the Consumer, Product, and Procurement departments work hand-in-hand to promote the various elements of circular package design. We leverage our in-house R&D and product development capabilities, for instance, to formulate the appropriate chemistry to produce new materials and to develop packaging concepts and packing technologies. It is equally important that we engage with our materials and equipment suppliers, as they must implement at industrial scale any solution we develop. Such engagement also allows us to benefit from their expertise and technological developments.
Reducing packaging
Key to our work in 2020 were our efforts to reduce the volume of board required in our HTU and cigarette packaging. Working with our key suppliers, we began replacing the packaging board across all brands portfolio with a 10 percent lighter alternative that offers the same pack strength and, thus, a similar consumer experience. The shift to this alternative will allow us to save approximately 25 thousand tons of board over a four years period. We expect to complete a full rollout of this initiative across all our consumables—both combustible cigarettes and heated tobacco units—by 2024.
We also achieved significant progress in the packaging of the devices and accessories for our smoke-free products. We developed a new IQOS mobility kit (which contains the device and necessary accessories) and accessories packaging, which we plan to launch in 2021. The removal of shrink film in the mobility kit and plastic windows in the accessories packaging will allow us to meet our target of having 95 percent of packaging materials made from renewable sources by 2025. In addition, we were able to reduce the packaging weight of our new mobility kit by 17 percent and our accessories packaging by approximately 35 percent, which will contribute significantly to reaching our target of a 15 percent reduction in material used in our packaging by 2025. As a next step, we aim to replace plastic laminated board in our packaging by mid-2022 to achieve full recyclability of the packaging of our devices and accessories in the paper stream.
We are also exploring further improvements, including the potential replacement of rigid boxes by lighter packaging designs. This would further reduce the use of packaging materials and optimize our transportation CO2 footprint.
Increasing recyclability
Acting on our commitment to eliminate nonrecyclable materials and increase renewable material use to 95 percent by 2025, we set up a program to replace aluminum inner liners with paper versions, and we are exploring alternatives to plastic overwraps.
Eliminating aluminum
Our combustible cigarettes and HTUs are encased in an inner liner inside the pack. These liners typically are made of non-recyclable aluminum foil or recyclable alternatives such as metalized paper or white paper.
Already, around 74 percent of the inner liners in our packaging are recyclable in paper stream. In 2020, the proportion of packs sold with aluminum inner liners was 26 percent, down from 34 percent in 2019.
We aim to eliminate the use of nonrecyclable aluminum foil by the end of 2022, by deploying substitution programs.
In a few markets, we will have to continue using recyclable metalized inner liner to comply with local regulatory requirements. In order to contain the environmental and social impact it may represent, we aim to source certified aluminum from our tier 1 suppliers. In 2020, 84.2 percent of the aluminum used in our packaging was Aluminum Stewardship Initiative (ASI) certified, either under the Performance Standard or the Chain of Custody.
Replacing non-recyclable plastic packaging
Currently, the polypropylene wrap around our packs of consumables is recyclable but is not made from renewable sources and requires consumers to separate plastic wraps from the pack for recycling. We are exploring the use of alternative bio-based materials to make overwraps easier to recycle. We have received positive feedback from consumer panels and plan to pilot the new packaging solution in selected markets in 2022.
94.7%

of our packaging material recyclable

89.8%

of our packaging material is from renewable source
Next steps
We will continue the systematic implementation of our sustainable design principles throughout our product and packaging development. This will include continued internal training to increase awareness and ensure uptake of our programs across PMI.
Research will continue on device, accessory, consumables, and packaging design to identify technologies and materials that could enhance the overall sustainability of our smoke-free product portfolio. Cross-functional teams already are hard at work establishing these innovation pipelines.
We plan to pilot our second-hand life program in 2021, focusing on the newest versions of our IQOS heat-not-burn device. We expect to conduct a small number of market pilots to test this new operating model. As we continue to refine our products, we expect iterations at the design stage, to leverage our eco-design principles, further supporting our repair program ambitions.
We will continue to roll out our CIRCLE program across the markets where our smoke-free products are commercialized; this includes the establishment of a new centralized hub in Russia, amplifying our reach to additional markets, and addressing upcoming new product and technology introductions.
In addition to open-loop recycling systems, we continue to actively pursue closed-loop models for the recycling of our returned devices.
One such initiative is developing accessories from recycled plastic materials collected at our CIRCLE hubs. We aim to develop and launch a commercial line of accessories made from these materials within the next 18 months.
We will continue to evaluate and expand our offerings regarding the take-back of devices and consumables, such as HTUs and e-vapor cartridges, with pilot programs for consumables planned in 2021.
As we move forward, we are embedding our design principles to establish robust sustainability requirements in our consumable development process to identify opportunities which will lead to optimal performance while lowering CO2 emissions and material consumption to the extent possible.
We expect continued progress in 2021 on our overall packaging weight reduction, driven by a full-scale implementation of our board-reduction initiative across all our consumables brands. And we foresee major headway in our efforts to eliminate aluminum inner liners, as we will focus our efforts on Indonesia, one of the top markets in which the new practice is yet to be implemented.
Currently, PMI's use of recycled content materials is limited to shipping cases and represented only 12 percent of the total weight of our packaging materials 2020. To further increase packaging material circularity and recycled content in our packaging, our technical experts are assessing feasibility of using recycled content board in primary and secondary packaging, which would require to solve a technical challenge related to mineral oil migration.
As commercialization channels evolve, so does the role of packaging. For instance, the shift from retail toward e-commerce has prompted us to rethink our packaging strategy for online sales. Also, we seek to better understand how to reduce packaging at our flagship stores. We plan to gather learnings and consumer insights to explore solutions fitting the realities of the various retail channels.

This online content about our Integrated Report should be read in conjunction with PMI's 2020 Integrated Report. The information and data presented here cover the 2020 calendar year or reflect status at December 31, 2020, worldwide, unless otherwise indicated. Where not specified, data come from PMI estimates. Please also refer to 'About this report' on page 3 of the 2020 Integrated Report for more information. Aspirational targets and goals do not constitute financial projections, and achievement of future results is subject to risks, uncertainties and inaccurate assumptions, as outlined in our forward-looking and cautionary statements on page 145. In the 2020 Integrated Report and in related communications, the terms "materiality," "material," and similar terms, when used in the context of economic, environmental, and social topics, are defined in the referenced sustainability standards and are not meant to correspond to the concept of materiality under the U.S. securities laws and/or disclosures required by the U.S. Securities and Exchange Commission.