Our 2025 Roadmap consists of forward-looking goals that relate to all the areas where we believe we can have the most significant impact.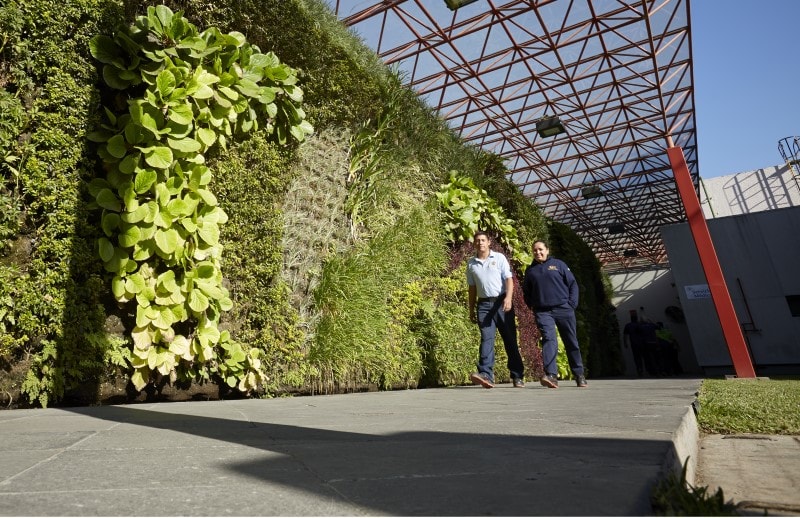 Setting ambitions and targets
Progress requires clearly articulated targets and accountability for meeting them. Measuring and reporting on progress is a backward-looking exercise. To evaluate the effectiveness of our approach to sustainability and give clarity to both internal and external stakeholders, setting clear targets is paramount. It allows us to define our direction, align on definitions and measurements of success, and hold ourselves accountable for progress.
Our 2025 Roadmap
Our Roadmap outlines our key goals and informs the route of our company's long-term plan. PMI's revised 2025 Roadmap comprises 11 headline goals, running to the end of 2025, connected to our eight strategies. We believe business can and must help to achieve the Sustainable Development Goals (SDGs) adopted by the United Nations' member states in 2015.
Accordingly, we explicitly link each of our eight priority areas of action to the SDG(s) to which they align. We identified the SDGs on which we believe we can have a real and lasting impact (read more about our SDG mapping in our 2021 Sustainability Materiality Report) . Our SDG Index maps the actions and ambitions described throughout this report with the relevant SDGs and their respective targets.
While most goals are not new, they are formulated more clearly. This revamped guide offers straightforward direction to our stakeholders by clearly outlining the social and environmental impacts we aim to achieve with both our products and our business operations.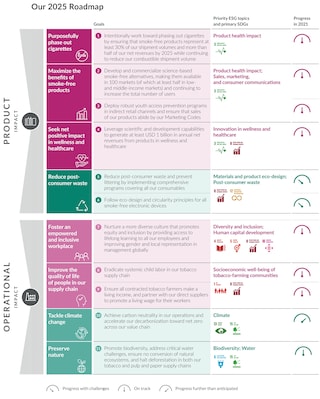 Sustainability Index
Progress on our Roadmap is measured with a set of key performance indicators (KPIs) that collectively form our Sustainability Index . To link each goal to specific outcomes and impacts, we developed KPIs that precisely articulate how to measure progress and define success. These 19 KPIs constitute our Sustainability Index. Covering the full spectrum of our sustainability priorities, the Index will allow PMI and our stakeholders to track the company's progress toward its goals year-over-year. Our ESG KPI Protocol, which will be published shortly, will give more detail on the Index and its KPIs.