Our 2025 Roadmap consists of forward-looking goals, that relate to all the areas where we believe we can have the most significant impact.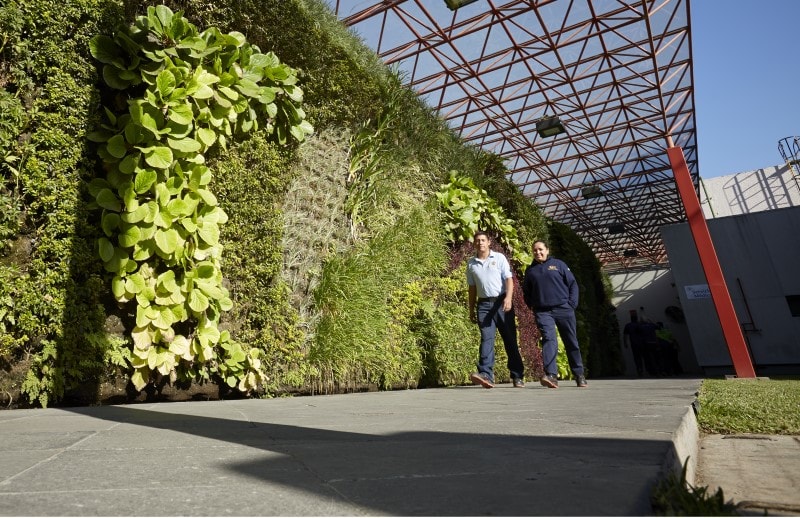 At PMI, we are committed to transparently reporting on our progress on different sustainability areas. It is just as crucial that we have forward-looking goals that inform the route of our long-term plan.
Our Integrated Report 2019 introduced, for the first time, a set of aspirational targets for each of our tier-1 topics , as defined by our sustainability materiality assessment. Known collectively as our 2025 Roadmap, they are forward-looking goals attributed to all those areas in which we believe we can have the most significant impact.
Sustainability governance and management
At PMI, sustainability strategy is corporate strategy. Integrating sustainability into our company relies on a formal structure with clear accountabilities at different levels of the organization. Anchoring our sustainability priorities with executive responsibilities and accountabilities helps embed our strategy into our daily operations. Within our Company Management, individuals are responsible for driving progress and delivering on our sustainability targets within their respective functions.
Despite the unprecedented challenges brought by the global pandemic, we have not deviated from our efforts to become a sustainable company. In 2020, we remained focused on achieving our ambitions and realized noteworthy progress in many of our priority topics.
In 2021, we plan to develop our processes further by structuring key performance indicators (KPIs) related to our aspirational targets. We will communicate our progress in this regard in our next report.
Our 2025 Roadmap: Progress
Product health impacts and access to smoke-free products
Broaden access for adult smokers to smoke-free products that are scientifically substantiated as less harmful alternatives to cigarettes
| | | | |
| --- | --- | --- | --- |
| >40m | Number of adult smokers globally who switch to PMI smoke-free products and stop smoking | Progress on track | By the end of 2020, we estimate that, out of 17.5 million total IQOS users, 12.7 million had switched to IQOS and stopped smoking. Of them, 4.3 million live in non-OECD countries. |
| >20m | Number of adult smokers in non-OECD countries who switch to PMI smoke-free products and stop smoking | Progress on track | By the end of 2020, we estimate that, out of 17.5 million total IQOS users, 12.7 million had switched to IQOS and stopped smoking. Of them, 4.3 million live in non-OECD countries. |
| 100 | Markets where PMI smoke-free products are available for sale | Progress on track | In 2020, we launched IQOS in 12 additional markets. This brought to 64 the total number of markets in which the product was commercialized at December 31, 2020. Among these markets, 33 were in non-OECD countries. |
Responsible marketing and sales practices
Commercialize our products responsibly, preventing youth from accessing and using them
| | | | |
| --- | --- | --- | --- |
| >90% | Youth access prevention (YAP) programs in place in markets representing over 90 percent of PMI's total shipment volume by 2020 | Completed | By the end of 2020, markets representing over 94 percent of PMI's total shipment volume had developed and started implementing YAP plans—where allowed, considering COVID-19 restrictions imposed by local governments. |
| 100% | Percentage of PMI smoke-free electronic devices introduced on the market as of 2023 equipped with age-verification technology | Progress on track | In August 2020, we launched our e-vapor product IQOS VEEV in New Zealand—our first electronic device equipped with age-verification technology. |
Sustainable supply chain management
Further embed sustainability in our procurement practices, leveraging on opportunities to create long-lasting social and environmental impact
| | | | |
| --- | --- | --- | --- |
| 100% | Percentage of critical suppliers from whom PMI sources sustainably | Progress, further than anticipated | In 2020, compliance with our Responsible Sourcing Principles has been assessed for 95 percent of PMI's critical nontobacco supplier spend. In our tobacco supply, we purchased 99 percent of our tobacco through direct contracts between the farmers and PMI or our tobacco suppliers, and field technicians were able to monitor the implementation of our Good Agricultural Practices (GAP) program on contracted farms. Overall, we estimate that 67 percent of our critical suppliers spend was sourced sustainably in 2020. |
Respect for human rights
Safeguard the human rights of people impacted by our activities
| | | | |
| --- | --- | --- | --- |
| 10 | Highest risk countries covered by external human rights impact assessments | Progress on track | We conducted two human rights impact assessments in 2020, thereby reaching a total of four assessments completed in high-risk countries to date. We closely monitor the subsequent implementation of agreed action plans in those countries. |
Socioeconomic well-being of tobacco-farming communities
Eliminating child labor and provide safe and fair working conditions on tobacco farms, and promote a living income for farmers
| | | | |
| --- | --- | --- | --- |
| 100% | Percentage of contracted farmers supplying tobacco to PMI who make a living income | Progress on track | In 2020, we started conducting living income studies with third-party experts, which will complement our internal analysis and help to guide our efforts toward reaching our goal. We also continued implementing various initiatives aimed at improving income levels in priority markets. In 2020, 48 percent of the contracted farmers supplying tobacco to PMI were earning at least a living income. |
| Zero | Zero child labor in PMI's tobacco supply chain | Progress on track | We maintained a relentless focus on preventing incidents of child labor in our tobacco supply chain, despite impacts on our initiatives due to COVID-19 and related restrictions. We introduced a new methodology to measure prevalence of all types of child labor incidents among our contracted farms, giving us increased visibility as we aim to eradicate cases that are repetitive and systemic, and tackle promptly isolated cases in our supply chain. In 2020, we continued working to eliminate the remaining 3.5 percent prevalence of child labor among our contracted farms. |
Health, safety, and well-being at work
Promote a safe and healthy working environment that protects the physical and mental well-being of all while at work
| | | | |
| --- | --- | --- | --- |
| <0.3 | Total recordable incidents rate for employees and contractors | Progress on track | In 2020, across our factories, offices, and fleet, our total recordable incidents rate (TRIR) was 0.12 per 200,000 hours worked, covering our employees, contracted employees, and contractors. We are proud of the progress made to date but remain cautious, as exceptional circumstances in 2020 driven by COVID-19 have positively impacted our performance. |
Climate protection
Mitigate climate change by decarbonizing our operations and value chain, while increasing our resilience
| | | | |
| --- | --- | --- | --- |
| Net zero | Achievement of carbon neutrality of PMI's direct operations (scope 1+2) by 2030 | Progress, further than anticipated | We achieved significant absolute CO2e emission reductions in 2020: Emissions across our value chain (scope 1+2+3) contracted by 18 percent, and those in our direct operations (scope 1+2) by 26 percent. These were partially driven by COVID-19 related impacts, but mainly due to accelerated efforts toward our carbon neutrality goals. Our progress in 2020, supported by our new science-based targets and revisited approach to carbon pricing, makes us confident we can achieve our carbon neutrality target in our operations (scope 1+2) before 2030. |
| Net zero | Achievement of carbon neutrality for PMI's value chain (scope 1+2+3) by 2050 | Progress on track | We achieved significant absolute CO2e emission reductions in 2020: Emissions across our value chain (scope 1+2+3) contracted by 18 percent, and those in our direct operations (scope 1+2) by 26 percent. These were partially driven by COVID-19 related impacts, but mainly due to accelerated efforts toward our carbon neutrality goals. Our progress in 2020, supported by our new science-based targets and revisited approach to carbon pricing, makes us confident we can achieve our carbon neutrality target in our operations (scope 1+2) before 2030. |
Littering prevention
Prevent littering of our products by promoting appropriate behavior among adult smokers
| | | | |
| --- | --- | --- | --- |
| -50% | Reduction of plastic litter from our products (versus 2021) | Progress, but with challenges | Since the core of our plastic reduction rests on cleanup activities and awareness-raising campaigns aimed at changing behavior, COVID-19 lockdowns and disruptions adopted worldwide to contain the pandemic have prevented us from making progress. During 2020, we focused on establishing partnerships and on developing a methodology to measure our global plastic litter footprint over time, and we plan to establish our baseline in 2021. |
Product eco-design and circularity
Integrate circularity when developing our products, improving efficiency and recyclability, and strengthening our collection program
| | | | |
| --- | --- | --- | --- |
| 100% | Percentage of PMI smoke-free product users who have access to collection and recovery for devices and consumables | Progress, but with challenges | When IQOS users return broken or end-of-service devices, our reverse-logistics program CIRCLE helps to cycle materials back into the economy. In 2020, we continued the rollout of our CIRCLE program, achieving 48 percent market volume coverage (up from 39 percent in 2019), by adding two new markets to the program. For consumables, we progressed in the development of take-back schemes but a number of complexities in the setup of such an innovative program delayed the launch of our pilots. |
| 100% | Percentage of PMI smoke-free electronic devices introduced on the markets as of the end of 2025 that have eco-design certification | Progress on track | In 2020, we focused on establishing a robust roadmap and launched a program to identify relevant certification schemes for our smoke-free product devices, in partnership with third-party experts and informed by comprehensive benchmarking. |