For PMI, sustainability is more than just a means to minimize negative externalities and mitigate risks while maximizing operational efficiency and resource optimization.
We see sustainability as a fundamental opportunity for innovation, growth, and purpose-led, impact-driven, long-term value creation.
Accordingly, we work hard to integrate sustainability into every aspect of our business and activities.

Our ESG framework
We designed our environmental, social, and governance (ESG) framework to showcase the ESG topics we should focus on, and to prioritize our resources. This framework recognizes two distinct forms of issues: Those that relate to our products (what we produce) which are part of the "Product Impact" pillar, and those related to our business operations (how we produce), which are part of the "Operational Impact" pillar. We subsequently classified each topic, based on its environmental, social, or governance-related nature. We provide details on the methodology and results of our assessment, as well as on our ESG framework, in our Sustainability Materiality Assessment Report 2021.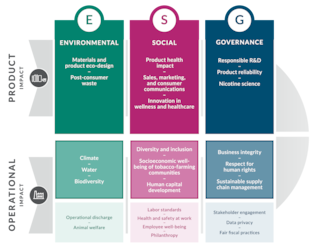 Our sustainability strategy
PMI's approach to sustainability addresses our ESG priorities through eight impact-driven strategies. Four of these strategies focus on the impacts derived from our products, and four focus on the impacts derived from our business operations. Last, but not least, our strategy highlights the importance of governance-related topics, which cannot be overstated. Our company's policies, rules, and procedures define our ability to implement sound strategies that successfully address environmental and social issues.
This strategy crystallizes the notion of these two distinct forms of social and environmental impacts—those generated by our products (what we produce) and those generated by our business operations (how we produce). This approach allows us to appropriately highlight that, consistent with our sustainability materiality analysis results, addressing the social impacts generated by our products is the core of our strategy.
The biggest and most pressing negative externality our strategy aims to address is the health impacts of cigarette smoking. This is the most important contribution we can make to public health and is the cornerstone of PMI's purpose and business strategy.
Addressing this critical issue requires a three-part approach:

Maximize the benefits of smoke-free products: Help accelerate smoking decline by researching, developing, and commercializing nicotine-containing products that are scientifically substantiated to be less harmful than cigarettes, and then seek to ensure that those adults who would otherwise continue to smoke have broad access to these products to expedite the decline of smoking prevalence.
Purposefully phase out cigarettes: Work to make cigarettes obsolete, with the aim that smoke-free products ultimately replace cigarettes for those adults who continue to use nicotine, driving their obsolescence.
Seek net positive impact in wellness and healthcare: Despite its critical importance, achieving a smoke-free future is not our final horizon. We are also exploring adjacent opportunities for growth in wellness and healthcare, leveraging the capabilities we have accrued and developed while transforming our business. It is through these emerging opportunities that we will achieve our ultimate goal.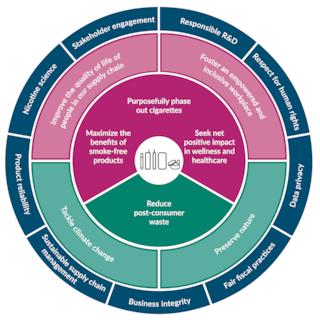 Our 2025 Roadmap
Our Roadmap outlines our key goals and informs the route of our company's long-term plan. PMI's 2025 Roadmap comprises 11 headline goals, running to the end of 2025, connected to our eight strategies.
PMI Sustainability Index
To link each goal to specific outcomes and impacts, we developed a set of key performance indicators (KPIs) that precisely articulate how to measure progress and define success. These 19 KPIs constitute our Sustainability Index. Covering the full spectrum of our sustainability priorities, the Index allows PMI and our stakeholders to track the company's progress toward its goals year-over-year.
To increase the robustness of our nonfinancial performance data and disclosures, we developed a consolidated set of nonfinancial standards: PMI's ESG KPI Protocol 2022. The Protocol includes the definition, methodology, and scope of each of our main ESG KPIs to ensure measurable, verifiable, consistent, and accurate reporting on progress. All KPIs included in the index are part of the ESG KPI Protocol.