Sustainability
PMI's sustainability efforts recognized as its innovative use of biomass pellets is highlighted by the WBCSD
17 Dec 2020
·
3 min read
Philip Morris International's use of biomass pellets for tobacco curing showcases an opportunity for businesses to switch to sustainable fuel usage.
Philip Morris International (PMI) aims to minimize the negative externalities associated with its products, operations, and value chain. One aspect of this has been to encourage tobacco farmers to use sustainable fuel, and this action has been heralded by the World Business Council for Sustainable Development (WBCSD), a CEO-led organization working together to accelerate the transition to a sustainable world.
Scarcity of resources is one of the toughest challenges for all sectors of business, and is why sustainable alternatives should be implemented. This is what prompted the WBCSD to launch its new report on the circular bioeconomy.
The report presents the economic opportunity for bio-based products to complement—or even replace—the conventional ones many businesses currently depend on.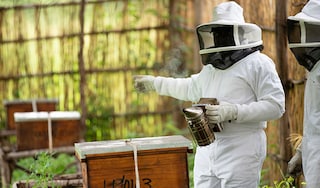 Biodiversity
Biodiversity is about reducing the negative impacts of our operations and sourcing activities on habitats and ecosystems and looking for contributions we can make to biodiversity. This includes the careful management of land use, protection of soil quality, and prevention of pollution.
Read more
The report presents the economic opportunity for bio-based products to complement—or even replace—the conventional ones many businesses currently depend on.
It highlights PMI's work with its suppliers, as part of a large transformational project to drive farmers towards sustainable fuel usage. The project aims to convert tobacco curing barns from coal to biomass, creating a fuel-pellet supply chain powered by agricultural waste (tobacco stalks, mulberry branches, and used tent poles, for example).
This creates a profitable business model for biomass production, using pellets as an alternative and sustainable curing fuel. It requires important investments in the conversion of barns (from coal to biomass) and toward the set-up of biomass production centers (including the sourcing of raw materials).
But the benefit is that the initiative fosters a circular bioeconomy, involving farmers (the source of raw materials and the end users of pellets), and other stakeholders.

The project has successfully helped to convert more than 70,000 curing barns to biomass, leading to a significant reduction in greenhouse gas emissions for tobacco curing in the Yunnan and Guizhou agricultural areas. These are the biggest tobacco-producing provinces in China, and represent about 30 percent of worldwide flue-cured production.
To measure this, PMI developed the Monitoring Framework and Verification for Sustainable Curing Fuels, which covers the quantification of fuel needs versus availability, and targets sustainability, transparency, and replicability, as well as stakeholders' engagement. Data collected from the pilot areas using biomass has shown that the commercial tobacco grades were improved by between 8.6–11.8 percent compared to those that used coal for curing. This has contributed to increasing farmers' income, because they can get a higher price for their crop.
This transformational project was achieved with the support of local government, under the leadership of the China National Tobacco Corporation (CNTC).