Our Sustainability Index and ESG KPI Protocol should be regarded as a framework and reference guide to help provide consistency and completeness in our reporting and should be read in conjunction with our annual Integrated Report.
Sustainability Index
During 2021, we developed a bespoke Sustainability Index (the Index) to measure and communicate progress toward achieving our 2025 Roadmap in a rigorous and quantitative manner, using a set of clearly defined and verifiable metrics.

Further, the introduction of the Index creates an explicit link between ESG performance and our company's long-term executive compensation scheme.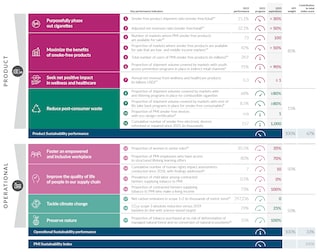 Notes:

The 2022 metrics marked with an asterisk (*) are subject to PwC's Limited Assurance Report available on pages 210-212 of
PMI's Integrated Report 2022
.
Our inventory of GHG emissions (scope 1, 2, and 3) in 2022 is subject to external verification by SGS (see the External Verification Statement for scope 1+2
here
, for scope 3 here, and a list of the individual metrics verified
here
).

For further details on the definitions, scope, calculation methodology, and data management for the metrics included in PMI's Sustainability Index, please refer to
PMI's ESG KPI Protocol 2022
.


These indicators are calculated based on millions of units. For definition of smoke-free products and combustible tobacco products, see glossary on pages 205-209 of PMI's Integrated Report 2022. Smoke-free products shipment volume includes volume of smoke-free products that can be converted into cigarette equivalent units, such as heat-not-burn, e-vapor, and oral nicotine. Total shipment volume includes the listed smoke-free products as well as combustible tobacco products: cigarettes and other tobacco products expressed in cigarette equivalent units. Data does not include Swedish Match and wellness and healthcare products.
For definition of net revenues related to smoke-free products, see glossary on pages 205-209 of PMI's Integrated Report 2022. 2022 figure includes Swedish Match net revenues from November 11, 2022 (acquisition date) to December 31, 2022.
Including Swedish Match.
Excluding PMI Duty Free. World Bank report issued in July 2022 is used on a comparative basis for income level classification. For definition of low- and middle-income markets, see glossary on pages 205-209 of PMI's Integrated Report 2022.
Figures pertain to total IQOS users. See glossary on pages 205-209 of PMI's Integrated Report 2022.
Total shipment volume includes cigarettes, OTPs, and smoke-free product consumables.
For definition of net revenues related to wellness and healthcare, see Glossary.
In 2022, we redefined the minimum criteria which must be met by each market to be considered as having a take-back program in place. Shipment volume includes heated tobacco units, e-vapor cartridges, and e-vapor disposables.
To meet our 2025 aspiration, we may consider either a type 1 or type 2 and/or type 3 product environmental statements as defined by ISO 14020:2022, as constituting an "eco-certification".
For definitions of managers, directors, and senior leaders see glossary on pages 205-209 of PMI's Integrated Report 2022, Our diversity and inclusion data cover around 94% of PMI's total workforce, as they exclude fixed term employees and those on salary continuation.
Our assessments prioritize countries which are assessed as highest risks from a human rights standpoint. They are determined based on key parameters such as PMI's footprint and the country's human rights risk profile, as determined by internationally recognized organizations.
Emissions from PMI-operated IQOS stores are partially excluded from scope 1+2 emissions, as de minimis. In 2022, a portion of PMI's retail stores (representing approx. 10% of total retail surface area) have been included in the scope 1+2 emissions.
For definitions, please see PMI's Zero Deforestation Manifesto.
Index weighting
The Index is composed of 19 KPIs which are connected to our eight sustainability strategies.
Read more
Annual targets and performance ranges
In our Integrated Report, we disclose our 2025 aspirations.
Read more
Link to long-term executive compensation
The Index has been incorporated into our executive compensation.
Read more
As with our 2025 Roadmap, the Index splits the 19 KPIs into two drivers: "Product Sustainability" (11 KPIs) and "Operational Sustainability" (eight KPIs).
To form the Index, we sought KPIs that were:
Well defined, allowing for accurate, reliable, and consistent measurement of progress over time
Meaningful, enabling stakeholders to assess our company's progress toward its priority sustainability topics
The weighting applied to each KPI is informed by the results of our sustainability materiality assessment. Specifically, we attributed the highest weight to the social impacts of our products, where we believe our company can have the greatest impact.
ESG KPI Protocol
The ESG KPI Protocol (the Protocol) establishes a framework, which is specific to our company and clearly defines KPIs that can provide our organization with a method for making the connection between our company's purpose, strategic direction, financial performance, and environmental and social considerations. It includes the definitions, methodology, and scope of each of the Index's 19 KPIs to provide measurable, verifiable, consistent, and accurate reporting on progress.
It is key to the integrity of our reporting that the information and data that we publicly disclose accurately reflect our company's performance, following clear calculation methods.
Through the publication of this Protocol, we aim to provide further transparency on the key metrics we use to measure how our company is delivering on its purpose and creating value for our shareholders and other stakeholders.

PMI's ESG KPI Protocol and Sustainability Index act as a tool to engage employees at all levels of the organization, support program owners by ensuring key sustainability initiatives are prioritized, and act as a vessel through which we continue to build capabilities within our financial, IT, and risk management functions regarding management of ESG performance. Externally, it allows us to communicate with rigor, accuracy, and credibility our annual progress using a robust data-driven approach to managing our most material ESG-related risks.
"As sustainability matures and gains importance inside and outside our company, the question of how to measure ESG performance is something many continue to grapple with," said Jennifer Motles, PMI's Chief Sustainability Officer.

"There is a need for greater transparency, more robust methodologies, and better clarity on definitions and assumptions. Accordingly, we developed a clear process for establishing concrete definitions, documentation, and controls for sustainability with the aim of standardizing how we measure ESG performance."

Externally, the Protocol helps ensure that the ESG data we disclose is reliable, comparable, and meaningful, allowing our stakeholders to assess and track progress in a consistent manner over time.
Internally, the Protocol offers clear guidelines on ESG data management to support integrated decision-making within our company, accounting for both financial and non-financial information.

We will review the Protocol periodically to reflect relevant developments, such as changes in business priorities, revised methods of measuring or capturing data, stakeholder feedback, and developments related to mandatory and voluntary reporting frameworks and standards.