PMI's award-winning photographer George Brooks selects his favourite photographs to showcase our transformation from Argentina to South Africa.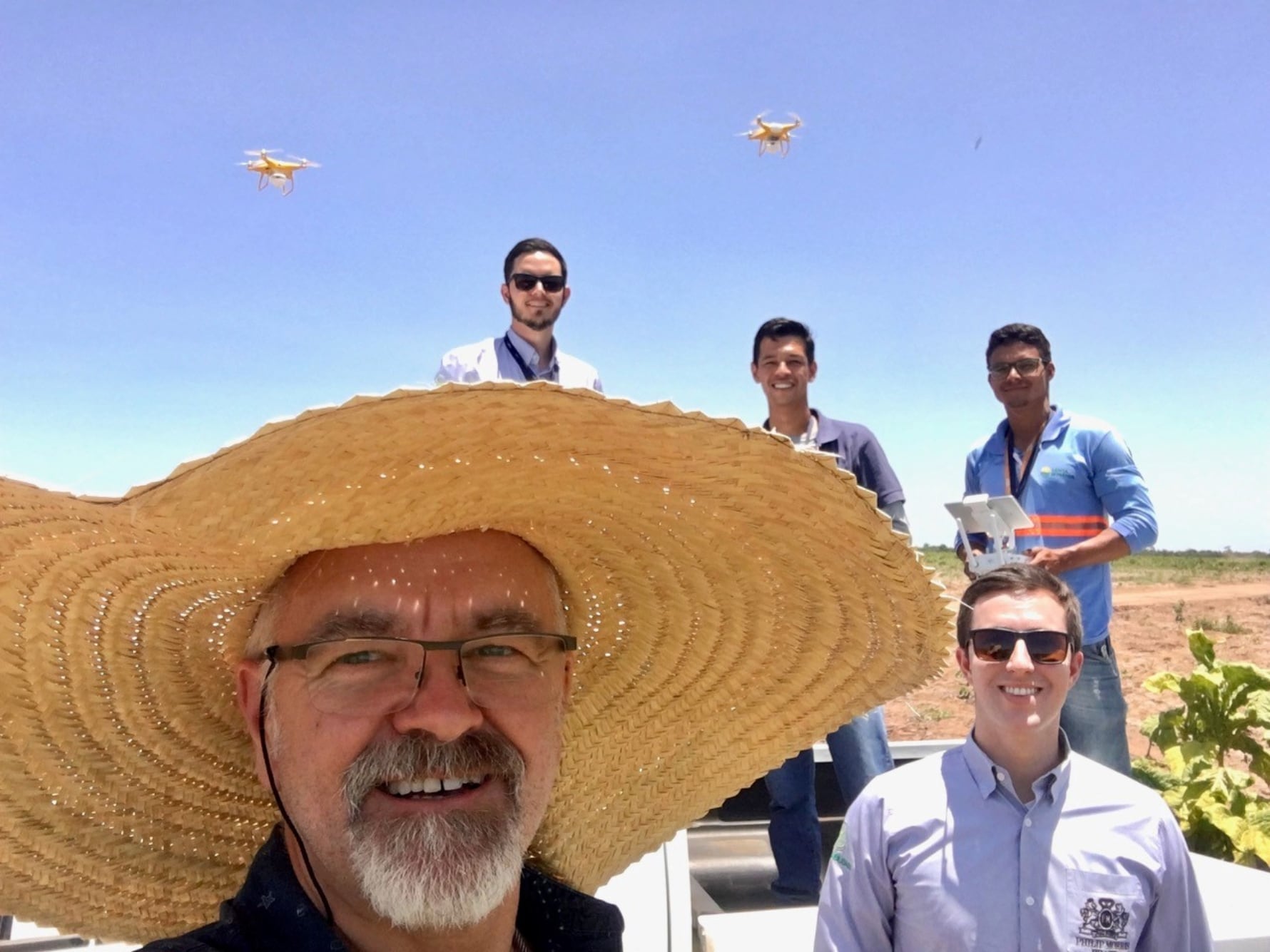 In the first weeks of 2021, we're taking a look at some of the projects Philip Morris International (PMI) is developing around the world as part of its transformation toward delivering a smoke-free future and a more sustainable world.
Two of PMI's
strategic sustainability pillars
are caring for the people we work with, and protecting the environment. With these in mind, in late 2019, our Sustainability team asked award-winning photographer George Brooks to head out to the fields to see the progress being made in these areas.
"Wherever I go on behalf of PMI, I keep on finding the same commitment and the same spirit of people working hard to make it right," George Brooks says.

Between December 2019 and January 2020—before the pandemic began to dominate global affairs—George travelled to eight different countries including Argentina, Portugal, Malawi, Lithuania, Brazil, and South Africa.

Among the projects he visited, George has two favorites, both based in Malawi. "This year, I focused my work on crop diversification and drip irrigation in rural Malawi," George explains.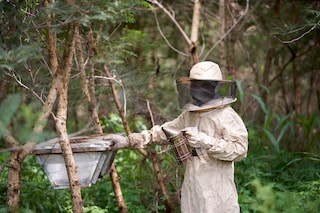 PMI supports smallholders farmers to grow food crops and produce other foodstuffs such as honey in parallel with their tobacco crop. This farmer in Malawi is tending his hives to have other sources of income.
He followed farmers and farm workers planting seasonal crops "and it was brilliant to see how PMI is working with the community to come up with innovative ideas to help the work of Malawians."

The drip-feeding system operated by solar powered water tanks in Malawi, for example, "saves a lot of water for the farmers, and it is testament to the way PMI is working with the community in a collaborative way to find solutions." Another project George was struck by is the filtration system that brings clean water to farmers in rural Brazil.

"Some areas of Brazil are very hard to reach, but PMI has worked with the local community to make sure that workers could access clean water even from remote areas."

This is our selection of some of the best photographs taken by George on behalf of PMI.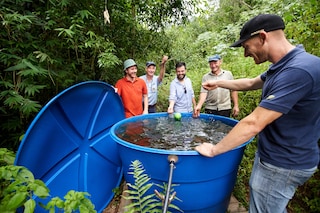 In many countries, access to clean water is limited. In Santa Cruz do Sol, Brazil, PMI brings potable water to remote tobacco farms.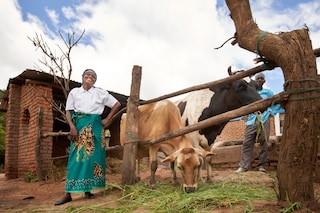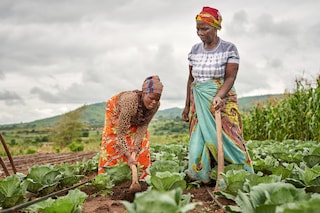 By diversifying their crops and engaging in other income-generating activities, Malawian farmers are more resilient to climate change and economic uncertainty.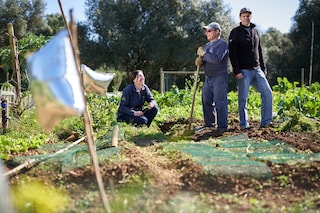 PMI's Portuguese affiliate, Tabaqueria, offers community gardens to their employees on land owned by the company.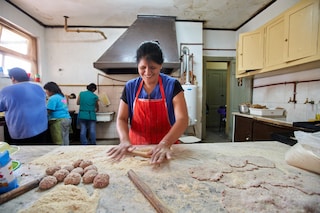 We aim to improve farmers' and workers' livelihoods in our tobacco supply chain. In Argentina, we have established a community project to support the families of tobacco workers.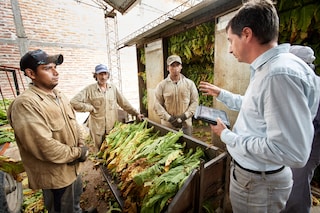 The quality assurance of our tobacco is never left solely to machines. Here, a field technician conducts a quality control evaluation in the Salta province, Argentina.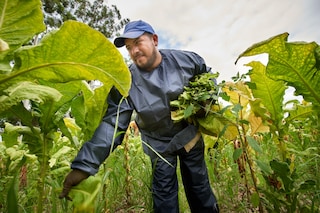 A worker harvests tobacco leaves wearing protective equipment in Salta province, Argentina.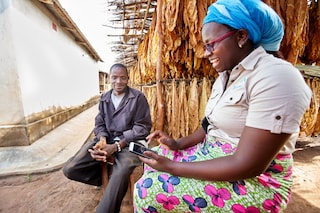 Farmers and workers who work with PMI and with PMI local suppliers have the right to fair working conditions. Here, a farmer and a field technician discuss a worker agreement in Malawi.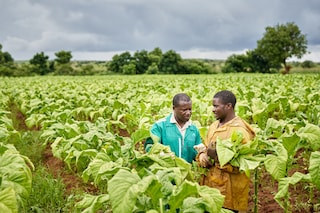 A field technician in discussion with a tobacco farmer in Malawi.
A Malawian farmer strings tobacco leaves so they can be hung up to dry.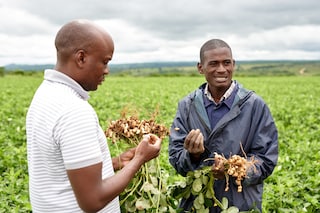 Crop diversification helps tobacco farmers build resilience. Here, a groundnut technical advisor speaks with a Malawian farmer.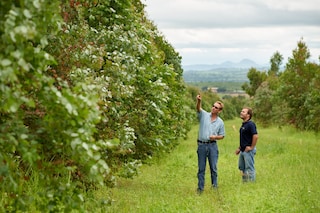 A eucalyptus plantation in Malawi, used as a sustainable firewood source in tobacco curing.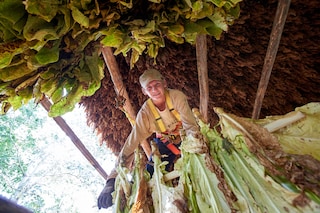 PMI is committed to providing farmers and farm workers with a safe and secure work environment. Here, a farm worker wears a harness, along with personal protective equipment (PPE), while hanging tobacco in Misiones, Argentina.
A farmer harvesting tobacco crop on his farm in Malawi.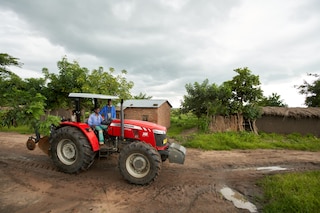 PMI and its tobacco supplier are running a mechanization program in Malawi, with entrepreneurs providing field preparation services to farmers using tractors.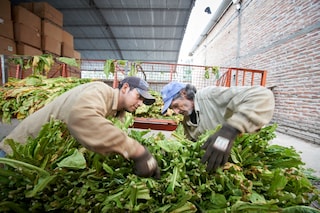 On a farm in the Salta province of Argentina, two workers in protective clothing equipment (PPE) unload tobacco leaves.