TACKLE CLIMATE CHANGE
Achieve carbon neutrality in our operations and accelerate our decarbonization toward net zero across our value chain.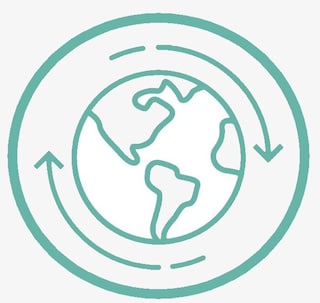 Key performance indicators to track our progress

Learn more about PMI's Sustainability Index in our Integrated Report 2022. See the full performance metrics and related footnotes here.
The right thing to do
The climate crisis, as acknowledged by the international community, threatens all livelihoods, but especially those who are most vulnerable, exacerbating inequalities.
Read more
The business case
For a business like ours—with a diversified agricultural supply chain that is sensitive to climate changes—abrupt climate variations can endanger physical infrastructure, supply chains, and undermine progress.
read more
Looking ahead
We are acutely aware that climate change presents an increasing range of risks to all of PMI's operations, and so we remain committed as ever to decarbonizing our direct and indirect operations—in line with the path set by the Paris Agreement. We understand that it is essential, for the planet and for our business, that we manage, mitigate, and adapt to climate change.
We anticipate that uncontrollable disruptions that impacted our decarbonization journey during 2022 will continue to impact our performance in the short term. That said, as our company transforms and welcomes the Swedish Match organization, we will also work to integrate their carbon footprint and, as applicable, adjust our low-carbon transition plan to account for these changes.
We will continue to research and develop innovative solutions, explore new technologies, invest with impact to foster more and better innovation, and inspire all our people and our business partners to join us in this journey. Our learnings will be theirs to build upon, to drive a successful low-carbon transition, together.
Scott Coutts, Senior Vice President, Operations
Noting the importance of our suppliers in helping us achieve our scope 3 targets, we will continue to engage with our suppliers and partners, share learnings and best practices, and encourage them to set their own science-based targets in line with our SBTi-validated target. To achieve this, we aim to significantly increase the coverage of primary data collection from our suppliers to bring further transparency and robustness to our carbon accounting and set a base for monitoring reduction progress and effectiveness of projects with suppliers. Within our tobacco supply chain, we will continue our efforts to further improve curing efficiency and drive other agricultural practices to reduce carbon emissions of the flue-cured tobacco we source, in line with our 2025 aspiration. We also plan to begin the implementation of our insetting project in Argentina and look for further insetting project opportunities elsewhere that can generate co-benefits between climate, nature, and society.
Hafed Belhadj, Chief Procurement Officer
In 2023, we will work to mitigate any potential spillover effects on scope 3 emissions from business continuity efforts introduced in 2022. This will require low-carbon strategies for freight transportation, materials purchasing, strengthened emission data collection from our primary distribution partners, and an efficient management of stock at all nodes of the supply chain. Moving forward, we will seek to optimize our emissions in the secondary distribution network, optimize energy and water consumption across our warehousing footprint, and keep looking for alternative transportation modes, route-to-market and reverse logistics flow. Furthermore, in collaboration with our carriers and logistic service providers, we will explore green fuels and electric fleets. We aim to continue furthering the integration of sustainability considerations in our work while appropriately managing supply, financial, and quality considerations.
Luca Nanni, Vice President, Global Supply Chain
In 2023, we plan to begin deploying zero-carbon technologies in our factories and consider analyzing additional potential solutions in facilities across the world. We anticipate these technologies will help drive progress toward our aspiration of having 100 percent of renewable electricity sourced in our factories globally and increasing self-generation of our electricity needs. In addition, we will continue to invest in sustainable powertrains and deploy eco-driving training to our drivers to further decrease emissions in our fleet. These initiatives will enable us to build on the success of our internal carbon neutrality certification pilot in Mexico by rolling out the process to a broader range of markets. We look forward to utilizing our Voluntary Emission Reduction Purchase Agreement (VERPA) to guide future investments in projects from our Portfolio of Climate Investments. As in the past, we will seek to limit the use of market-based approaches to emissions compensation activities (offsetting) in the short term and prioritize direct investment in our supply chain in the medium and long term (insetting).
Mimi Kurniawan, Vice President, Operations Sustainability
This online content about our Integrated Report should be read in conjunction with PMI's Integrated Report 2022. Unless otherwise indicated, the data contained herein cover our operations worldwide for the full calendar year 2022 or reflect the status as of December 31, 2022. Where not specified, data comes from PMI financials, non-financials, or estimates. Unless explicitly stated, the data, information, and aspirations referenced do not incorporate PMI's Vectura Fertin Pharma business (consolidating the 2021 acquisitions of wellness and healthcare companies Fertin Pharma A/S, Vectura Group plc., and OtiTopic, Inc.), nor the late 2022 acquisition of Swedish Match AB. Please also refer to 'This report at a glance' on page 2 of the Integrated Report 2022 for more information. Aspirational targets and goals do not constitute financial projections, and achievement of future results is subject to risks, uncertainties and inaccurate assumptions, as outlined in our forward-looking and cautionary statements on page 214. In the Integrated Report 2022 and in related communications, the terms "materiality," "material," and similar terms, when used in the context of economic, environmental, and social topics, are defined in the referenced sustainability standards and are not meant to correspond to the concept of materiality under the U.S. securities laws and/or disclosures required by the U.S. Securities and Exchange Commission.