Tobacco economics
We're building PMI's future on smoke-free alternatives that are a much better choice than cigarette smoking. This transformation calls for an in-depth understanding of the global tobacco and nicotine value chain. That's why we have developed the Tobacco and Nicotine Database, containing worldwide socio-economic information—not only on PMI, but on the industry as a whole.
Understanding the global tobacco and nicotine value chain
Tobacco farming
Global production of green tobacco is on average 6.3 million tons, of which over 60% is produced in Asia. Over the last decade, the top three producers of tobacco leaf were China, India and Brazil.

More than 15 million people are involved in tobacco growing on approximately 3 million farms, at a total output value of more than USD 16.7 billion.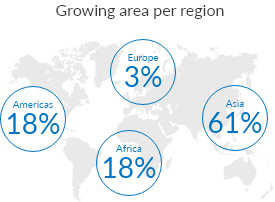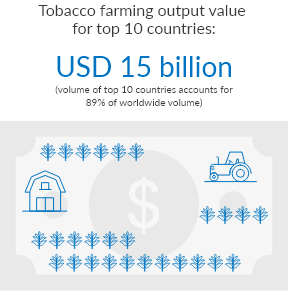 The production of tobacco leaf is going down, having decreased by approximately 4% per year between 2013 and 2017.
Find out more on our tobacco farming page.

Tobacco first processing
After harvest and curing, tobacco leaves are transported to the processing plants, located mainly in Dominican Republic, China, Brazil, and the EU region.
In this phase of the supply chain, more than 23,774 full-time workers are employed, and on average two million tons of unmanufactured tobacco are exported each year, at a value of USD 11 billion.
After first processing, the tobacco is packed and sent on to the manufacturing facilities.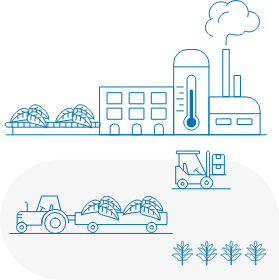 Tobacco and nicotine product manufacturing
More than 1.6 million people work in tobacco manufacturing in 85,883 factories around the world, generating USD 251 billion value of the total tobacco production.
PMI's manufacture of heat-not-burn products is concentrated in eight factories.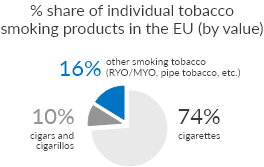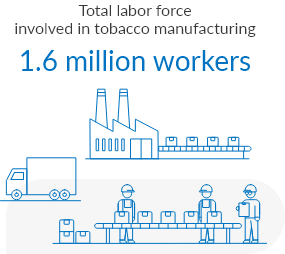 While the yearly production of cigars is 25 billion, more than 5.4 trillion cigarettes are produced. China is the biggest supplier of cigarettes (44%), while EU, Indonesia, Russia and the U.S. together represent 27% of the total cigarette supply.
Suppliers of the manufacturing industry
The tobacco industry collaborates with many other businesses. These companies supply tobacco manufacturing equipment, machinery, and materials such as paper, filters and aluminum. These components are necessary to produce cigarettes, heated tobacco sticks, and other tobacco products.
Distributive trade
The distribution network of tobacco products consists of approximately 87,000 wholesale traders and more than 14 million points of sale around the globe. At present, there are more than 50 markets with heat-not-burn points of sale (retail outlets, vending machines).
Tobacco products sales total USD 756 billion, with 88% of sales coming from cigarettes.
In 2017, more than five million employees were involved in retailing combustible tobacco products, selling a total of 10 million cigarettes every minute.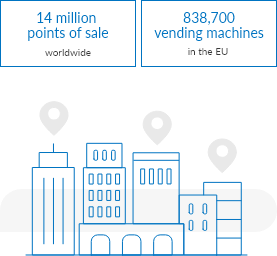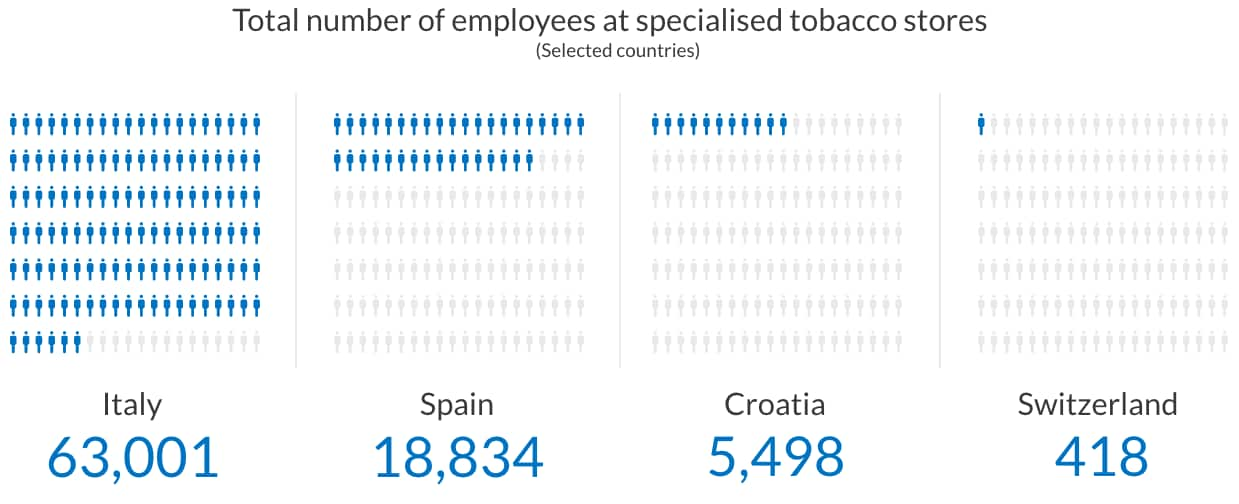 Taxes
Taxation of tobacco products generates more than USD 399 billion in government revenues, of which USD 329 billion come from excise taxes and USD 70 billion from Value Added Tax (VAT).

The excise tax represents on average 48% of the price of a cigarette. This rate varies greatly across regions, from the lowest rate of 1.6% in India to the highest of 79.4% in Tonga.

Illicit Trade
Despite international efforts to combat illicit trade, 409 billion illicit cigarettes are sold every year. This represents approximately 11% of total volume of cigarettes trade. The illicit market is particularly large in Montenegro, South Africa, Malaysia, and Libya.

Find out more about illicit trade on our STOP ILLEGAL website.
Consumers
1.1 billion people smoke tobacco products and 330 million people use smokeless tobacco products globally. 80% of smokers are daily users and 847 million smoke cigarettes.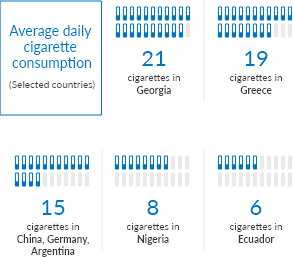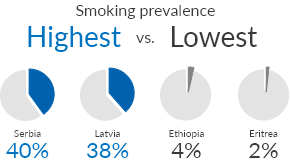 Alternatives to cigarette smoking are expanding. The number of adult e-vapor users has rapidly increased, from about 7 million in 2011 to 41 million in 2018, with the top three markets being United Kingdom, Indonesia, and Ireland. Since the introduction of heat-not-burn technology, their global usage has also risen, with adult users of PMI's heated tobacco product reaching almost 14 million across more than 50 markets by the end of 2019.[1]