A case study from PMI's Integrated Report 2022.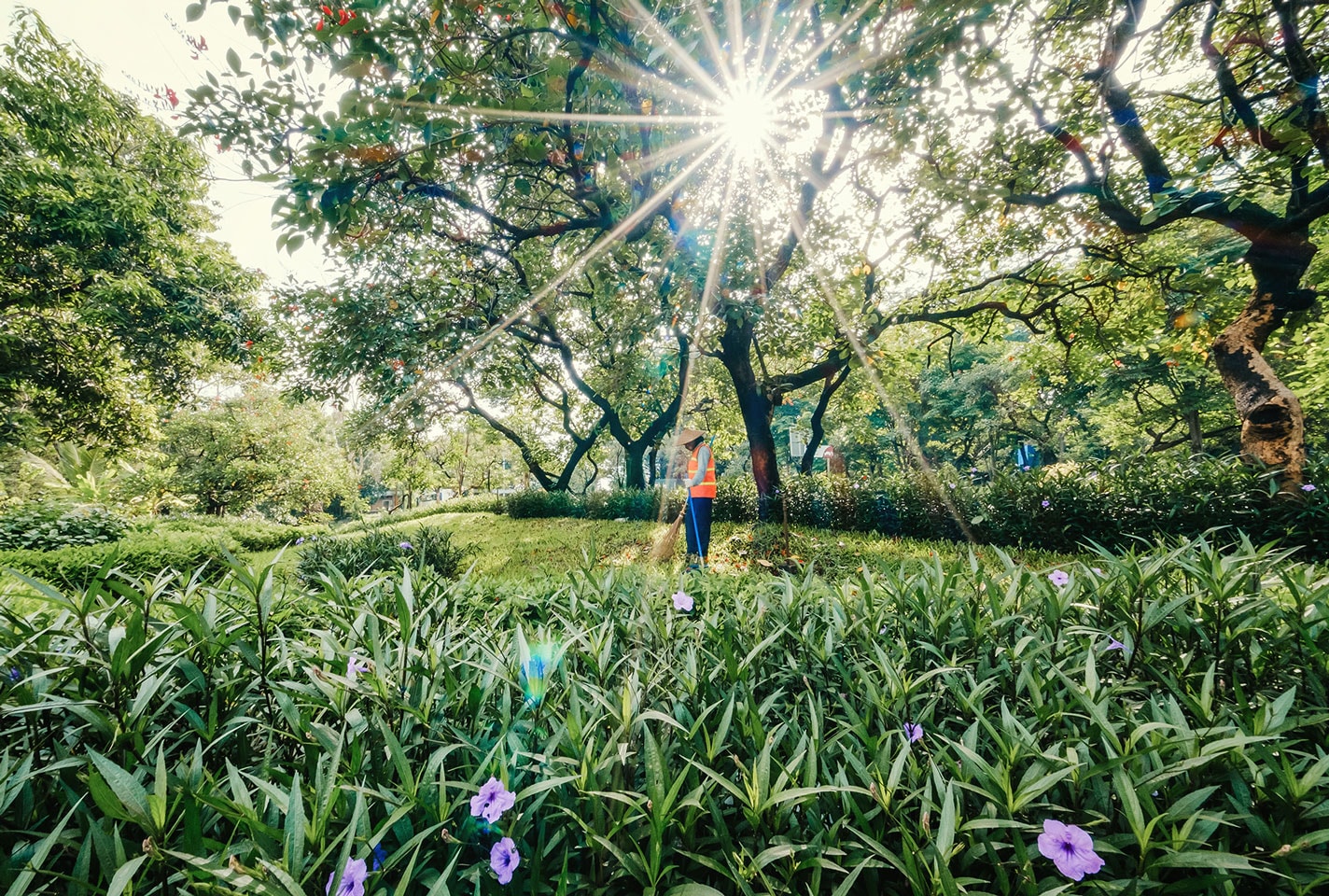 Philip Morris International's affiliate in Indonesia, Sampoerna, was acquired in 2005. Its Sukorejo production facility (plant) is located in East Java near a water catchment area that receives water from Mount Arjuna, a source of large quantities and good quality groundwater for its residents. However, the springs and water reserves of Mount Arjuna have been gradually depleting, likely due to the effects of climate change, deforestation, unsustainable land conversion to agriculture, as well as the lack of an integrated waste management system, and the presence of several water-bottling companies. making it more challenging for local communities to access reliable clean water and sanitation.
Responsibly managing our impacts on water, especially in water stressed areas, preserving nature, and protecting biodiversity are top priorities at PMI. Since 2018, we have worked on strengthening our water stewardship strategy and conducted periodic water risk assessments mapping our factories, offices, and warehouses against the World Resources Institute's Aqueduct Water Risk Atlas to identify those sites subject to physical water risks. Accordingly, we have the ambition to have all our production facilities certified against the Alliance for Water Stewardship (AWS) standard by 2025. Read more about our global approach and efforts in our annual Integrated Report as well as in our Biodiversity and Water report.
Residents of villages near our Sukorejo plant, depend on the same watershed as a source of clean and safe water for their everyday needs, hence why it's so important to do what we can to protect and preserve its supply and quality. To this end, our team at Sampoerna has been working with local stakeholders with the aim of improving the hydrological conditions of this watershed for more than a decade. Between 2010 and 2013, to help replenish the forest cover and improve water condition in the area, our team planted 51,000 trees over 50 hectares, and installed 100 infiltration bio-pores, in partnership with a local university and farmers operating in the area.
Building on these efforts, in 2018, our team set out to achieve the AWS certification of the Sukorejo plant. This process helped identify key challenges in the watershed area, and with them, potential opportunities to not only improve PMI's water footprint, but also the livelihood of the villagers in the region.
A five-step journey
The AWS Standard "is a globally applicable framework for major water users to understand their water use and impacts, and to work collaboratively and transparently for sustainable water management within a catchment context"1. To become certified, a site must successfully complete all five steps in the AWS Standard. Our team chose to prioritize the certification of the Sukorejo plant due to its proximity to the water catchment area, and the watershed's importance in supporting the agriculture, fishery, and household use of the residents of East Java, along with the unique challenges it faces.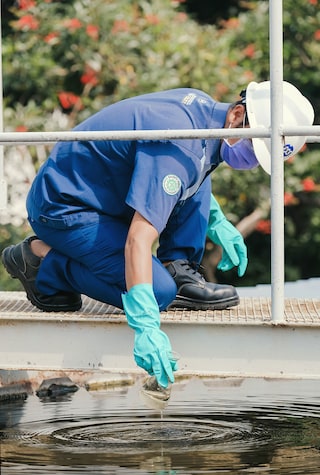 Through the certification process, five key risks were identified in the region: high risk of water stress (ratio of total water withdrawals was greater than available renewable surface and groundwater supplies), high risk of water depletion (the ration of water consumption to available renewable water), high risk of untreated connected water, high risk of unimproved or no drinking water; high risk of unimproved or no sanitation.
With the results of the risk assessment in mind, our local team designed a program consisting of two workstreams: one focused on solutions for the high risks of water stress and water depletion, and the other one focused on the untreated connected water, and the lack of safe and clean water for drinking and sanitation. Given the systemic nature of the challenges, the program implementation was a multi-stakeholder endeavor that involved surrounding communities, civil organizations, and local government. Its deployment took place during 2020 and 2021.
Reforestation for water replenishment and nature preservation
To address the risks of water stress and water depletion, our team focused on three objectives: (1) reforestation of the upstream area of the watershed, (2) mitigating risk of potential water incidents, and (3) raising the villagers' awareness on how to reduce water waste.
This phase of the program involved planting 1,000 Bayan trees and 27,000 Bamboo trees in the watershed area. Bayan trees and Bamboo trees act as a reservoir by collecting and storing large amounts of water, and returning to the soil, rivers, and streams. The goal was to create of a safe watershed condition, that could support the activities of the surrounding villages.
To further help mitigate the risk of future floodings and other water-related disasters, 100 bio-pores infiltration holes and 100 infiltration wells were installed throughout five nearby villages.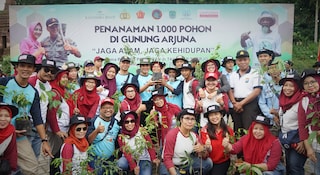 Managing waste and providing clean water for sanitation
The second arm of this program focused on addressing untreated connected water challenges for which our team constructed a temporary waste storage facility, and a facilities office. The team also provided vehicles for waste collection and 1,000 garbage bins to villagers. To help process organic waste, our team incorporated the use of maggot as an integrated catfish feed at the temporary waste storage facility. Managing waste at local garbage banks created the need for extra hands for recycling, offering locals an opportunity to earn additional income.
Our colleagues built 25 sanitation facilities, and a water reservoir with a capacity of 9,000 liters of clean water (benefiting over 5,000 people), to expand access to safe water, sanitation, and hygiene for all (WASH). These were subsequently handed to the local government to handle operational management.
To complement these initiatives and address the water quality issue at its core, our team designed and deployed trainings and awareness campaigns to help educate the local community in reduce-reuse-recycle practices. In addition, a national webinar on National Waste Day focused on waste management is held on an annual basis since 2021 in collaboration with various stakeholders.
We received assistance from Sampoerna and its partners to manage waste with maggot. Through this process we have received many benefits. First, with maggot we can reduce the cost of disposing of waste residue to landfills (final disposal sites). Second, we benefit from the sales of maggot which generates income to help cover our operational needs. Because the waste problem is an ongoing problem and it takes a lot of effort to raise public awareness, we hope that the programs implemented continue to help achieve a waste-free Pasuruan by 2025.
Onwards and upwards
Collaborating with local government, universities, NGOs, and residents in the region to address water-related challenges was and continues to be fundamental in developing holistic and sustainable strategies to improve water stewardship and preserve nature, while also supporting the economic development of the local communities we operate in.
The Sukorejo plant obtained the AWS certification in October 2019, making it the first plant in Indonesia to become AWS certified. The practices implemented earned the recognition of local government and received positive and appreciative feedback from the villagers impacted.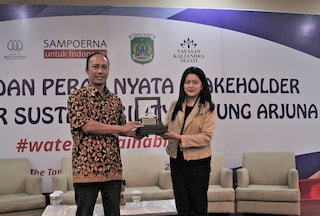 I am proud to be a part of this project, and really impressed with PMI's commitment to address the water issues. It's the right thing to do. It helps to protect biodiversity and deliver a Net Positive Impact by giving back to the people, the business, and the planet.
Next Steps
Our team in Indonesia and partners continue to upkeep and monitor the trees planted and infiltration holes installed in the region. In addition, they hold a stakeholder forum on an annual basis to gather stakeholders' input, share best practices, and foster thoughtful dialogue to create a regulatory environment that would help protect water resources and its surrounding ecosystems.
Despite the many improvements achieved while pursuing the AWS certification, collecting reliable data to measure the quantitative impact of these efforts in a holistic manner is a challenge our Sampoerna team continues to work on. They are also working towards creating more opportunities to engage other local major water users, such as the water-bottling companies in the area, to help scale water stewardship efforts and improve the climate resiliency of the region.
Since the AWS certification is valid for three years, in October 2022 the Sukorejo plant went through an audit process for re-certification. The results will be received from the Water Stewardship Assurance Services in mid-2023.
1. The AWS Standard 2.0 - Alliance for Water Stewardship (a4ws.org)