MAXIMIZE THE BENEFITS OF SMOKE-FREE PRODUCTS
Develop and commercialize science-based, smoke-free alternatives, making them available in 100 markets (of which at least half in low- and middle-income markets) and continuing to increase the total number of users.
Deploy robust youth access prevention programs in indirect retail channels and ensure the sales of our products abide by our Marketing Codes.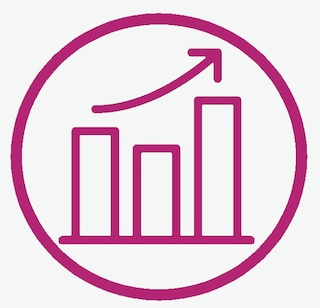 Key performance indicators to track our progress

Learn more about PMI's Sustainability Index in our Integrated Report 2022. See the full performance metrics and related footnotes here.
The right thing to do
The best thing is to never start smoking. For those who do smoke, their best course of action is to quit tobacco and nicotine use altogether.
Read more
The business case
Through our early and sustained investment in R&D and consequent leadership in technology and innovation, we have built a powerful position and competitive advantage in scientifically substantiated smoke-free products, which can help accelerate the decline in cigarette smoking.
Read more
Looking ahead
We are preparing for important regulatory submissions in the U.S.—including Pre-Market Tobacco Applications (PMTAs) for IQOS ILUMA in 2023.
We will continue to gather and evaluate real-world data on IQOS, and execute comprehensive clinical studies investigating whether switching to a smoke-free product reduces the harm and risk of smoking-related diseases upon switching to IQOS.
Badrul Chowdhury, Chief Life Sciences Officer, Smoke-Free Products
We have ambitious plans leveraging the progress made to date, including continuing to broaden access and improve our product portfolio.
In particular, we reached an agreement with Altria in October 2022, to take full control of IQOS in the U.S. as of April 30, 2024. During this transition period, we plan to invest in IQOS to bring it to market at scale across the U.S., leveraging the proven capabilities of our commercial engine. We are preparing for domestic manufacturing and developing U.S. sales, distribution, retail, consumer engagement, and support capabilities.
We will continue to broaden access to our heat-not-burn products through a multi-tier portfolio approach for both devices and consumables that covers a range of price points. This can already be seen in Japan, where our two-tier heated tobacco unit portfolio for ILUMA is driving overall share growth, with premium-priced TEREA and mainstream-priced SENTIA each gaining share in 2022.
While pursuing our efforts to act on all drivers of access, we will continue to design and deploy a suite of effective tools to ensure that our smoke-free products reach the intended audience: current adult smokers or users of other nicotine products who otherwise would not quit.
We will continue to monitor through premarket and post-market studies that our smoke-free products encourage adult smokers to switch away from cigarettes, while minimizing the risk of unintended consequences, such as youth uptake, initiation, or relapse back to tobacco or nicotine products. In particular, we will evolve our study approach to better account for our expanded portfolio of smoke-free products, including our e-vapor products.
Stefano Volpetti, President, Smoke-Free Inhaled Products and Chief Consumer Officer
Swedish Match joining PMI in late-2022 means significantly enhanced prospects to progress toward accelerating our common goal to make cigarettes obsolete. Following PMI's acquisition of Swedish Match, we will contribute towards the expansion of, and increase in access to, smoke-free products as together we are now present in the large, attractive, and growing U.S. smoke-free market. We will also drive accelerated global expansion opportunities for Swedish Match's oral nicotine products through PMI's international commercial infrastructure.
Lars Dahlgren, President, Smoke-Free Oral Products and CEO Swedish Match
This online content about our Integrated Report should be read in conjunction with PMI's Integrated Report 2022. Unless otherwise indicated, the data contained herein cover our operations worldwide for the full calendar year 2022 or reflect the status as of December 31, 2022. Where not specified, data comes from PMI financials, non-financials, or estimates. Unless explicitly stated, the data, information, and aspirations referenced do not incorporate PMI's Vectura Fertin Pharma business (consolidating the 2021 acquisitions of wellness and healthcare companies Fertin Pharma A/S, Vectura Group plc., and OtiTopic, Inc.), nor the late 2022 acquisition of Swedish Match AB. Please also refer to 'This report at a glance' on page 2 of the Integrated Report 2022 for more information. Aspirational targets and goals do not constitute financial projections, and achievement of future results is subject to risks, uncertainties and inaccurate assumptions, as outlined in our forward-looking and cautionary statements on page 214. In the Integrated Report 2022 and in related communications, the terms "materiality," "material," and similar terms, when used in the context of economic, environmental, and social topics, are defined in the referenced sustainability standards and are not meant to correspond to the concept of materiality under the U.S. securities laws and/or disclosures required by the U.S. Securities and Exchange Commission.