Fabrizio Varone, from industrial engineer to Technical Services Manager in Philip Morris Manufacturing and Technology Bologna
I am aware today that many of the goals I have achieved I could never have achieved on my own.
My true strength was the team, and I have always felt like a captain and first fan with them, which is a wonderful feeling that encompasses everything.
I've been working at Philip Morris Manufacturing and Technology Bologna since September 2, 2013, and I still remember the exact day. The company at the time was still called Intertaba and no one would have imagined that it would one day become the factory of the future that it is today.
It was the moment when we started to work on the project of new generation products, those that would then be used with the latest generation combustion-free devices that we are now used to seeing.
I will never forget the feeling I felt when I first entered the new headquarters, straight into a reality that resembled that of a campus, a huge semi-empty shed where there was everything to be built almost from scratch. Endless possibilities and a challenge for me and for all the guys like me who were looking at this world for the first time.
In these ten years I have changed different roles in the company, and I have never lost the excitment of discovering the new, I have always kept my desire for knowledge.
I have learned a lot, seen different areas having the opportunity to experiment, grow and learn. When I think about it now, the thing I'm most grateful for is the fact that Philip Morris has always allowed me to express myself and continue to discover and know, without ever fully satisfying my curiosity.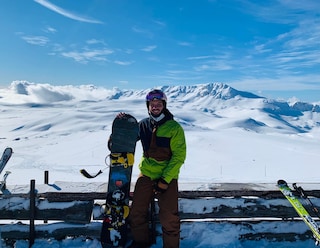 Capitan and first fan: the passion for People Care
How did I understand what kind of leader I wanted to be? Surely observing the different managers I have worked with, partly studying and participating in different paths of growth. The role in which I had the opportunity to experience the management of a complex team and consequently to fully understand the
importance connectiong with one's teammates
is definitely that of Business Unit Manager.
It was a unique period, it trained me a lot both professionally and from the point of view of soft skills.
To grow I had to constantly demonstrate a
strong attitude to teamwork
, give my best to create a solid bond with my people, mature in terms of leadership, and I am aware today that so many of the goals I have achieved I could never have achieved them alone.
My real strength has been the team
, with the team I have always felt captain and first fan and it is a wonderful feeling because it encompasses everything so that the goal achieved becomes a real source of pride.
Today I am proud to be Technical Service Manager, responsible for a team that manages many strategic activities and that allows me to
constantly expand my knowledge and satisfying my curiosity
to always learn new things